Queen Rania Honors Winners at QRAEE 9th Teacher Award and 1st Counselor Award Ceremony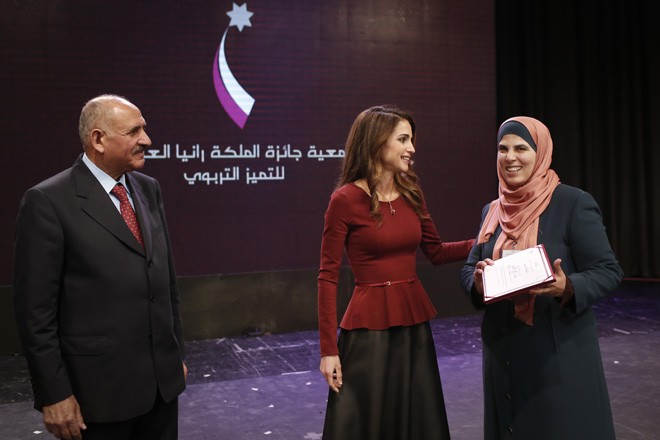 (Office of Her Majesty- Press Department- Amman) In a ceremony held by the Association of Queen Rania Al Abdullah Award for Excellence in Education (QRAEE) today, Her Majesty Queen Rania Al Abdullah honored the winners of the 9th Teacher Award and the 1st School Counselor Award cycles.
This year, the QRAEE has launched the Distinguished School Counselor Award based on its strong belief in the important role school counselors play in developing students' personalities and improving their achievements.
As QRAEE's Chairperson of the Board of Trustees, Queen Rania awarded 24 winners, including 19 teachers and 5 counselors, during the course of the ceremony which was attended by more than 2000 people including HH Princess Zeina Al Feisal, H.E. Reem Abu Hassan, Minister of Social Development, H.E Dr. Mohammad Thneibat, Minister of Education, H.E. Mr. Aqel Biltaji, The Greater Amman Municipality Mayor, Dr. Ezz Al-Deen Katkhoda, Chairman of the QRAEE Board, Ms. Lubna Touqan, Director of QRAEE, as well as private and public sector sponsors, presidents of different universities, media personalities, and former winners.

During the ceremony, Dr. Thneibat said that the Ministry is in the process of developing a framework that promotes a culture of progress and excellence among teachers, school counselors, and principals in order to reach sustainable professional development. His Excellency noted that the Ministry will promote the winners' success stories so as to set an example of excellence for their peers.
His Excellency also shed light on the findings of a recent study conducted by the Ministry and explained that schools which include teachers who won this award have witnessed a significant increase in students' pass rates as opposed to their counterparts.
Ms. Lubna Touqan also spoke during the ceremony and said that the award's nomination criterion for this year was "sustainable professional self- development". She added that QRAEE adopts this criterion to develop its own work and the work of other relevant parties.
Over the past few years, The Queen had come across various success stories of educators who had made children's education the core goal of their lives, and during today's ceremony, several recent success stories were presented before Her Majesty.
On the sidelines of the event which is sponsored by Zain for the third consecutive year, and in line with QRAEE's mission to spread a culture of excellence in education, the association held an exhibition showcasing teachers' best educational practices in order to inspire and benefit as many teachers as possible.

Winning teachers and school counselors will receive monetary awards in the value of JD 3,000 for the 1st place, JD 2,000 for the 2nd place, and JD 1,000 for the 3rd place. All finalists, who did not win will also receive, in addition to the "Excellence Certificates", a monetary award in the amount of JD 300 each.
The "Excellence Certificates" will enable teachers to advance their careers by enabling them to attend and take part in different events and workshops held by QRAEE as well as enhancing their chances of receiving different scholarships.
About QRAEE:
QRAEE was launched in 2005 by Their Majesties King Abdullah II and Queen Rania Al Abdullah in partnership with the Ministry of Education to set a national standard of excellence in teaching, and to celebrate, encourage and honor those who reach it.
In a similar vein, Her Majesty also launched the Queen Rania Al Abdullah Award for Distinguished Principals in November 2008.


Queen Rania's official website
This website does not support old browsers. To view this website, Please upgrade your browser to IE 9 or greater
Your browser is out of date. It has known security flaws and may not display all features of this and other websites. Learn how to update your browser