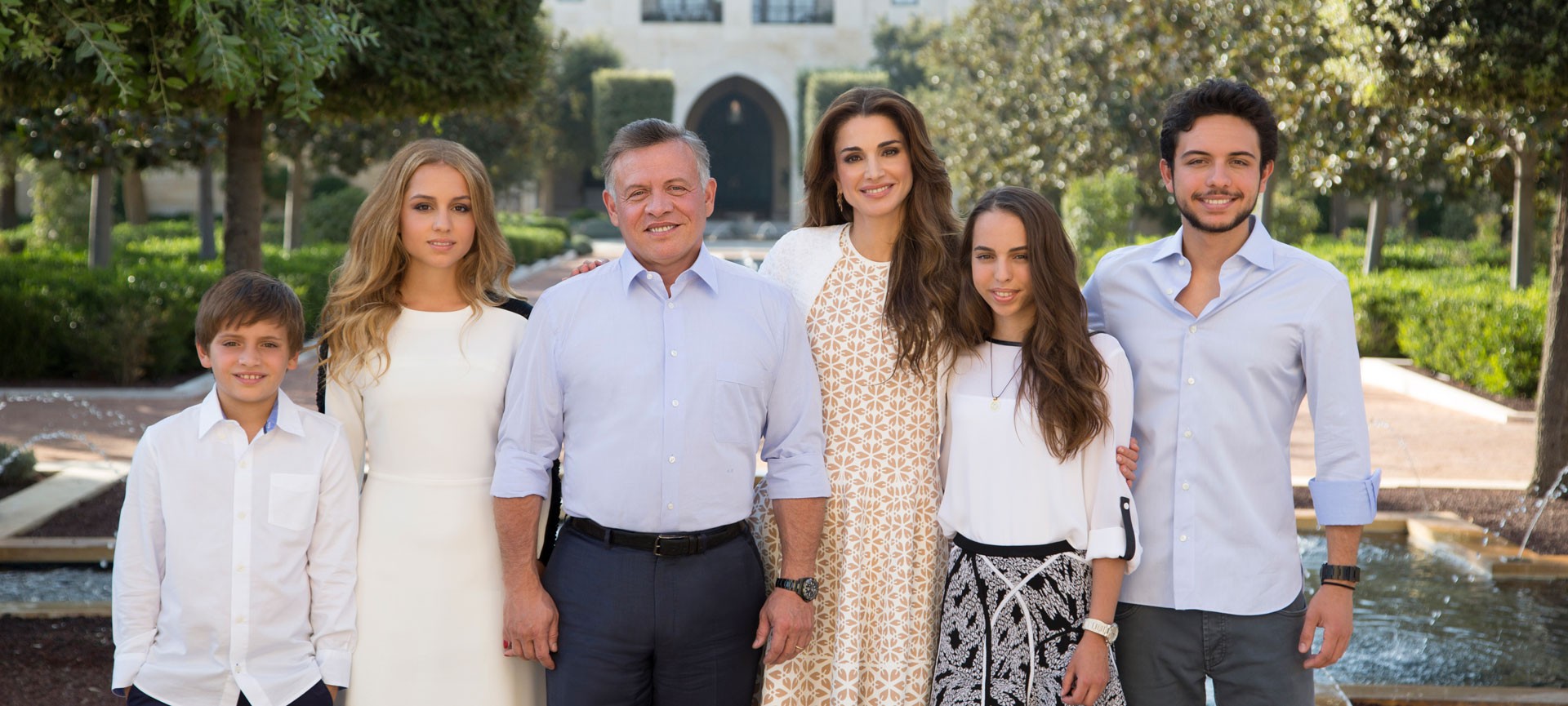 Rania
Her Majesty Queen Rania Al Abdullah
Rania Al Yassin was born on August 31, 1970. She obtained her bachelor's degree in Business Administration from the American University of Cairo in 1991. She applied this, first, to a banking career in Jordan and, later, to the information technology sector.
On June 10, 1993, she married then Prince Abdullah bin Al Hussein, who assumed his constitutional role as King of the Hashemite Kingdom of Jordan on February 7, 1999. They went on to have four children: Their Royal Highnesses Crown Prince Al Hussein, Princess Iman, Princess Salma, and Prince Hashem.
In addition to being a wife and mother, Queen Rania works hard to improve the lives of Jordanians by supporting efforts to create opportunities for their advancement.
Locally, she is committed to breathing new life into the public education system, empowering women and their communities, improving child and family protection services, and driving innovation, technology, and entrepreneurship through society, especially amongst young people.
Internationally, Queen Rania is an advocate for tolerance, compassion, and promoting empathy between people of all cultures and backgrounds. Her efforts to challenge stereotypes of Arabs and Muslims and promote greater understanding and acceptance between people of all faiths and cultures have won her global recognition.
Her Majesty believes that every Jordanian child should have access to not only stimulating learning environments, but also inspiring teachers and technology that connects them to the world. The Queen Rania Foundation for Education and Development (QRF) contributes to national efforts to develop the education sector through initiatives such as the Queen Rania Teacher Academy, Edraak, Al-Aman Fund for the Future of Orphans, Madrasati, and others. To realize these goals and so much more, Queen Rania encourages private sector partners to strengthen the foundations of Jordan's education system. (Queen Rania's Initiatives)
Queen Rania is also a global voice for access to quality education for children around the world. In 2009, Her Majesty championed the 1 Goal campaign for education. She also served as a Global Honorary Chair of the UN Girl's Education Initiative, and has advocated access to education in international forums and gatherings.
Additionally, Her Majesty advocates for the rights, needs, and aspirations of refugees and the world's most vulnerable populations. She has taken part in numerous related global events, including co-chairing a roundtable at the 2016 UN Summit on Refugees and Migrants, and has visited refugee camps in Jordan, Greece, and Bangladesh.
Through her position on their boards, Her Majesty contributes to the work of the United Nations Foundation and the World Economic Forum. She is UNICEF's first Eminent Advocate for Children, and she was on the UN-appointed High-Level Panel that advised on the shape and content of the Sustainable Development Goals, which aim to improve the lives of millions of people before 2030. Her Majesty also serves on the International Rescue Committee's Board of Advisors, and is a member of the environmental Earthshot Prize Council, launched by Prince William, Duke of Cambridge.
In recognition of her work, Her Majesty has humbly accepted many awards, locally, regionally, and globally. These include the Foreign Press Association's Humanitarian Award; the Andrea Bocelli Foundation Humanitarian Award; the World Childhood Award, granted by Her Majesty Queen Silvia of Sweden; the Walther Rathenau Award; the Atlantic Council Global Citizen Award; the James C. Morgan Global Humanitarian Award; the Arab Knight of Giving Award; the Vital Voices Global Trailblazer Award; the third annual Arab Social Media Influencers Summit Influential Personality of the Year Award; the YouTube Visionary Award; as well as the Zayed Award for Human Fraternity and the Path to Peace Award, both of which Her Majesty received jointly with His Majesty King Abdullah II. (Full list of awards and honorary degrees)
Her Majesty has authored several children's books, including the New York Times best-seller, the Sandwich Swap, which was inspired by her own childhood experiences. (View the full list of publications)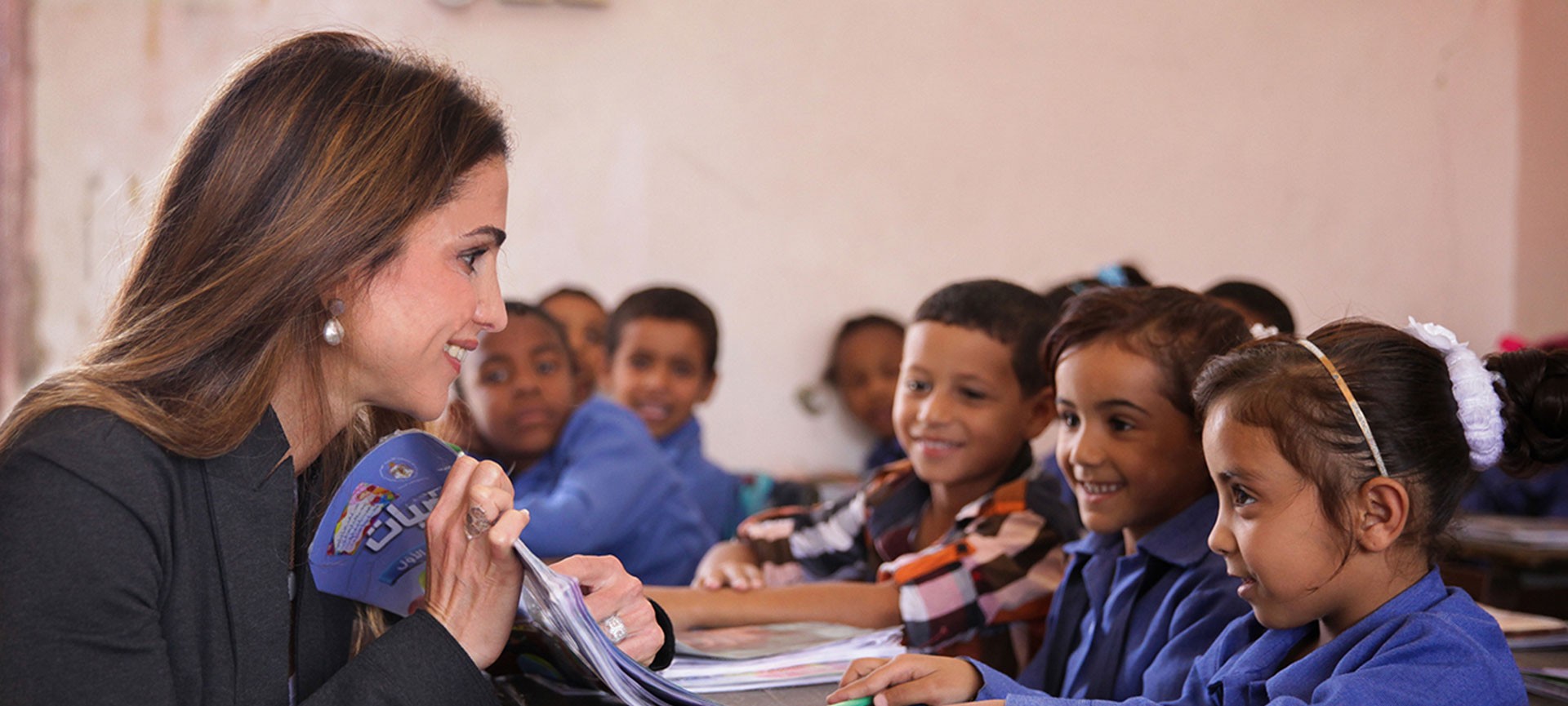 Queen Rania's official website
This website does not support old browsers. To view this website, Please upgrade your browser to IE 9 or greater
Your browser is out of date. It has known security flaws and may not display all features of this and other websites. Learn how to update your browser