Queen Rania Honours Winners of the Queen Rania Award for Excellence in Education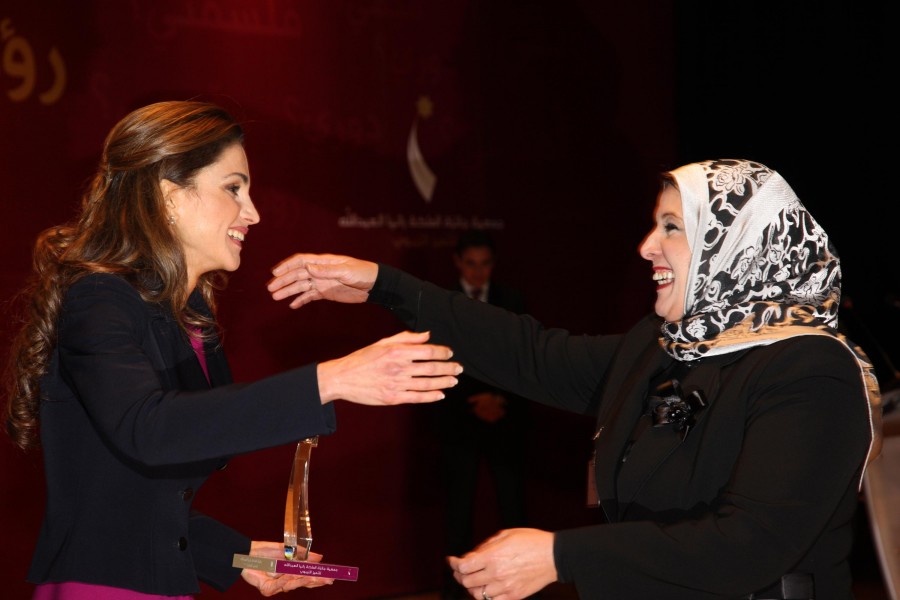 (Office of Her Majesty – Press Department- Amman) – Under the Patronage of Her Majesty, the Queen Rania Al Abdullah Award for Excellence in Education held its 6th Teacher's Award and 2nd Principal's Award Ceremony today. Held at the Applied Science Private University's Conference Center, the awards were given to 25 outstanding teachers and 7 excelling principles, in a competition that spans across the Kingdom.
Focusing on the vital role that educators play in raising future generations, Her Majesty Queen Rania thanked teachers and principals, for their dedication and devotion to their schools and students, especially those who excel in this noble profession and encouraged them to teach civic duty to their students in the context of current reform dialogue in Jordan.
"Change for us is an opportunity" said Her Majesty, "An opportunity to learn from the past, and set modern plans for our future," entrusting educators to stress active citizenship in their classrooms and to encourage their students to be at the forefront of positive change.

"Teach them responsibility; teach them how to transform their love for Jordan into constructive work, so Jordan and they can grow together," said the Queen.
Appreciated and valued are the sentiments that educators felt today as they received their awards. A day filled with passion, excitement and joy is how one winner described it: "it was full of passion for our profession as educators; we truly felt recognized"
In his remarks, H.E Eid Dahiyat thanked Her Majesty for Her efforts in improving education through Her initiatives, which work hand in hand with the Ministry of Education to help improve the educational process in the kingdom. Dahiyat stressed that educational reform can only be achieved through collaborative efforts, and inclusive initiatives, which are open to all educators and the award is the perfect example to embody this methodology.

In her speech, the Association's Executive Director Lubna Touqan announced the commencement of a new phase encompassing a new strategic approach for the Association. She explained that this step emphasizes the Association's interest in continuously developing its operations in line with the latest advancements and reflects its unwavering ambition to further evolve and improve.
The ceremony which was also attended by HRH Princess Rym Ali, HRH Princess Ghida Talal, HRH Princess Areej Ghazi, and Sharifa Sarra Bint Ghazi, included a screening of a documentary film illustrating the Distinguished Teacher and Principal Awards' criteria, which will represent future themes for upcoming honoring ceremonies.
Attendees also viewed two short films about the goals and aspirations of distinguished teachers and principals and their impact on both students and colleagues.
The annual Teacher's Award was launched in 2005 and the biyearly Principal's Award was launched in 2009. This year the Teacher's Award received 1,911 applicants, while the Principal's Award received 282 applications from across the Kingdom.

In addition to the award, over the course of three years, the winners will be presented with several incentives including promotions and special dedicated points by the Ministry of Education. They will also be offered opportunities to participate in several professional and academic developmental activities by the Association in collaboration with various educational and academic institutions. Furthermore, winners will be appointed as the Association's field ambassadors in order to become role models for their colleagues and to effectively contribute to advancing Jordan's educational and scholastic environment.

Queen Rania's official website
This website does not support old browsers. To view this website, Please upgrade your browser to IE 9 or greater
Your browser is out of date. It has known security flaws and may not display all features of this and other websites. Learn how to update your browser