Queen Rania Sends Urgent Plea to the World from Muzaffarabad to Accelerate Pakistani Relief Efforts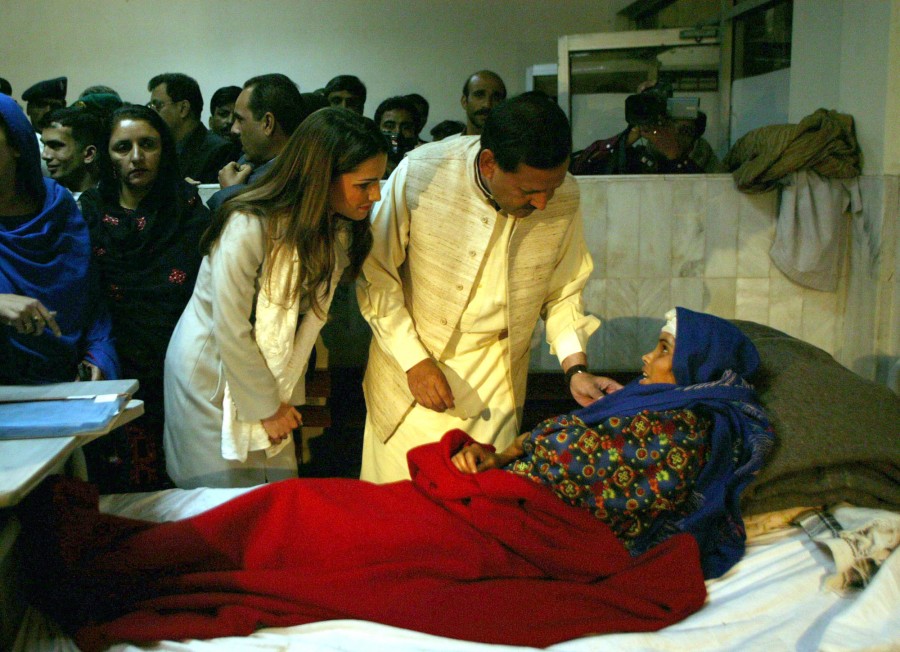 (Office of Her Majesty – Press Department – Muzaffarabad) - Amidst the ruins of a primary school in the earthquake ravaged city of Muzaffarabad, Her Majesty Queen Rania, on Saturday, sent an urgent plea to the world, calling for an acceleration of relief efforts to the people of Pakistan.
"The extent of the devastation is really hard to imagine… whole lives have been destroyed, villages and communities". Queen Rania, a member of the UNICEF Global Leadership Initiative for Children, warned that the upcoming winter will hinder the relief and aid distribution effort.
"The window of opportunity for extending a helping hand is closing…It is very urgent that we intensify efforts today to do whatever we can… It is a moral obligation."
The October 8 earthquake, which struck Pakistan, India and Afghanistan has to date left over 50,000 dead, 75,000 injured, and over 3.3 million homeless.
At the Abbas Hospital, one of the city's few health facilities that remain standing, Queen Rania visited various wards, crowded with injured women and children. She comforted patients as they shared with her stories of their suffering and loss.
Health experts and international organizations have called attention to the increasing risk of disease outbreak amongst children, with measles, polio and tetanus representing the most pressing threats. Approximately 120,000 children have been vaccinated. UNICEF is supporting Pakistan to immunize affected children and provide them with Vitamin A supplements.
Queen Rania was accompanied by His Royal Highness Prince Rashed bin Al Hassan, President of the Jordan Hashemite Charity Organization, Pakistani Minister of Social Welfare and Special Education, Mrs. Zubaida Jallal, and Senior Program Officer at UNCEF Pakistan, Mr. Ronald Van Dijk, among other high-ranking Pakistani and UNICEF officials.
Tens of young students took a break as the Queen joined them in a makeshift UNICEF tent currently serving as a classroom, at the site where their school once stood. The Government Primary School for Girls in Narul collapsed as a result of the earthquake, killing over 85 students and teachers.
"UNICEF tries to relieve the distress of these children by diverting their attention. We provide them with opportunities to learn and play in safe spaces," said Ronald Van Dijk.
While in the Capital, Queen Rania met with Begum Sehba Musharraf, First Lady of Pakistan and discussed the urgent needs and challenges.
A 5th plane load of relief from Jordan accompanied Queen Rania, carrying humanitarian aid and supplies to Pakistan. Jordan was one of the first countries to provide support to the country. A rescue team from the Civil Defense Department joined thousands searching for survivors. In addition, a Jordanian army field hospital, composed of 50 beds and a team of 52 medical and technical physicians, was deployed to provide round-the-clock medical care.
On Friday, Jordan held a day-long telethon on state television to raise funds for the victims of the quake.

Queen Rania's official website
This website does not support old browsers. To view this website, Please upgrade your browser to IE 9 or greater
Your browser is out of date. It has known security flaws and may not display all features of this and other websites. Learn how to update your browser