Queen Rania Honors Outstanding Teachers and Principals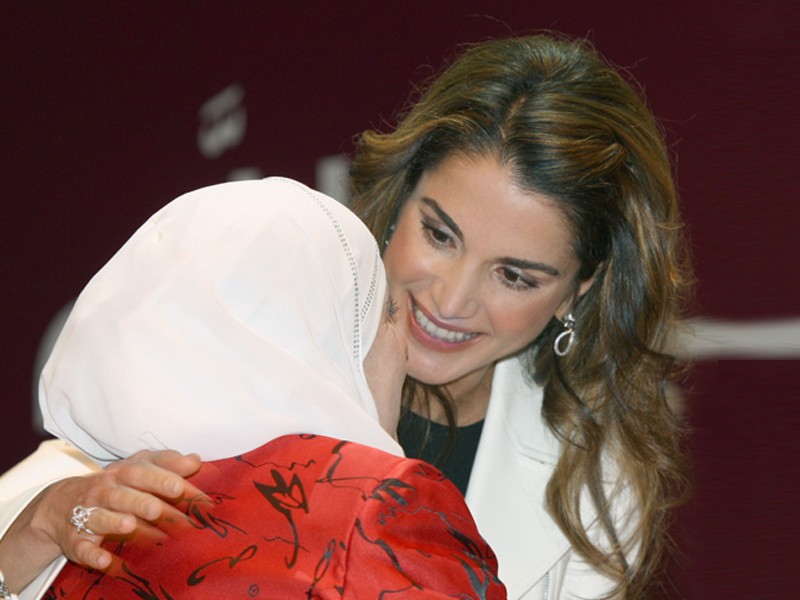 (Office of Her Majesty, Press Department - Amman) In an effort to enhance the spirit of competitiveness and excellence among the Kingdom's educators, Her Majesty Queen Rania Al Abdullah today announced 32 distinguished teachers and principals as recipients of the Queen Rania Award for Excellence in Education (QRAEE).
During a ceremony held at the University of Applied Science, Her Majesty conferred the award to 25 teachers and seven school principals, commending their efforts in advancing the potential of students and inspiring leadership in school settings: "We congratulate those who receive this award today, warmly. But let this occasion remind us all of our responsibility towards Jordan's next generation.
As labour markets diversify, and employers' expectations increase, your responsibility, as teachers, intensifies." Launched in 2005, The Queen Rania Award for Excellence is awarded each year to educators, recognizing the crucial role mentoring plays in the academic and personal development of children. Highlighting the important leadership role that school principals play in directing and encouraging teachers, the ceremony also marked the first year Queen Rania announced winners the of the Distinguished Principal Award, which was launched last November. Addressing the audience, Queen Rania bolstered appreciation for the role of teachers, encouraging enthusiasm and respect for the profession: "Your guidance as educators and your example as leaders are integral to reimagining Jordan's educational landscape and inspiring our young people to reach for new horizons," she pointed out. The 25 teachers awarded were chosen out of 72 candidates, in accordance with objective and transparent criteria of excellence developed by a team of local and international education specialists. A monetary prize in the value of JD 3,000 was awarded for first place teachers; JD 1,500, for second place, and JD 1,000 for third place. Similarly, the seven most distinguished principals honored during the ceremony were selected among 19 candidates. Some of the recipients took the stage cheering; others cried tears of joy when they heard their names being announced. First place principals received JD. 4,500, while second place winners received a total of JD 2,000.
The award ceremony was moderated by HE Mohammad Hamdan, Senior Advisor at the Arab Open University and included remarks by the Minister of Education HE Waleed Maani and QRAEE Director, Lubna Touqan. During the event, a short video including testimonials by HE Khaled Al Karaki, President of Jordan University, football player Jamal Abu Abed, and Jordanian musician Aziz Maraqa, highlighted the award's milestones. The video also outlined the positive influence of teachers and principals on the lives of their students.

Queen Rania's official website
This website does not support old browsers. To view this website, Please upgrade your browser to IE 9 or greater
Your browser is out of date. It has known security flaws and may not display all features of this and other websites. Learn how to update your browser