Queen Rania Attends Third Meeting of the Arab Women's Organization on Women's Contributions to Human Security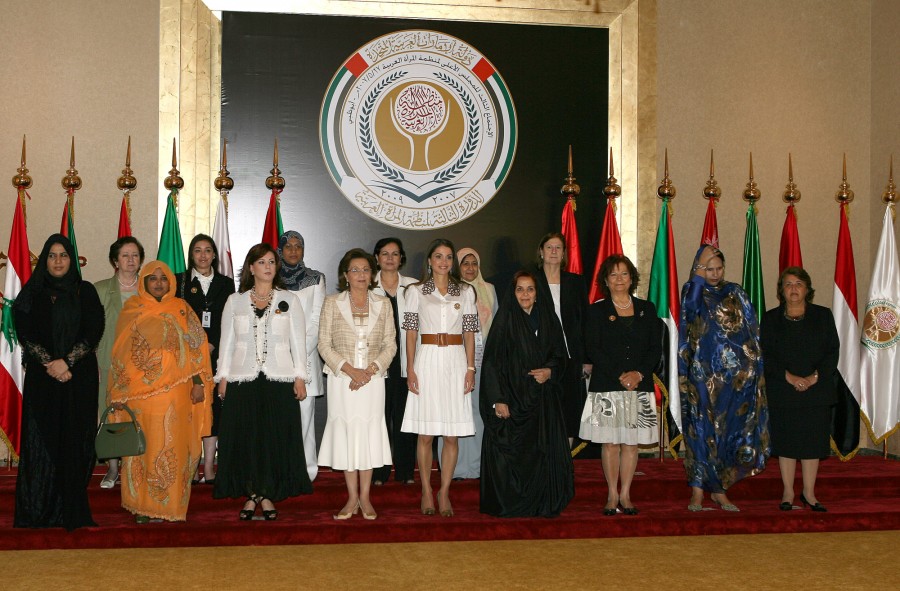 (Jordan Times - Amman) Her Majesty Queen Rania on Sunday participated in the third meeting of the Arab Women Organisation's (AWO) higher council in Abu Dhabi.

During the meeting, AWO President Sheikha Fatima Bint Mubarak underlined the importance of taking serious and realistic measures to activate dialogue among different civilisations by drawing up programmes to eliminate misinterpretations and misconceptions.

The council members, who reviewed the situation of Arab women abroad and plans to activate their role, underlined the need to implement previous recommendations made by the AWO, including the release of Palestinian women prisoners held in Israeli prisons.

They also decided that the second AWO conference, to be held in Abu Dhabi in November 2008, will focus on women and their contribution to human security from an Arab and international perspective.

Moreover, participants endorsed the general framework of the AWO action plan from 2008 to 2012 the recommendations of the legal committee and implementation and follow up-mechanisms.

Several first ladies of Arab countries took part in the meeting including Sheikha Sabika Bint Ibrahim Al Khalifa of Bahrain, Suzanne Mubarak of Egypt, Leila Zine Al Abidine of Tunisia and Andre Lahoud of Lebanon.

The AWO executive council comprises representatives from Jordan, the United Arab Emirates, Bahrain, Tunisia, Syria, Sudan, Lebanon, Oman and Egypt.

Queen Rania announced the launch of the Arab Women Organisation during the first meeting of its executive council in 2003 and chaired the AWO during its first two-year term.

The organisation operates under the umbrella of the Arab League to empower Arab women, encourage their participation in the development process of their respective communities and draw up unified strategies to improve the status of women in the Arab world.

It also addresses women's issues in regional and international forums in order to raise awareness on the situation of Arab women.

Queen Rania's official website
This website does not support old browsers. To view this website, Please upgrade your browser to IE 9 or greater
Your browser is out of date. It has known security flaws and may not display all features of this and other websites. Learn how to update your browser