Queen Rania Supports RED's Bobby Shriver as He Unveils Newest Hallmark Partnership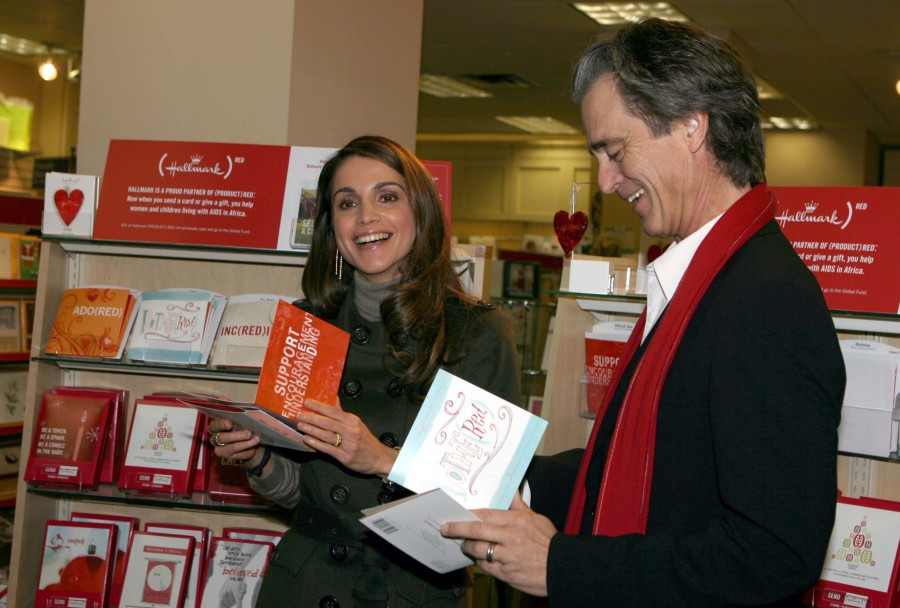 (Office of Her Majesty – Press Department – New York) - Before concluding her trip to the United States, Her Majesty Queen Rania Al Abdullah lent her continued support as (RED) Co-founder Bobby Shriver unveiled (RED)'s newest partnership with Hallmark Cards, Inc at a Hallmark Gold Crown store in New York. Eight percent of Hallmark (PRODUCT) RED net wholesale sales will go to the Global Fund to Fight AIDS, Tuberculosis and Malaria.
Queen Rania, who sits on the board of the Global Alliance for Vaccines and Immunization (GAVI) Fund, has played a significant role in advancing health opportunities both regionally and globally.
"Lack of access to medicine and vaccines means that the world loses over two million children each year," said Queen Rania. "I believe most human beings genuinely want to help others in need. And you don't need to spend a lot to make a difference. Just one of these Hallmark cards will buy a single dose of medicine that reduces the risk of a mother transmitting HIV to her baby. A dozen cards will buy 15 doses. And the Mali mud bag provides 5 doses."
The Hallmark (PRODUCT) RED collection, which is now available exclusively in Hallmark Gold Crown stores in the US and online, features holiday and everyday greeting cards, gift wrap, Cards with Sound, a Keepsake Ornament, and a Mali Mud Cloth Bag, whose production creates jobs and supports the West African country's local economy.
"(RED) is incredibly honored to have the continued support of Her Majesty ─ from her Vanity Fair Africa issue cover photo with (RED) Co-founder Bono and (RED) supporter Mohammad Ali, to her presence here at today's launch," said (RED) Co-founder Bobby Shriver. "Queen Rania's dedication to highlighting public health emergencies has helped thousands of women and children gain access to lifesaving antiretroviral medicine."
(RED), created by Bono (U2 singer and activist) and Bobby Shriver (Chairman of DATA – Debt, AIDS, Trade, Africa), is a brand designed to engage business and consumer power in the fight against AIDS in Africa. (RED) works with the world's biggest brands to make unique (PRODUCT) RED-branded products and direct up to 50 percent of their gross profits to the Global Fund to invest in African AIDS programs, with a focus on the health of women and children.
(RED) is not a charity or "campaign". It is an economic initiative that aims to deliver a sustainable flow of private sector money to the Global Fund. Since its launch in March 2006, (RED) has generated more than $45 million for the Global Fund. This is more than nine times the amount that businesses have contributed to the Global Fund since it was founded in 2002. Current product partners include Converse, Gap, Motorola, Emporio Armani, Apple, and American Express (UK only).

Queen Rania's official website
This website does not support old browsers. To view this website, Please upgrade your browser to IE 9 or greater
Your browser is out of date. It has known security flaws and may not display all features of this and other websites. Learn how to update your browser