Queen Rania Al Abdullah Scholarship Program Inaugurated in Greek University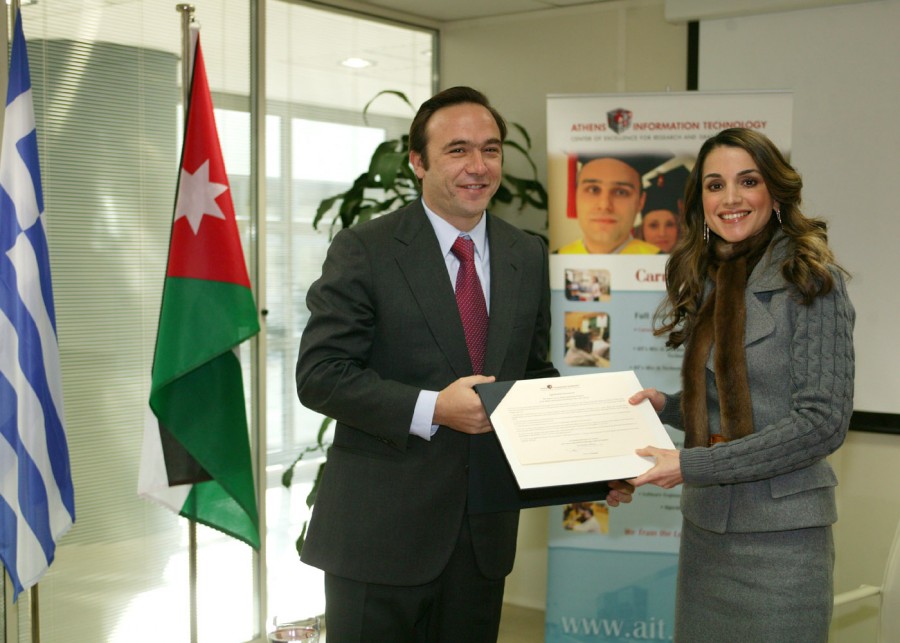 (Office of Her Majesty, Press Department - Athens) Her Majesty Queen Rania Al-Abdullah, on Wednesday, inaugurated a scholarship program for Jordanian students at the Athens Information Technology (AIT) University, during a two-day working trip to the Greek capital with His Majesty King Abdullah. A Greek initiative aimed at fostering greater co-operation between Jordanian and Greek educational institutions, the program, due to begin in spring 2006, comprises fourteen graduate scholarships, known as the Queen Rania Al-Abdullah Scholarships, which will be set up exclusively for Jordanian students, for a period of five years, after which the program will be reviewed for extension.
Known as the most renowned center of excellence for research and graduate education in Greece, the University has developed top-level graduate and professional multidimensional programs which provide an exciting and innovative academic environment in Information Communications Technology (ICT), and technology innovation and management, thus attracting students from all over the world.
During her visit to the University, Her Majesty met with a delegation from the AIT, the Kokkalis Foundation and their supporters, including Mrs. Niki Tzavella, Vice-President of INTRACOM and the Kokkalis Foundation, and Mr. Petros Kokkalis, Director General of the University and Vice-President and Treasurer of the Kokkalis Foundation. She discussed with them future collaborations between Jordan and Greece in the field of education. During the meeting, Queen Rania thanked the AIT and Kokkalis Foundation representatives for the scholarship program, which entails two full tuition scholarships for each of the following graduate programs: Master of Science in Information Networking (MSIN), offered in conjunction with Carnegie Mellon University in the US; Master of Science in Information and Telecommunications Technologies (MSITT) and Master of Science in Management of Business Innovation and Technology (MBIT). The program also includes four full tuition scholarships for the April and November/December 2006 Executive Training Programs, which are offered by trainers and academics from Harvard University's Kennedy School of Government.
The final four scholarships are full tuition scholarships for the Summer School of 2006, run by Harvard University and AIT. Her Majesty also shared with the meeting participants Jordan's commitment to education as a critical tool to provide the country's youth with hope and opportunity for a brighter future. She added that the benefits of such scholarship programs surpass academic education by fostering greater understanding and new ties of friendship between people. Conditions for acceptance into the above programs are based on procedures and requirements approved by the University's Board of Trustees, in cooperation and compliance with requirements set by Carnegie Mellon University and Harvard University through a standardized on-line application procedure. AIT Admissions will cooperate with their Jordanian counterparts for the dissemination of information, and will welcome the participation of the Kingdom's representatives in the nomination and selection process. During Wednesday's visit, Queen Rania also toured the AIT's Optical Networks Lab, also known as the Optical Fiber Lab, witnessing first hand its state-of-the-art facilities, which are used for research and educational purposes. Inaugurated in February 2004, the Lab, which is worth 2.5 million euros, is used to emulate global telecommunication networks supporting a large number of telephone calls and internet connections, which are transmitted over a single optical fiber.

Queen Rania's official website
This website does not support old browsers. To view this website, Please upgrade your browser to IE 9 or greater
Your browser is out of date. It has known security flaws and may not display all features of this and other websites. Learn how to update your browser