Queen Rania Thanks Royal Health Awareness Society and Altibbi for Raising COVID-19 Awareness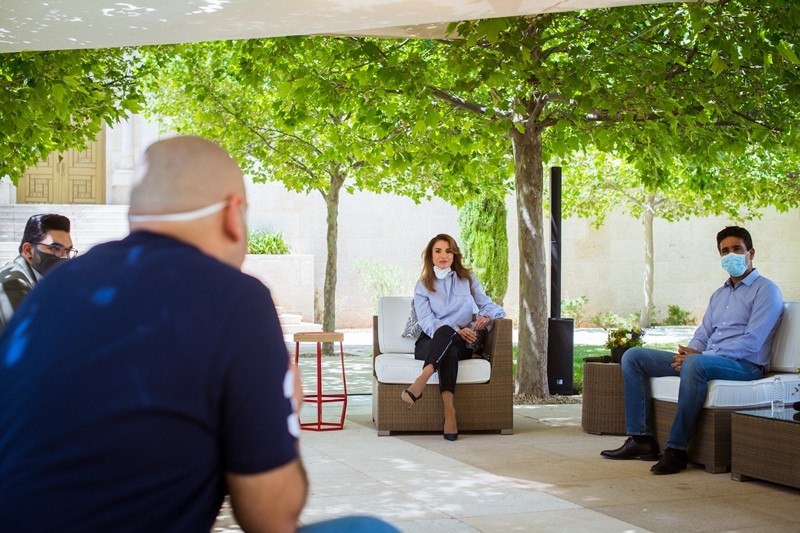 (Office of Her Majesty – Press Department – Amman) – Her Majesty Queen Rania Al Abdullah met with a group of employees and volunteers from the Royal Health Awareness Society (RHAS) and digital health platform Altibbi on Monday, to learn about their roles in supporting national efforts to confront the coronavirus (COVID-19) pandemic in Jordan.
Her Majesty underscored the importance of raising medical awareness and educating the public on methods to prevent the spread of diseases, particularly as Jordan rolls back lockdown measures and life gradually returns to normal, leading to increased interaction between individuals.
Noting that "in difficult circumstances, a community's compassion and goodwill will always shine through," the Queen extended her appreciation to every doctor who shared their expertise with callers on the coronavirus information hotline, and to all members of the medical profession. She added that they all played an integral role in containing the disease and raising awareness among the Jordanian people.
Since early March, RHAS stepped up efforts to increase medical awareness among Jordanians by contributing content to the Ministry of Health's official COVID-19 website, launching a national campaign promoting healthy practices and preventive measures, and developing an interactive chat bot to respond to users' health concerns.
According to RHAS Director General, Hanin Odeh, the organization's contributions to Jordan's coronavirus response were implemented in collaboration with the Ministry of Health, World Health Organization, and UNICEF, as well as Takamol, the Jordan Paramedic Society, and technology companies Sondos Market Research and Imagine Technologies.
Her Majesty also heard from Altibbi's founder and CEO, Jalil Allabadi, who explained the platform's launch of the "Ask about Coronavirus" hotline, in collaboration with the Ministry of Health and with the support of Hikma Pharmaceuticals. Via the hotline number 111, a total of 116 participating doctors fielded more than 250,000 calls, working 20 hours a day to answer callers' inquiries on COVID-19.
Established in 2009, Altibbi is the region's first and largest Arabic digital health platform, offering medical and health-related content to users in real-time through its applications and website.

Queen Rania's official website
This website does not support old browsers. To view this website, Please upgrade your browser to IE 9 or greater
Your browser is out of date. It has known security flaws and may not display all features of this and other websites. Learn how to update your browser