Queen Rania Meets with Women from Ma'an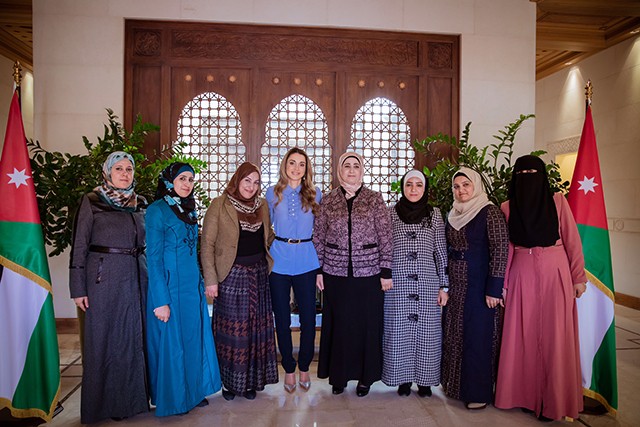 (Office of Her Majesty – Press Department – Amman) - Her Majesty Queen Rania Al Abdullah met on Wednesday with a group of women actively engaged in social empowerment projects in the governorate of Ma'an to learn about their ongoing projects and challenges.
The activists and volunteers, who are members of Al Anwar Charity Organization for Women, told Her Majesty that the charity was established in 2010 to address issues residents in Ma'an face as a result of difficult economic and social conditions.
Charity's President Mrs. Lana Krishan, told Queen Rania that with only fifty members, the charity's Family Counselling Center, established in 2012 through partnerships with the Jordan River Foundation (JRF) and the National Council for Family Affairs, has dealt with around 7,000 cases.
The center provides psychosocial support, workshops, and lectures to address a variety of social issues, as well as economic empowerment projects to its beneficiaries.
Krishan said the center has also provided counseling and support to sixty families whose sons left them for Syria to join extremist groups like ISIL.
According to Krishan, the center's activities are in line with His Royal Highness Crown Prince Al Hussein's initiative on youth's role in building peace and fighting terrorism and extremism.
The center also provides awareness sessions about the importance of education and healthy parenting to prevent children from falling victim to recruitment by extremists.
Her Majesty Queen Rania commended the women on their efforts to help their families and communities, explaining that social stability stems from the stability of the home. She said: "I am very relieved when I see women like you because you are present on the ground and aware of the needs of your communities. You feel people's pain and know the solutions for their woes. You are leaders, so do not underestimate the power of what you are doing."
Quoting His Majesty King Abdullah, Queen Rania added: "Love for one's country isn't expressed with words. It's done with actions, and your actions are the best expression of loyalty to this country."

Additionally, the charity is also helping non-Jordanians living in Ma'an. Psychologist Lubna Musa told Her Majesty that the charity has implemented protection projects to integrate 13,000 Syrian refugees living in Ma'an, and alleviate the widespread problem of child labour among them.
The women meeting Her Majesty also included the charity Vice President Mrs. Myasar Khawaldeh, Treasurer Mrs. Aisha Mashaalah, Administrative Board Member Ms. Bayan Taher, Psychologists Ms. Nuha Hamadeen and Researcher in the Economic Empowerment Unit Ms. Dima Jamal.
Al Anwar Charity Organization for Women was founded in 2010 through the Ministry of Social Development as a charity association for women. Its goal is to locate society's gravest challenges and compose solutions in the way of action plans focusing on women and children. The organization also provides assistance to families in need and fosters orphans.

Queen Rania's official website
This website does not support old browsers. To view this website, Please upgrade your browser to IE 9 or greater
Your browser is out of date. It has known security flaws and may not display all features of this and other websites. Learn how to update your browser