Queen Rania Endorses Efforts by Anti-bullying Campaign at Sweileh Secondary School for Girls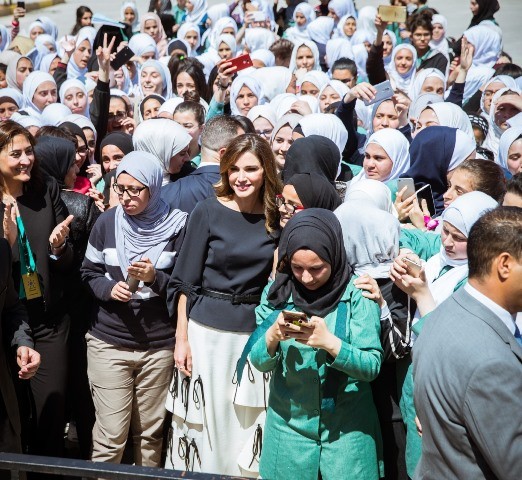 (Office of Her Majesty – Press Department – Amman) - Her Majesty Queen Rania Al Abdullah visited the Sweileh Secondary School for Girls on Sunday to support the efforts and activities of a new campaign to fight bullying in schools.
"Say No to Bullying" was launched by Jordanian composer and singer, Aziz Maraka, in collaboration with the Ministry of Education and Madrasati, an initiative launched by Her Majesty in 2008 to improve learning environments in Jordanian public schools. The campaign addresses the issue of bullying in schools and offers innovative solutions to curb its prevalence.
Her Majesty was welcomed by School Principal, Mervat Khatatneh, and Madrasati Director, Tala Sweis, where she began her visit by listening to a discussion on combating bullying.
The workshop, which was facilitated by Madrasati and attended by a group of students from different grades, tackled the root causes of bullying, its detrimental effects on its victims, and measures to prevent it. It also addressed the equally dangerous problem of cyber bullying and its modern-day pervasiveness.
Speaking at the workshop, Her Majesty stressed the importance of fighting bullying in its many forms, including cyber bullying.
She explained that cyber bullying is one of the most dangerous forms of bullying due to the anonymity of perpetrators, who hide behind a screen, and the liberty this grants them to partake in various kinds of abuse and harassment.
Her Majesty additionally warned of the wide distribution of photos and videos through social media that show students being victimized and bullied, which can hurt them and their families, and go as far as causing depression, frustration, and even suicide.
Her Majesty watched 50 students participate in a hands-on activity to design a visual tool for raising awareness about bullying through different forms of expression. These included painting, origami, rapping, caricature drawing, and storytelling through pictures.
The Queen also chatted with a number of students about their views on bullying.
The highlight of the campaign's activities was a concert held by Maraka at the school playground, where he talked about the importance of fighting bullying, and performed some of his most popular songs.
Singing against the backdrop of the pledge-wall designed in partnership with Madrasati as a way for students to reject bullying by stamping their handprints on it, Maraka performed "Wagif," a song he specifically composed for the campaign.
The "Say No to Bullying" campaign comprises a concert tour by Maraka taking him to 10 private and 2 public schools across Jordan in order to develop the campaign into a yearly platform and leverage it as a pop-culture arm for disseminating messages and raising awareness about social issues.
The pop-up concerts in each school are funded by Orange, Toyota, and Careem.
Founded in 1951 the Sweileh Secondary School for Girls, which was revamped by Madrasati in 2008, also welcomed 95 students from the Safout Secondary School for Girls from seventh and eighth grades to the event.

Queen Rania's official website
This website does not support old browsers. To view this website, Please upgrade your browser to IE 9 or greater
Your browser is out of date. It has known security flaws and may not display all features of this and other websites. Learn how to update your browser