Queen Rania Attends the Red Sea Institute of Cinematic Arts Second Graduation Ceremony in Aqaba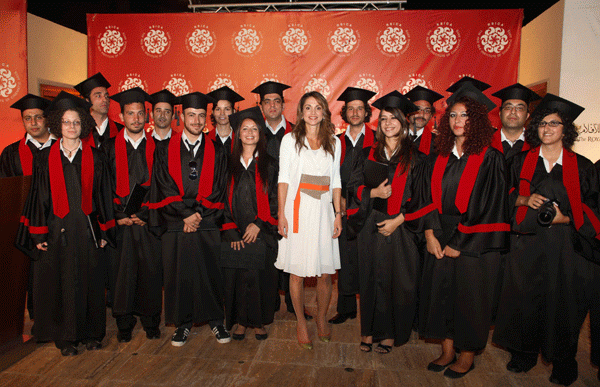 (Office of Her Majesty, Press Department- Aqaba) – Under the Royal Patronage of Her Majesty Queen Rania Al Abdullah, The Red Sea Institute of Cinematic Arts (RSICA) today celebrated the graduation of its second Masters of Fine Arts class of 22 young men and women from all over the Middle East, in a commencement ceremony held at the Movenpick Tala Bay Resort in Aqaba. In attendance were Her Majesty Queen Rania, the Board of Directors of RSICA, academic peers and friends and family of the graduates including many of the school's supporters from the Aqaba community.
The Red Sea Institute of Cinematic Arts (RSICA), which was inaugurated in 2008, is a world class educational facility designed to create and deliver the highest quality professional screen practitioners, and assist in the development of a creative, sustainable and prosperous screen industry for Jordan and the MENA region. The core values of RSICA are to guide and inspire with respect and humanity, and empower the creation and sharing of stories of the region for the world. RSICA offers a Masters of Fine Arts Degree in Cinematic Arts, and was founded by the Royal Film Commission of Jordan in association with the University of Southern California's School of Cinematic Arts.
Dr. James Hindman, Provost and co-founding member of the RSICA, said in his opening remarks: "The distance we have travelled with these graduates over our time together is enormous. We know they have changed in so many ways—how they see themselves and each other, what work they wish to do going for-ward, how they value collaboration, what stories they hope to tell now and in the future. Interestingly, they have grown and changed as the Region around them has changed, so quickly we can hardly imagine it. The parallels between these filmmakers and this place are powerful—new hopes and priorities, new freedoms, new expressions, new fears, new dreams. And media itself has been a major force behind these changes'.
In her speech, Dean Elizabeth Daley of the USC School of Cinematic Arts, said: "We at the University of Southern California's School of Cinematic Arts are indeed very proud of each of the graduates, and honoured to have had some small part in helping to make the Red Sea Institute of Cinematic Arts a reality".
Dean Paolo Remati, said to the students and audience in his speech: "We feel this graduating class is a major contribution to the Screen Industry, and a fantastic investment in the future of Jordan, the region and the world.


Queen Rania's official website
This website does not support old browsers. To view this website, Please upgrade your browser to IE 9 or greater
Your browser is out of date. It has known security flaws and may not display all features of this and other websites. Learn how to update your browser