Queen Rania Visits Shifa' Bint Awf School for Girls to Review JEI's Activities There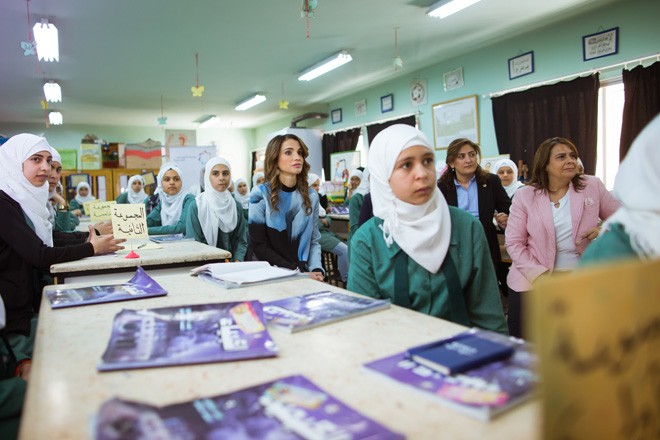 (Office of Her Majesty – Press Department – Amman) Her Majesty Queen Rania Al Abdullah visited, today, the Shifa' Bint Awf School for Girls and checked on the progress several educational projects carried out by the Jordan Education Initiative (JEI) as well as Watan Music Chamber.
Upon her arrival, Queen Rania met with Ms. Nermine Nabulsi, Chief Executive Officer of JEI and Ms. Manal Qadoura, school principal, and began her tour of the facilities stopping by the Watan Music Chamber. Her Majesty also met with The Chamber's founder, Ms. Duha Abdelkhaleq, who briefed Her Majesty on the initiative.
Through Watan Music Chamber, young and talented students, mainly in public schools, are given the opportunity to explore their creative potential and get a head-start with music. A successful collaboration between the private sector and the Municipality of Amman, the Chamber's vision is to combine the teaching of music with the official learning curricula at public schools in Jordan. The Chamber was established with the support of the Because I Care online portal, a not for profit initiative.
Her Majesty later attended two performances by students: a rap song and a piano performance by a beneficiary from the Music Chamber in Ras Al Ein.
JEI CEO briefed the Queen about their partnership with Madrasati Palestine, which aims to transfer its educational model to 20 schools in Jerusalem. JEI adapted the model to fit the environment of Jerusalem schools, recommended the best tested equipment to purchase, provided them with three e-curricula as a donation from Rubicon, and trained teachers and principals on the Interactive White Board, Change Management and 21st Century Skills.
At her second stop, Queen Rania attended a class with a school in Jerusalem via a Skype live-connection. Science teachers from both schools explained the concept of acid rain and its effects on old Jerusalem buildings to 10th graders. The Jerusalem school principal also told Her Majesty about the partnership, the benefits of this program and what they were able to achieve.
Queen Rania also praised the high morale of the teachers and the school's principle's self-motivation and efforts in making the school a center of excellence in many different ways, despite the limited resources.
Al Shifa' Bint Awf Secondary Schools for Girls was established in 1994 and currently has 800 students (grades 7-12), and 38 teachers and administrative staff.

About:
JEI
Launched in 2003 under the patronage of His Majesty King Abdullah II, JEI aims to support Jordan's efforts in improving the level of education, encouraging creativity, developing capabilities, and building a knowledge economy.
Because I Care is an online portal initiative that acts as a non-profit organization. The website was launched in 2015 and is directed by Doha Abdelkhaleq and sponsored by Eskadenia Software Company.
Watan Music Chamber
Watan Music Chamber was established in 2013 and is hosted and located at Al-Hussein Cultural Centre in Ras Al-Ain in the form of a teaching space which is accessible to the students of schools that cannot afford music teaching, in cooperation with the Madrasti initiative and the National Music Conservatory.


Queen Rania's official website
This website does not support old browsers. To view this website, Please upgrade your browser to IE 9 or greater
Your browser is out of date. It has known security flaws and may not display all features of this and other websites. Learn how to update your browser