Queen Rania Visits RHAS's Health Open Day Activities Held in a School in Irbid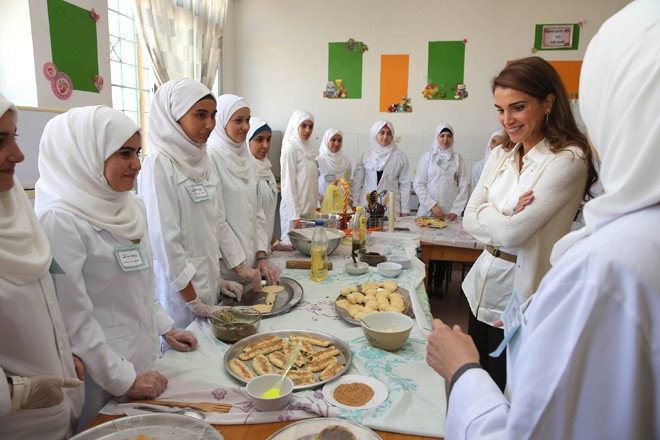 (Office of Her Majesty- Press Department- Irbid) To emphasize the importance of healthy practices in schools, Her Majesty Queen Rania Al Abdullah attended today part of a health open-day held by the Royal Health Awareness Society (RHAS) at Khadeeja Um Il Mo'mineen School for Girls in Irbid.
At the school, which was granted the gold-level accreditation in RHAS's Healthy Schools Program, Queen Rania spoke with teachers, students, parents and several members of the local community taking part in the event.

The activities included a series of lectures tackling health topics such as nutrition, smoking, diabetes, first aid, and many others. Students also participated in a number of interactive activities such as reading stories and playing games. Free medical tests such as blood glucose level and hemoglobin tests were also conducted for the local community.
Her Majesty stopped by a first-aid lecture teaching parents how they can prevent domestic accidents. Queen Rania also attended part of a session on the negative effects of smoking and secondhand smoking which was prepared by the King Hussein Cancer Center (KHCC). Other activities at the open-day included sessions and workshops to raise students' awareness about extinguishing fires, drugs and addiction.
Queen Rania then checked on different classes at the school and had the chance to talk to a number of teachers and students at the beauty and hair dressing class and the culinary production class.
In the schoolyard, students took part in sports activities and had the chance to watch a puppet show teaching them about personal hygiene.
Today's event was held by RHAS in cooperation with a number of nonprofit organizations and companies that represent the private sector such as KHCC, MED Labs, Nestle, Colgate, Roche, and Sada' for Consulting and Training.
School Principal Ms. Siham Al Sharman talked about the positive effects RHAS's Healthy School Accreditation Program had on teachers, students, and local communities. She added that this program is implemented in Jordanian schools in partnership with the Ministry of Health and the Ministry of Education.
Dr. Ali Al Momani head of education directorate in Irbid, praised this program and the role it plays in highlighting schools' success stories and promoting healthy practices amongst students and parents. He also stated how he wishes other schools across the kingdom would be part of RHAS's program.
RHAS Director General Inaam Barishi said that Khadeeja Um Il Mo'meneen School for Girls is one of five schools in Irbid that received the gold-level accreditation in the Healthy School Accreditation Program. She added that in Irbid two other schools received the silver-level accreditation and five others received the bronze-level accreditation. .
Featured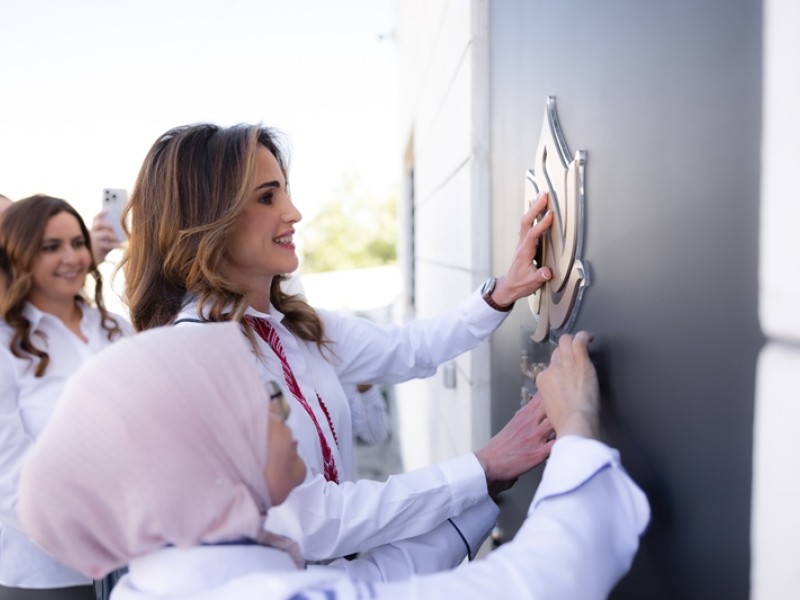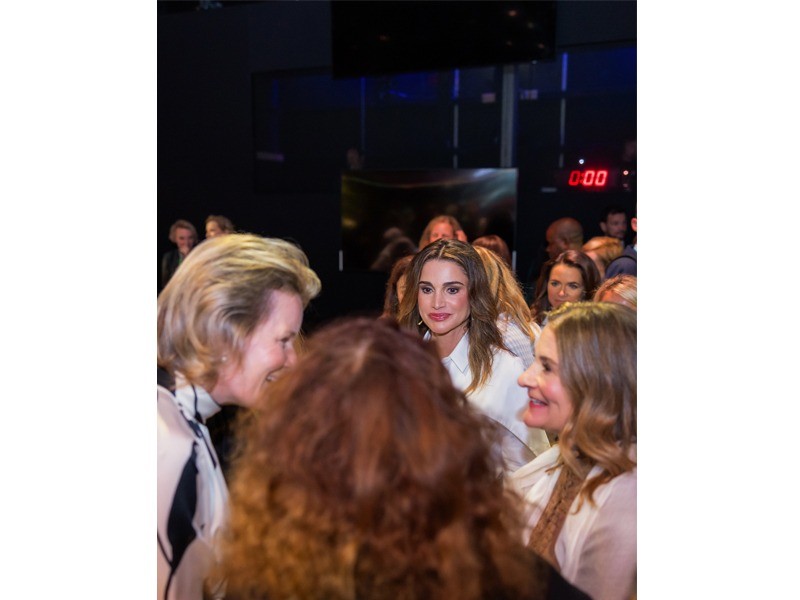 Queen Rania's official website
This website does not support old browsers. To view this website, Please upgrade your browser to IE 9 or greater
Your browser is out of date. It has known security flaws and may not display all features of this and other websites. Learn how to update your browser