Queen Rania Visits Al Zarqa University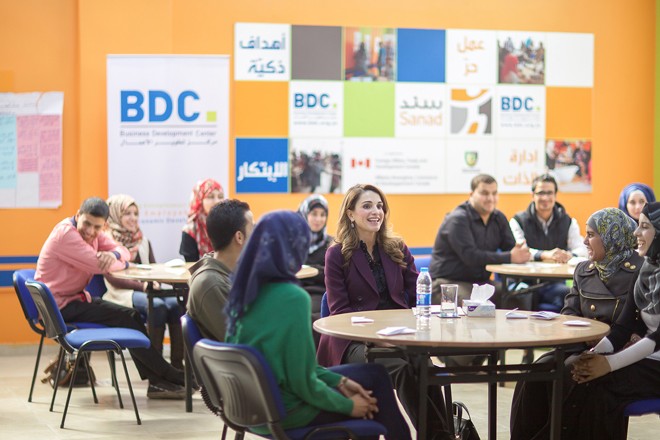 (Office of Her Majesty- Press Department- Amman) Her Majesty Queen Rania Al Abdullah visited today Al Zarqa University College and met with youth taking part in the Youth Entrepreneurship and Employability Project "Sanad", a project implemented by the Business Development Center (BDC).
At one of the college's halls, Queen Rania dropped in on the 'Know about Business' session attended by students from different faculties and a number of graduates from the Sanad project.
The Queen listened to the CEO of (BDC) Mr. Nayef Stetieh give a brief presentation about the project and its partnership with the Balqa Applied University, which serves as an umbrella for a number of university colleges in Jordan, including Al Zarqa University College.
Mr. Stetieh explained that Sanad was launched last year in collaboration with the Canadian International Development Agency (CIDA) to improve the economy in Jordan by increasing employment opportunities and promoting entrepreneurship amongst youth. The program also aims to build partnerships between the private sector and community colleges across the kingdom as well as hone skills of students and graduates of vocational schools and community colleges in order to improve their employment opportunities.
Throughout the next five years, this project will benefit 25 vocational schools , 6 community colleges, 150 vocational school teachers, 150 community college professors and a total of 18,000 young male and female Jordanians.

The project also provides trainings for teachers working at vocational schools and community colleges, and hosts workshops to educate parents and the private sector on the role of women and graduates in the labor market.
Queen Rania had the chance to listen to students talk about their experiences as participants in the program and how that helped them gain new skills and improve existing ones in accordance with the needs of the current job market. Students also talked about how the project provided them with guidance on how to go about starting their own businesses.
During the session, which was also attended by Prof. Nabil Shawagfeh. President of Al Balqa Applied University, H.E. Bruno Saccomani , Canada's Ambassador to Jordan, and Dr. Monther Krishan, Dean, Al Zarqa University College, Queen Rania stated that the skills youth gain through this program help them keep up with job market demands and, ultimately, fulfill their dreams.
She also noted that the project must help youth create new job opportunities and not just be an aid in finding them, adding that parents also play a very important role in the process.

Her Majesty then joined some parents attending the event in an awareness session about gender sensitivity entitled 'Women's Role and its importance in the labor Market'. Attendees told the Queen that this project helped open new doors for their children.
This session was also attended by teachers from different community colleges and vocational schools who had attended the Train of Trainers 'Know about Business' workshops. Teachers stressed that the skills they acquired helped them motivate their students and unleash their potential in a way that best suits the job market.
The Business Development Center (BDC) is a non-profit organization that provides programs catered towards youth, entrepreneurship, women empowerment, local economic development and training of trainers. Through its Maharat Internship Program, the center benefited 14 thousand graduates from across the kingdom and helped them get employment opportunities.

Featured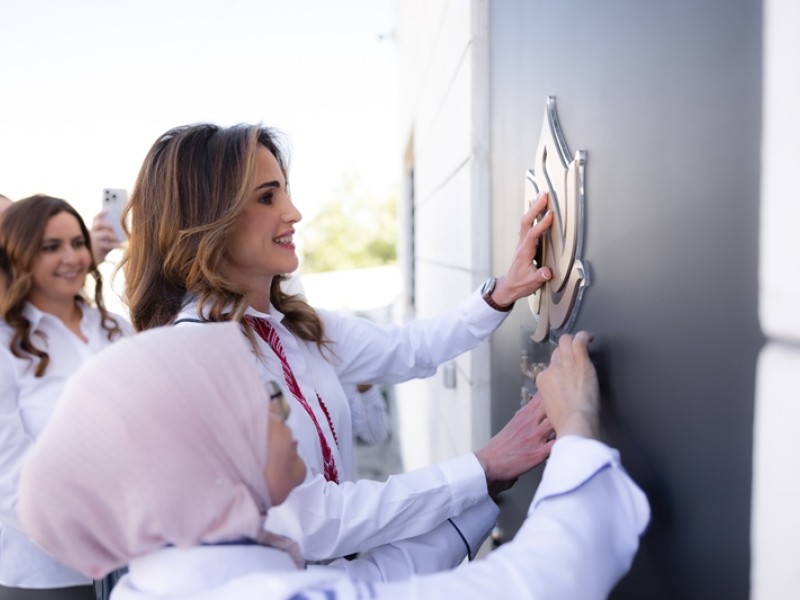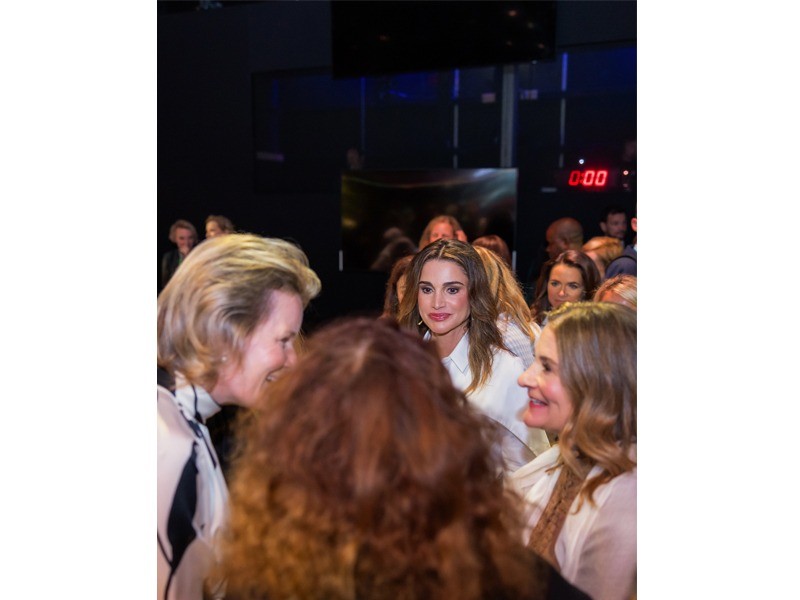 Queen Rania's official website
This website does not support old browsers. To view this website, Please upgrade your browser to IE 9 or greater
Your browser is out of date. It has known security flaws and may not display all features of this and other websites. Learn how to update your browser