Queen Rania Tours a Madrasati School Fair and Listens to Success Stories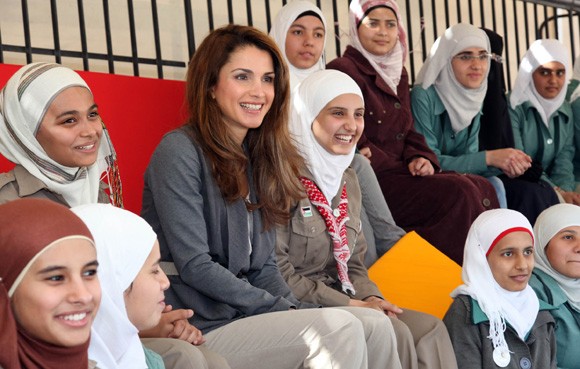 (Office of Her Majesty, Press Department, Amman) Keen to follow up on the work undertaken by Madrasati Jordan, Her Majesty Queen Rania Al Abdullah toured, today, a fair held by one of the Madrasati phase II schools, the Mahes Secondary School for girls.

Received by Madrasati's Director, Danah Dajani, and the school's principle, Ms. Razan Al Zo'bi, Her Majesty first checked on students participating in a Jeopardy- like game, which included questions about education and the Madrasati initiative. Queen Rania then joined in the fun by asking the students one of the questions about Teachers' Day, celebrated on the 5th of October every year.

Also during her tour, Queen Rania met with a group of students who learned how to make ceramic handicrafts. The students pointed out that the proceeds of those products will be donated to help enhance their schools.

The Queen's next stop was at "Katie's Readers group", where she was briefed by one of Madrasati's volunteers, Angela Ressa, about the program which encourages students to learn English from native English speaking volunteers. These volunteers spend at least two hours a week reading English stories and organizing fun games for students.

Her Majesty also chatted with students taking part in other activities and projects, such as the recycling project, folklore dancing, and making of mosaic crafts.

Queen Rania then met with the principle and a group of students from Khawla Bint Al Azwar Primary School for Girls, who talked about the visible impact Madrasati has had on their school. The girls also showed Her Majesty some jewelry pieces and different products which were originally produced from items with violent connotations such as sticks and whips, as a way to combat violence and abuse.

They also briefed Her Majesty on the health program they had created.

Concluding her visit, Queen Rania met with a group of local committees from different Madrasati phase I and phase II schools, who explained how they benefited from the initiative, and how they are still working with Madrasati to enrich their learning environment through multiple education, health and extracurricular programs.


Queen Rania's official website
This website does not support old browsers. To view this website, Please upgrade your browser to IE 9 or greater
Your browser is out of date. It has known security flaws and may not display all features of this and other websites. Learn how to update your browser