Queen Rania Receives the Arab Knight of Giving Award in Abu Dhabi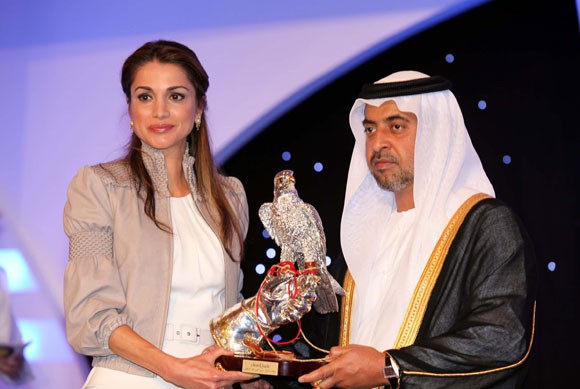 (Office of Her Majesty- Press Department- Abu Dhabi) In recognition of her humanitarian work and efforts to support global and regional education, Her Majesty Queen Rania Al Abdullah received, today, the Arab Knight of Giving Award, during the Arab Giving Forum in Abu Dhabi.
At a ceremony held under the patronage of HRH Sheikh Hamdan Bin Zayed Al Nahyan, Deputy Prime Minister of the UAE and President of the Red Crescent Committee, and organized by the Zayed Giving Initiative, Sheikh Hamadan presented Queen Rania with a statue of a gold eagle.
Addressing 500 guests, including government representatives, private sector companies, NGOs, corporate social responsibility (CSR) experts, Ministers of Health, Education, and Environment from the UAE and the region, as well as media personalities, Her Majesty thanked the initiative, which carries the name of late Sheikh Zayed bin Sultan Al Nahyan, founder of the United Arab Emirates, for their efforts to promote a culture of volunteerism throughout societies.
"I stand here today, before a group of givers, and in a country which has not only raised great towers, but has also raised the quality of life for its people." Queen Rania said.
Her Majesty then talked about the values of giving and generosity in the Arab World, which have been rooted in our ancestry, and passed on through generations. She also noted that "with such values, comes a responsibility of giving back."
The Queen went on to say, "I see my work as improving the quality of education, locally, regionally and globally, firstly as my responsibility as an individual, and secondly, as the Queen of Jordan."
Discussing education in the Arab World, Her Majesty pointed out that there are 6 million children out of school. She added, "In the Arab World, where we share the same identity, there are children out of school who wander the streets, looking for an opportunity, and dreaming of going to schools. But instead, they wake up to a new day that only carries hunger, deprivation, and ignorance."
Outlining the destructive impact war and conflict have on education, Her Majesty said, "When children are recruited as soldiers, they are deprived of their education. When victims are driven out of their homes, schools become their new shelters. And when school buildings are destroyed, children cannot learn, and education becomes a luxury."
Queen Rania then noted, "In Jerusalem, it is vital that education must remain a priority."
Describing the suffering of young people there, Her Majesty said, "Children in Jerusalem raise their hands and pray for an education that could protect them from humiliation caused by the occupation; education is their weapon, shield, and their greatest opportunity for having a better life." Queen Rania also noted that there are 10 thousand children in Jerusalem that are currently out of schools.
Her Majesty then talked about Madrasati Palestine, an education initiative she has recently launched to renovate disadvantaged schools, under the auspices of the Jordanian Ministry of Awqaf and Islamic Affairs, in East Jerusalem, because Jerusalem, Her Majesty said, "is our responsibility, and a burden that we will always carry."
Referring to one of the United Arab Emirates success stories in the education sector, Queen Rania noted that 10 years ago, 55,000 children were out of school, but today, 50,000 of them were enrolled in schools.
"The United Arab Emirates has always been a pioneer, therefore, we count on its high sense of responsibility, to share its experience and help children in the Arab World," the Queen told the audience.
Concluding her speech, Queen Rania urged attendees to seize the opportunity to lift up our societies, and reminded attendees that it is a responsibility we all bear towards the next generations.
Also during the ceremony, a film about Her Majesty's work in the fields of education, community empowerment, and cross cultural understanding was shown.
Other awards were presented to HRH Prince Al Waleed Bin Talal, as well as HRH the late Sheikh Ahmed bin Zayed Al Nahyan, which was received by HRH Sheikh Hamed Bin Zayed Al Nahyan. Films about both awardees were also shown.
The Zayed Giving Initiative is a UAE philanthropy organization founded in 2003, and based on a model of humanitarian volunteer work in the spirit of the late Sheikh Zayed bin Sultan Al Nahyan, founder of the United Arab Emirates. It aims to promote volunteerism and harness the potential of institutions and individuals for effective participation in community development in the areas of health, education, environment, and culture.


Queen Rania's official website
This website does not support old browsers. To view this website, Please upgrade your browser to IE 9 or greater
Your browser is out of date. It has known security flaws and may not display all features of this and other websites. Learn how to update your browser