Queen Rania Meets with Mayor Richard M. Daley in Chicago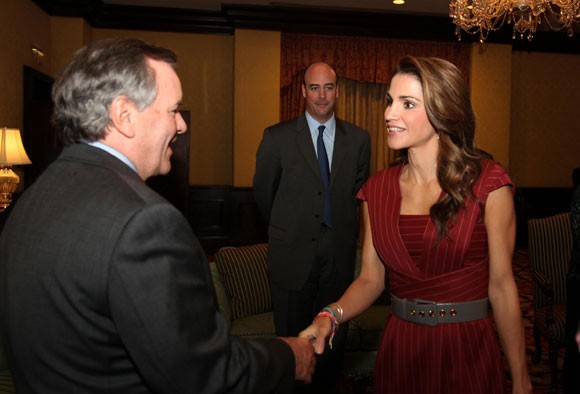 (Office of Her Majesty- Press Department- Chicago) Her Majesty Queen Rania Al Abdullah met, yesterday, with Chicago Mayor, Richard M. Daley, as well as President of Beltone Electronics Corporation, Todd Murray, who partnered with the newly formed Humanitarian Committee of Chicago Sister Cities International (CSCI), to donate 100 Beltone hearing instruments to the Holy Land Institute for the Deaf in Jordan.
Worth more than $200,000, The hearing aids will benefit children with hearing impairment, some with additional disabilities such as cerebral palsy, low vision or intellectual impairment.
Talking about the relationship between Amman and Chicago, Queen Rania said, "Chicago is a great city we are proud to call our sister; the treasured bonds we share have brought us not just partnership, but friendship – a friendship I know will only strengthen and deepen in the years to come."

Queen Rania also expressed her gratitude for Beltone's kind contribution, "Today, I'm delighted to see our close bonds brought even closer with this generous donation from Beltone; the hearing aids will bring Jordan's children not just the gift of hearing, but a fuller, more meaningful life."

Also during the meeting, Mayor Richard M. Daley said, "Chicago is home to the third largest Arab community in the United States, and our strong Sister City relationship with Amman is the foundation for many positive interactions. This kind of humanitarian undertaking speaks to our humanity and makes a meaningful statement about the values of the people of Chicago."

"Beltone is pleased to provide hearing aids to the deserving people with hearing impairment at the Holy Land Institute for the Deaf," said Todd Murray, President of Beltone Electronics Corporation. "This endeavor is part of our global effort to deliver hearing aids to children and adults who might not otherwise have access to quality hearing care."

In 2007, Beltone partnered with the Amman Committee of CSCI to donate $200,000 worth of hearing aids to the King Hussein Cancer Center in Amman, Jordan.

Chaired by Susan Leonis of the Leonis Group, the Humanitarian Committee of CSCI was created in 2010 to further Chicago Sister Cities International's mission of promoting Chicago as a global city, developing international partnerships and networks, and sharing best practices on a city-to-city basis.

The partnership with Beltone is the Humanitarian Committee's first initiative and also includes a hearing aids donation, worth more than $200,000, to people in need in Durban, South Africa. The Committee is also working on humanitarian projects in Chicago, Delhi and Mexico City, including a Global FoodBanking Network program and a City of Chicago Shoe Drive.

Queen Rania's official website
This website does not support old browsers. To view this website, Please upgrade your browser to IE 9 or greater
Your browser is out of date. It has known security flaws and may not display all features of this and other websites. Learn how to update your browser