Queen Rania Meets Board Members, Staff and Beneficiaries of LoYAC- Jordan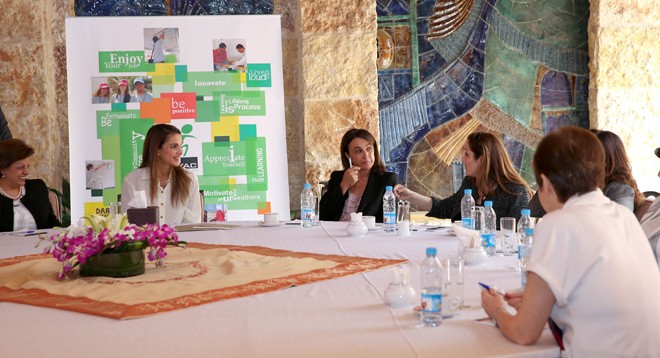 (Office of Her Majesty – Press Department – Amman) - Her Majesty Queen Rania Al Abdullah stressed today the importance of youth taking initiative to improve their skills, in meetings with board members, staff and beneficiaries of LoYAC-Jordan, a nonprofit organization that provides youngsters with opportunities to seek jobs while contributing to their own communities.
At the King Hussein Club, Queen Rania listened to the group talk about the goals of the Lothan Youth Achievement Center-Jordan (LoYAC) and how it invests in youth and helps them secure satisfying internships and job opportunities with potential long term careers.
A keen supporter of organizations that build the capacity of Jordanian youth, Queen Rania said that she is very proud of LoYAC-Jordan's efforts to train youth and prepare them for the job market. She added that the results of the organization's work is evident and reflected in the personal success of each of these youth, and their contribution to improving their own local communities.

"What sets you apart is that you did not wait for a job opportunity to come to you, you took the initiative and decided to improve your skills," Her Majesty told the youth.
Her Majesty also noted that LoYAC-Jordan had provided Jordanian youth with equal training and job opportunities through its networks and partnerships with different companies and organizations from the private and public sectors.
Youth beneficiaries told Her Majesty stories about their own experiences with LoYAC-Jordan and how it offered them job opportunities in different sectors. The meeting was also attended by Ms. Hiam Al Salem Azar, Chairperson of LoYAC-Jordan; Mr. Rami Shishan, General Manager of LoYAC- Jordan; as well as other board members, and was moderated by Ms. Reem Mouasher Atalla, Secretary of the Board.
Her Majesty also met with board members of LoYAC-Jordan and watched a presentation about the organization's mission, mandate, and achievements so far.
Ms. Azar expressed her gratitude to the Queen for her support which will encourage them to improve their work and reach more beneficiaries in the future.
LoYAC-Jordan Managing Director Rula Aburayyan Jardaneh briefed Her Majesty about the different programs they put in place to help youth start their professional careers.
Mr. Rami Shishan said that LoYAC-Jordan takes much pride in its work as it focuses on unleashing youth's creativity to explore their potentials and start their careers.

Since it was established in 2008 and in partnership with King Abdullah II Fund for Development (KAFD), LoYAC-Jordan has started different programs that help youth find their sense of purpose and develop their professional competencies and life skills.
One of the organization's programs is "Darb" which provides students with summer internships to gain valuable work experience and ease the transition phase thus enabling students to choose their career paths. More than 6500 students have applied to this program so far.

LoYAC-Jordan also believes in the importance of youth giving back to their communities, therefore, it launched the Community Service Program which requires that all of their beneficiaries complete a total of 18 hours of community service.
This program has helped kick start various youth initiatives such as 'Leave it with Us', where the volunteers visit outpatient clinics at crowded hospitals to help the sick and elderly process their paper work, and 'Your Device is My Life', where blood sugar monitoring devices are distributed to diabetic children. Other programs include 'Clean the Tourist Attractions', and 'Make your Neighborhood Beautiful'.
The organization also started "the Homes Program" which allows students to help refurbish homes of low income families.
Other programs by LoYAC- Jordan include the "Youth Empowerment through English" program which consists of 60- hour interactive workshops tailored to develop students' self-awareness and leadership skills while improving their English language level. This pilot project started in October 2012 and has benefited 77 students to date.

LoYAC is a nonprofit organization founded in 2002 in Kuwait to help young people between 13 and 27 years of age find part-time jobs, on-the-job training while volunteering in community projects to learn the benefits of giving their free time to their fellow citizens. LoYAC has developed presence in two other Arab countries with its chapter in Jordan and Lebanon, with the latter founded in 2009.

Queen Rania's official website
This website does not support old browsers. To view this website, Please upgrade your browser to IE 9 or greater
Your browser is out of date. It has known security flaws and may not display all features of this and other websites. Learn how to update your browser