Queen Rania Inaugurates Rmeil Charitable Society and Visits Tor Al-Hashash Secondary School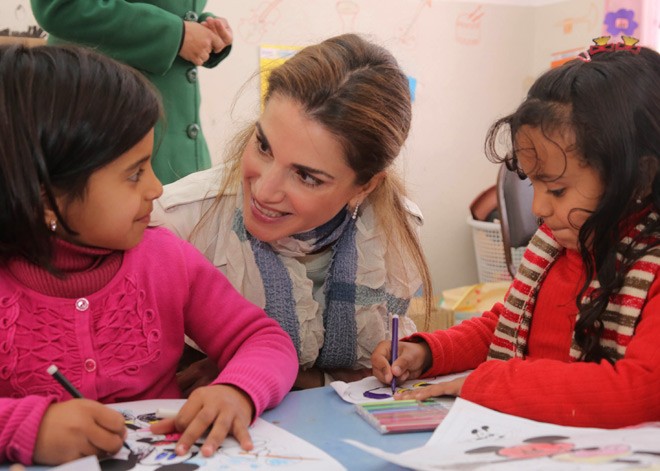 (Office of Her Majesty, Press Department - Al Jeezeh) In line with Her Majesty's efforts to empower local communities and provide them with need-based services, Queen Rania Al Abdullah inaugurated today the new building of the Rmeil Charitable Society located in Al Jeezeh district and dropped by one of the public schools in the area to check on students upon starting their second semester.
At the society's new building, Her Majesty met with board members and local residents who thanked the Queen for her support to improve the standard of development and educational services provided to local communities.
The improved facility was built after Her Majesty met with local residents of Rmeil village in 2011 who expressed their wishes for a bigger building so that it may benefit more people. The facility will also serve a number of nearby villages.
At the meeting, Queen Rania passed on His Majesty King Abdullah II's greetings, congratulated the residents on the new premises, and praised the dedication they have shown to enhance the living conditions in their village.
Her Majesty also noted that projects are more successful when they are implemented by members of the community who can best identify their needs and thus able to come up with the most practical solutions.

Director of Rmeil Charitable Society Khalid Suheim said that with the new building they are able to receive hundreds of beneficiaries, whereas the old one barely fit three people at a time. He also talked about its services such as funds for revolving loans provided by the Ministry of Social Development and the Hashemite Fund for the Development of Jordan Badia. To date, these funds have enabled 16 families to start their own income-generating businesses.

The society also provides financial support to underprivileged students and families.
Her Majesty also visited Tor Al-Hashash Secondary School for Girls and listened to the principal Ms. Fadwa Al Ruwei' talk about the renovations they did in cooperation with parents, teachers, and students to improve the learning environment.
Queen Rania then stopped by some classrooms and listened to students describe how these changes positively affected them and instilled values of citizenship and responsibility towards their community.

Queen Rania's official website
This website does not support old browsers. To view this website, Please upgrade your browser to IE 9 or greater
Your browser is out of date. It has known security flaws and may not display all features of this and other websites. Learn how to update your browser