Queen Rania Checks on the Work of Raneen Foundation During a Visit to Shajaret Al Dur School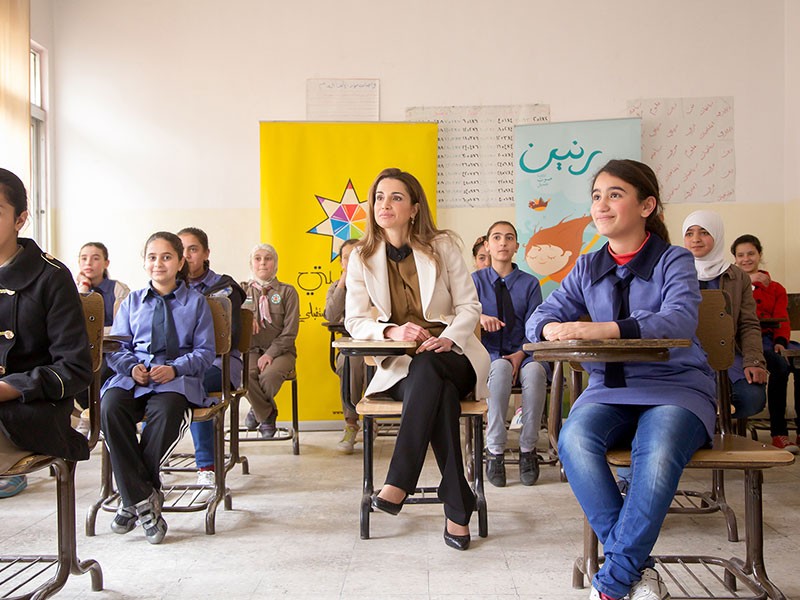 (Office of Her Majesty- Press Department- Amman) Her Majesty Queen Rania Al Abdullah engaged with students at the Shajaret Al Dur Elementary School for Girls in activities organized by Madrasati and the Raneen Foundation, an organization that produces audio stories for children in classical Arabic to develop their listening skills and strengthen their Arabic language.

The Queen was briefed on the foundation's activities and collaboration with the Madrasati initiative by its founder, Ms. Rawan Barakat. Tala Sweis, the Director of Madrasati, and the school principal, Ms. Ikram Maraqa, were also present.
Ms. Barakat explained that Raneen Foundation was established in December 2009 as a Jordanian non-profit organization that produces audio books recorded in a dramatic way with sound effects and music to inspire children and encourage them to use their imagination and creativity. She added that playing these stories to children helps them improve their listening, writing, speaking and acting skills.
Ms. Barakat also told the Queen that the books are specifically made to help visually impaired children enjoy stories and develop their listening skills.
Queen Rania then spoke with fifth grade students who were participating in a reflection exercise after listening to one of the foundation's audio stories. Along with two teachers, students engaged in a discussion about the morals of the story.
At the school library, Her Majesty joined sixth grade students in a puppet making workshop, which was also organized by the Raneen Foundation.
Queen Rania then spoke with a number of teachers who briefed her on the changes and renovations that took place in their school after the Queen's visit in 2008, where she announced it as one of Madrasati's schools.
To date, the Raneen Foundation has established an audio library that includes 30 stories written by some of the leading authors in the Arab world and narrated by famous Arab actors.
Through its partnership with Madrasati, other civil society organizations, women societies, and Ruwwad organization, the foundation has been able to reach beneficiaries in different governorates across the Kingdom.
The foundation has benefitted 5,000 children in Jordan and 1,000 children in the UAE. It also plans to extend its work to reach more governorates in Jordan as well as other Arab countries. The Raneen Foundation has also trained 450 teachers and mothers on new and creative storytelling methods.
In 2009, the foundation won the King Abdullah II Award for Youth Innovation and Achievement, while in 2011, it won The Synergos Award for Social Innovation, and HH Sheikha Fatima bint Mubarak Award for Arab Youth Globally Influential in 2013.


Queen Rania's official website
This website does not support old browsers. To view this website, Please upgrade your browser to IE 9 or greater
Your browser is out of date. It has known security flaws and may not display all features of this and other websites. Learn how to update your browser