Queen Rania Checks on Two Orphan Care Centers in Amman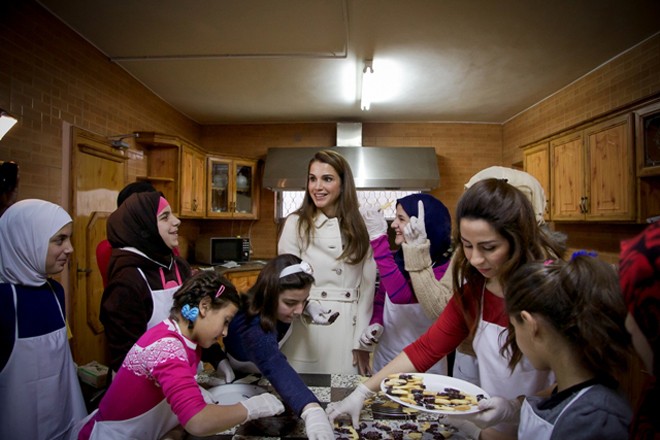 (Office of Her Majesty- Press Department- Amman) Her Majesty Queen Rania Al Abdullah kicked off the new year with a visit to two orphan care centers where she joined orphans in several fun activities and checked on the level of services provided to them.
Queen Rania's first stop was at the Hamzah Bin Abdul Muttalib Society where she checked on its orphans care center. Located in Marka, the center currently provides several social services to 21 girls between the ages of 6-18 who are either orphaned or come from broken and impoverished families.
The services provided by the care center range from providing food and shelter to parental guidance and education. The facility also has a general and dental clinic that provides healthcare services to orphans as well as the local community.

Her Majesty toured the center accompanied by Mr. Abd Al Latif Rashdan, Director of the society, and Ms. Rabia Al Khasawneh, Director of the care center.
The Queen then visited the Dar Al Aytam Society located in down town Amman. Her Majesty spoke with orphans benefiting from the society and checked on the services they receive from the society and its school.
Founded in 1969, the Dar Al Aytam Society currently cares for 28 boys between the ages of 6-12 who are either orphans or come from disadvantaged families. The society was recently renovated by the Public Security Directorate as part of its social corporate responsibility.


Queen Rania's official website
This website does not support old browsers. To view this website, Please upgrade your browser to IE 9 or greater
Your browser is out of date. It has known security flaws and may not display all features of this and other websites. Learn how to update your browser