Queen Rania Attends Launch of JEI Internship Program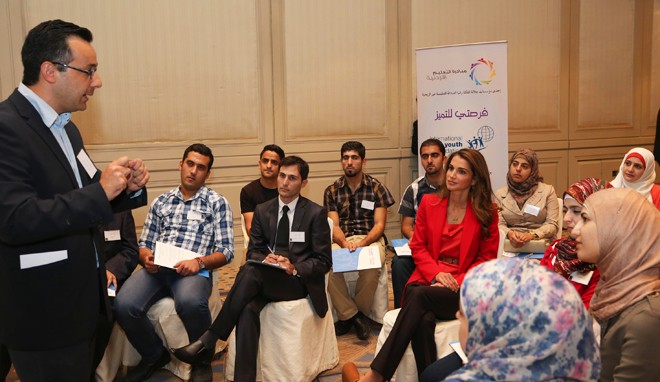 (Office of Her Majesty- Press Department- Amman) Her Majesty Queen Rania Al Abdullah attended today the launch of an internship program titled "Fursati Liltamayyoz", carried out by one of the Queen's nonprofit educational organizations "the Jordan Education Initiative" (JEI), to improve employment opportunities for ICT fresh graduates and those who have finished their studies less than two years ago.
The launch was attended by 165 graduates who were selected by JEI based on specific criteria to intern in 176 public schools across Jordan. The interns will help transform schools into ICT community hubs by applying different e-learning technologies offered to schools by JEI. This will be followed by a four month on-the-job training in several private sector companies.
While speaking with the interns and some of the initiative's partners who also attended the launch, Queen Rania asserted the importance of the versatility of the program's components which help interns expand their opportunities and broaden their skills so that ultimately they choose career paths best suited for their qualifications.

During the launch, attendees were divided into 10 groups and received an orientation about the work of JEI and "Fursati Liltamayyoz" program and its different stages and goals. Each group listened to several briefs given by representatives of several organizations including PMI (Project Management International), Gaming Lab, Oracle, JEI, Discovery Schools principles, Oasis 500, KAFD, Cisco, Microsoft, and IYF.
The program will assign 1-2 interns to work in each school for six months. These schools, which are located in different governorates, have been selected with the help of the Ministry of Education, and are provided with JEI e- learning models.
Participants will also commit to 350 hours of community service through which they will train schools and local communities to improve their information and communications technologies skills.
Ms. Rana Madani, Deputy Chief Executive Officer of JEI, explained that during the internship period, interns will be provided with comprehensive soft and practical/technical training packages coupled with a structured mentorship support system.
The launch was also attended by Minister of Labour HE Dr. Nidal Qatamin and Dr. Omar Razzaz, Chairman of the King Abdullah Fund for Development (KAFD), as well as CEOs of different private sector companies.
"Fursati Liltamayyoz", which works to bridge the gap between the outcomes of the education system and the needs of the job market, is implemented by JEI in partnership with the Ministry of Education MOE, Ministry of Labour MOL, the Ministry of Information and Communications Technology MOICT.
JEI was launched in partnership with the World Economic Forum in 2003, aiming to leverage public-private partnerships to equip Jordan's classrooms with computer technology and inspiring cutting edge curriculums, as well as training teachers in more student-centered methods.
Bringing together partners from all over the world, JEI is integral to Jordan's education reform and is providing a generation of Jordan's children with access to the latest technology and teaching. The JEI model has been exported to and adapted in several countries.


Queen Rania's official website
This website does not support old browsers. To view this website, Please upgrade your browser to IE 9 or greater
Your browser is out of date. It has known security flaws and may not display all features of this and other websites. Learn how to update your browser