Queen Rania Inaugurates the "70 Years of Contemporary Jordanian Arts" Exhibition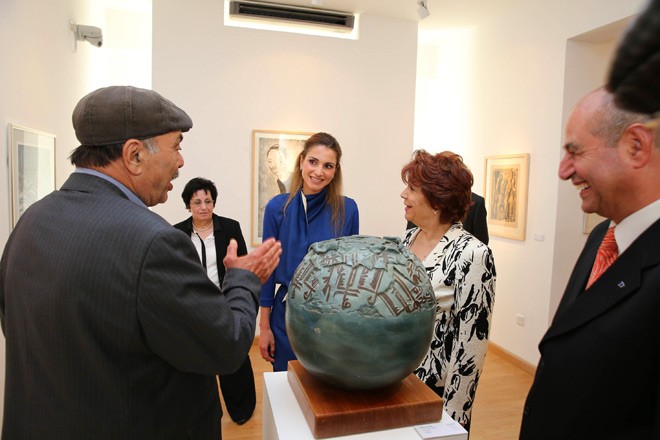 (Office of Her Majesty- Press Department- Amman) Her Majesty Queen Rania Al Abdullah inaugurated today the "70 Years of Jordanian Contemporary Arts" exhibition, Jordan's biggest to date, held and organized by the Jordan National Gallery of Fine Arts.
Queen Rania toured the exhibition showcasing over 200 artworks created by 195 Jordanian artists from different generations. Accompanying Her Majesty on the tour were HRH Princess Wijdan bint Fawaz, President of the Board of Trustees of the Jordan National Gallery of Fine Arts, and Dr. Khalid Khreis, Jordan National Gallery of Fine Arts' Director General.
"This art display bears witness to the wealth of local artistic talent present in Jordan," said Dr. Khreis. "The collection includes paintings, sculpture, video art, photography, graphic arts, ceramics and installations thus offering viewers a wide spectrum of creativity by Jordanian artists."
The inauguration was also attended by other royal family members, a number of the Royal Society of Fine Arts (RSOFA) board members, as well as a number of officials and artists.
Boasting a historical documentation of the Jordanian artistic heritage throughout the years, the collection on display manifests the efforts made by the Jordan National Gallery of Fine Arts to compile a comprehensive visual representation of Jordan's rich visual art history.
The works on display are also featured in a catalogue that documents biographical information about their creators. The book also includes a chronological history of the Jordanian art movement in its various phases, while reflecting the role played by the Jordan National Gallery of Fine Arts as a promoter and patron of the arts.
The exhibition will be open to the public for a period of three months following its official opening, granting art enthusiasts plenty of time to see the works on display.
This exhibition is sponsored by Piaggio & C. s.p.a – Italy, Kawar Group, and Invest Bank as well as other sponsors from the public and private sectors.
Since its establishment in 1980, the Jordan National Gallery of Fine Arts has succeeded in taking Jordanian art internationally to be shown in various museums and galleries around the world.
Among its activities are the Touring Museum which, since its establishment in 2009, has spread art awareness in 165 Jordanians towns and villages across the county. The National Gallery organizes the Sculpture International Symposium and Art and Nature Meetings.

Queen Rania's official website
This website does not support old browsers. To view this website, Please upgrade your browser to IE 9 or greater
Your browser is out of date. It has known security flaws and may not display all features of this and other websites. Learn how to update your browser