Queen Rania Visits Russaifeh, Checks on a Madrasati School and Volunteers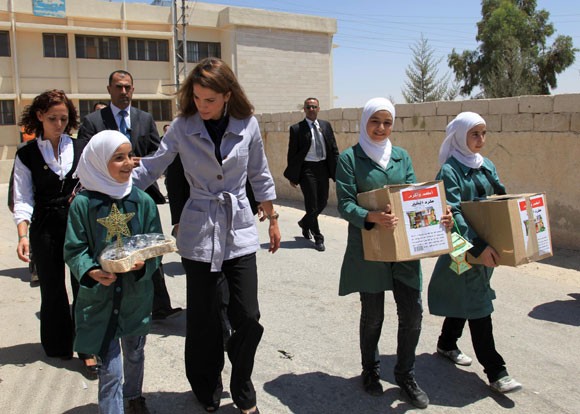 (Office of Her Majesty, Press Department- Amman) – Her Majesty Queen Rania Al Abdullah visited Tamador Bint Amer Secondary School for Girls in Russaifeh today and witnessed the renovation and extra-curricular activities taking place during the holy month of Ramadan.

During the visit Her Majesty met with several Madrasati volunteers, who briefed Her about the activities they conduct at the school both in Ramadan and throughout the year, as well as the impact volunteering has had on their lives.

Her Majesty talked to the volunteers about the importance of their work and helping those in need, especially during the month of Ramadan. At the Time of Her Majesy's visit a big group of the volunteers were working on painting the schools outside walls and entrance.

Accompanied by Madrasati Director Dana Dajani, the two school principles, Ms. Majida Al Tartouri and Ms. Hanan Dohal as well as Mr Ali Kolaghassi, CEO of Saraya, Her Majesty toured the Saraya adopted school and checked on a group of students and teachers participate in making Ramadan decorations. Her Majesty also passed by the debate room where a discussion took place amongst students, on several Ramadan related subjects such as work efficiency in Ramadan and charity.

After the debate Her Majesty was briefed on a student based project "Seeds of Hope", where every year students from the school collect seeds such as lentils, rice, flour, as well as canned food, package and distribute them to their fellow underprivileged students. This year, some of the food packages will also be distributed to families in the area and an orphanage in Ghor. Students and their mothers were also working on a school uniform recycling scheme by which they refurbish the uniforms and give them away to those who are less fortunate.

Her Majesty also listened in on a couple of workshops, conducted in the school, one for both the students and parents from the community about "healthy nutrition and eating habits in Ramadan". The other one, organized by the volunteers for 10th and 11th graders, is about preparing for their final "Tawjihi" year.

Tamador Bint Amer Secondary School for Girls is a double shifted public school. The school has a student council and PTA and is part of the Madrasati phase I schools. Various Madrasati programs were implemented in the school through the main partners such as the Jordan Education Initiative (JEI), Queen Rania Teacher's Academy (QRTA) and INJAZ.


Queen Rania's official website
This website does not support old browsers. To view this website, Please upgrade your browser to IE 9 or greater
Your browser is out of date. It has known security flaws and may not display all features of this and other websites. Learn how to update your browser