Queen Rania Delivers Opening Remarks at WEF on "Addressing the Employment Challenge"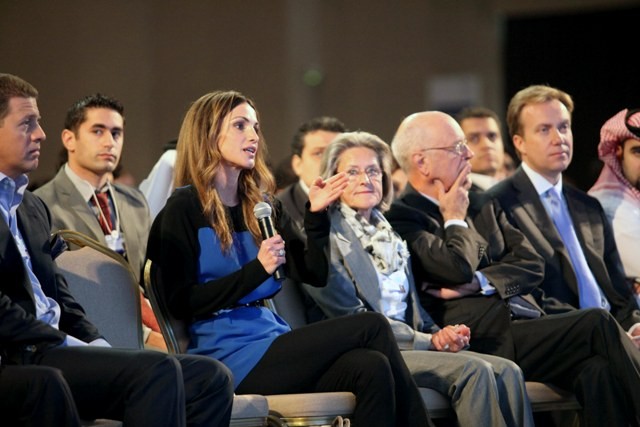 (Office of Her Majesty – Press Department- Dead Sea) Her Majesty Queen Rania Al Abdullah stressed the importance of education and youth development in the Arab world, in her remarks introducing a plenary session, during the World Economic Forum.Titled 'Addressing the Employment Challenge', the panel discussed the challenges and obstacles facing Arab youth as they enter the job markets in the region.
Speaking about an all-encompassing approach to developing education for employment for Arab youth Her Majesty said:"That will take a quality education. It will take inspiring teachers and modern curricula that teach them the skills of an entrepreneur: critical thinking, team work, problem solving, initiative, communication, and leadership. Because the skills of an entrepreneur are the skills of a 21st century worker.
" Her Majesty also stressed the importance of providing opportunities for young entrepreneurs in the region by saying: "do not underestimate the entrepreneurial spirit of our young people. In a recent Gallup poll, 15 percent of young Arabs said they wanted to start a business in the next 12 months, compared to just 4 percent of Americans and Europeans. We just have to set them in motion.
" The panel; Addressing the Employment Challenge, tackled several issues including education for employment, redesigning labour markets and the role of major employers and the private sector.
The panel was chaired by CNN anchor; John K. Defterios, and included Sharan Burrow, General Secretary, International Trade Union Confederation (ITUC); Habib Haddad, Chief Executive Officer, Wamda, United Arab Emirates; Soraya Salti, Senior Vice-President, Middle East and North Africa, INJAZ Al Arab - JA Worldwide; Nemat Shafik, Deputy Managing Director, International Monetary Fund (IMF); and Khalid Alkhudair, Chief Operating Officer for Markets, KPMG, Saudi Arabia.
The World Economic Forum, held at the King Hussein Convention Centre at the Dead Sea, Jordan, between 21st and 23rd of October 2011, is focused on Economic Growth and Job Creation in the Arab World.

Queen Rania's official website
This website does not support old browsers. To view this website, Please upgrade your browser to IE 9 or greater
Your browser is out of date. It has known security flaws and may not display all features of this and other websites. Learn how to update your browser