In a Ceremony Attended by Queen Rania, UJ Awards Prince Al Waleed Bin Talal an Honorary Doctorate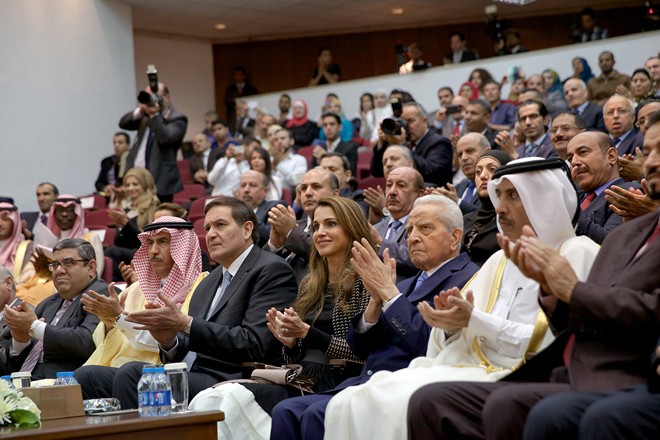 (Office of Her Majesty- Press Department- Amman) In a ceremony attended by Her Majesty Queen Rania Al Abdullah, the University of Jordan (UJ) awarded HRH Prince Al Waleed Bin Talal an honorary doctorate in International Business.
Prince Al Waleed was granted this degree in recognition of his regional and international efforts in the fields of business, economic development, administration, tourism and media.
During the ceremony, which was held at the university's campus, HRH addressed attendees after receiving the degree from the President of UJ, Dr. Ekhleif Tarawneh.
Prince Al Waleed Bin Talal expressed his gratitude to Her Majesty and the attendees for their hospitality and support. He also thanked the University of Jordan for this honor which proves that vision of the university and HRH's institutions, which puts development before profit, are aligned.
Al Waleed also praised Jordan for the role it played throughout the years in hosting refugees from war-torn Arab neighboring countries. HRH explained that in spite of the lack of resources in Jordan, it has welcomed suffering refugees with open arms.
Also in his speech, HRH praised the university of Jordan for its academic accomplishments which put the university on the international map. He added that the University's achievements are a reflection of its continuous efforts to improving its standards and bringing in the latest technologies.
President of UJ Dr. Ekhleif Tarawneh said that the Council of Deans at the University of Jordan chose to honor Prince Al Waleed to acknowledge his leadership in entrepreneurship, business, investment and media. Dr. Ekhleif added that HRH is a role model when it comes to pushing for cross cultural dialogue between Muslims and other cultures to promote peace and understanding.
The ceremony was attended by several Jordanian officials as well as a number of regional diplomats and academics.


Queen Rania's official website
This website does not support old browsers. To view this website, Please upgrade your browser to IE 9 or greater
Your browser is out of date. It has known security flaws and may not display all features of this and other websites. Learn how to update your browser