Queen Rania Visits Training and Skill-Development Center in Tafila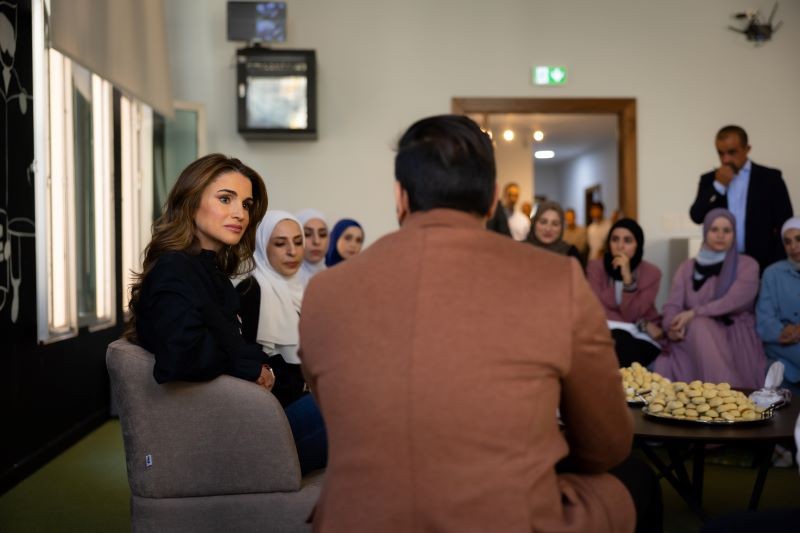 (Office of Her Majesty – Press Department – Tafila) - Her Majesty Queen Rania Al Abdullah visited the Tafila's Skills' Development Center on Wednesday to learn about its training and skill-development programs targeting youth in the Tafila governorate.
The Queen was welcomed to the center by its coordinator, Ahmad Mrayyat, and met with IT company Estarta's executive staff and CEO, Mutaz Nabulsi, as well as a group of trainees attending one of its core courses.
Supported by the office of Her Majesty, the Tafila's Skills' Development Center prepares Tafila's youth for the job market, and empowers them through skill-specific training sessions, ranging from courses in marketing and online advertising to workplace safety and computer literacy.
Through its partnership with the center, and its programs across Jordan's remote areas, Estarta aims to hone and nurture the professional skills of fresh graduates, as well as identify and recruit top talent and job-ready candidates into its workforce.
Harnessing the digital and workplace transformations following the pandemic, the company also creates remote and non-remote employment opportunities to computer science graduates who cannot find jobs in their field where they reside, according to Nabulsi.
Her Majesty wrapped up her tour of the center by dropping in at a cyber-security training session before meeting with a group of the center's graduates. The youth had trained to international standards, and in various fields of their own choosing.
In a 2019 visit to the center, the Queen met with some of its members, who voiced their concerns over the myriad challenges and barriers they faced as fresh graduates entering Jordan's labor market. With the support of Her Majesty's office, the center was later moved into refurbished spaces at the Tafila Youth Center.
Since its inception, the Tafila's Skills' Development Center has benefited over 500 college graduates from Tafila through more than 20 skill-specific training sessions and development programs. It has also partnered with a leading Jordanian software company with branches abroad to create employment opportunities for the center's qualified engineering and computer science graduates.

Queen Rania's official website
This website does not support old browsers. To view this website, Please upgrade your browser to IE 9 or greater
Your browser is out of date. It has known security flaws and may not display all features of this and other websites. Learn how to update your browser