Queen Rania Visits Third Edition of Amman Design Week's Ras El Ain Hangar Exhibition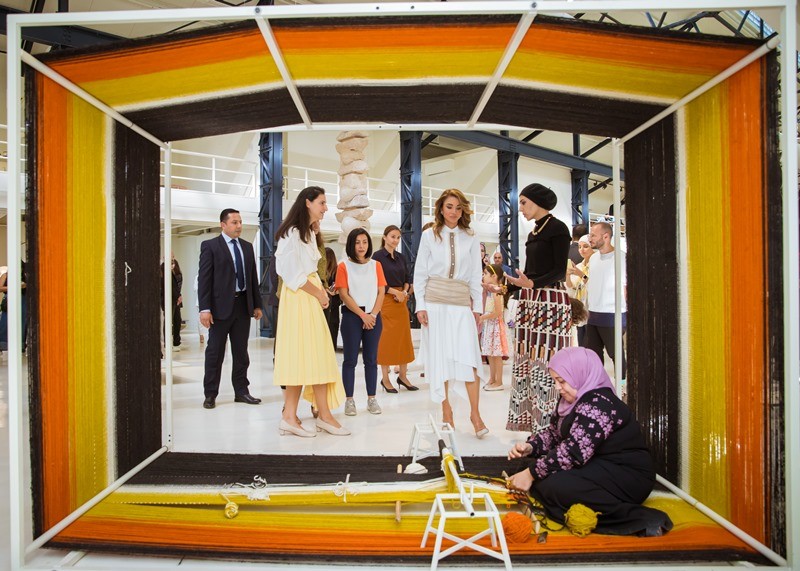 (Office of Her Majesty – Press Department – Amman) - Her Majesty Queen Rania Al Abdullah visited Amman Design Week's (ADW) Ras El Ain Hangar exhibition in downtown Amman on Wednesday to view the displays and installations created by participating designers.
Accompanied by ADW Director, Rana Beiruti, and Curator of the Hangar exhibition, Nora Al Sayeh-Holtrop, Her Majesty viewed the Hangar's indoor installations and designs produced by over 75 local and regional participants working in architecture, fashion design, product design, furniture design, and graphic design.
The Queen also stopped by the student exhibition, which hosts work created by 33 students from 14 local schools and universities during a six-month mentorship program.
At the Minor Paradises outdoor installation, meant to reimagine the traditional notion of an Arab garden, Her Majesty took a look at a collection of waterless public gardens that require minimal water consumption to grow.
Designed by architecture firm, Civil Architecture, and studiolibani, an agency of landscape architects, urban strategists, and designers, these gardens consist of plants from across Jordan and represent a sample of the diverse Levantine ecosystem. The gardens' three major components are gravel pits, sand mounds, and benches representing different courtyard typologies.
Her Majesty also visited a number of pop-up shops that sell the works of Jordanian designers and creatives at the Hangar. The shops include those set up by Design Institute Amman, a multidisciplinary design education and training center in Jabal Amman, Takween, a program that aims to support designers and creative entrepreneurs in Jordan, and Dezain, a platform supporting product and fashion designers in Jordan.
Under the theme of "Possibilities", ADW's third edition is running until October 12 across the three districts of Ras El Ain, Jabal Amman, and Jabal Al Weibdeh. ADW features more than 100 events in 55 participating spaces, and showcases the works of more than 250 creators, designers, and artisans from 13 countries.
Launched in 2016 with the support of Her Majesty, ADW aims to highlight the designs and talents of local, regional, and international designers, and establish Amman as a regional hub for innovation, expression, and experimentation. It also empowers designers and craftspeople year-round through learning programs, direct mentorship, and personalized guidance.
This year's ADW is being held in partnership with the Greater Amman Municipality, sponsored by Zain Jordan, Investbank, Aramex, the Jordan Tourism Board, Uber, JOTUN Arabia, and Art Media.

Queen Rania's official website
This website does not support old browsers. To view this website, Please upgrade your browser to IE 9 or greater
Your browser is out of date. It has known security flaws and may not display all features of this and other websites. Learn how to update your browser