Queen Rania Visits Syrian Refugees at IRC Centers in Ramtha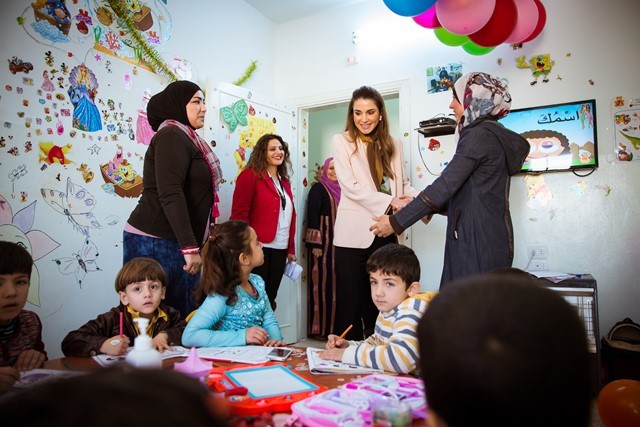 (Office of Her Majesty – Press Department – Amman) Her Majesty Queen Rania Al Abdullah visited the northern border city of Ramtha on Wednesday, where she met with Syrian refugees and heads of local charity organizations working in the area.
She began her visit at the Women's Protection and Empowerment Center, run by the International Rescue Committee (IRC). In a meeting with IRC staff, Country Director Wendy Taeuber briefed Her Majesty on the services the organization provides, and how it deals with gender-based violence emergencies among female Syrian refugees.
Taeuber explained that based on a study conducted by IRC in Jordan, the organization's cash assistance program has been successful in alleviating cases of domestic and gender-based violence.
Her Majesty then attended a group counselling session for Syrian women, who opened up to her about the challenges and pressures they have faced after fleeing to Jordan.
Um Qusai, a Syrian refugee who fled from Daraa three years ago, told Her Majesty that poverty, displacement, and uncertainty about her family's future have left her in a bad psychological state.
The counseling sessions allow the women to discuss any abuse they face, and receive emotional support and advice on how to overcome psychological trauma. They help women obtain a sense of routine and normalcy, while building social support networks with other women.
"We came here to find that we have to start our lives from scratch. The stress was more than I could tolerate, so my husband and I started having problems at home, and even my children started developing psychological issues because life all of a sudden became too difficult," Um Qusai explained. The counselling sessions, however, have helped her deal with her negative feelings, she added.
But the Syrian refugee crisis has not only taken a toll on displaced Syrians, it has also put an immense amount of pressure on Jordanian communities that host them.
That's why while in Ramtha, Her Majesty also met with the heads of five Jordanian charity organizations working in the area to support local residents.
The charity directors told the Queen that the closures of two border crossings and the free trade Zone with Syria have led to skyrocketing unemployment among Jordanians.
The refugee crisis has also pushed rental housing costs up in Ramtha and other towns and cities.
They added that severe pressure on Jordan's infrastructure has exhausted public services in the Ramtha. Nearly a third of Ramtha's residents are Syrian refugees, and its schools and only public hospital have become extremely overcrowded. Some schools in Ramtha have as many as sixty students in a classroom, according to one charity header.
The local charity directors called for more international support to build additional schools and public health facilities in Ramtha, in order to improve living conditions for both Jordanians and Syrians.
Queen Rania's second stop in Ramtha was a visit to an IRC health clinic. Her Majesty toured the facility and checked on Syrian and Jordanian patients with IRC Health Program Manager Dr. Muhammad Fawad, and IRC Health Coordinator Caroline Boustany.
The Queen also stopped at an IRC mobile clinic, which treats refugees in remote locations who can't afford transportation to health facilities in the city.
IRC's mobile health clinics offer primary, reproductive, and community healthcare to vulnerable Jordanians and Syrian refugees. The IRC says its health outreach program in Jordan is the largest and most comprehensive in the country.
In addition to health, counseling, and protection services, IRC also leads humanitarian efforts in dealing with unaccompanied and separated Syrian children, who are forced to flee to Jordan without their primary caregivers. To date, IRC has helped around 3,000 Syrian children reunite with their families or find foster families in Jordan to care for them.
Featured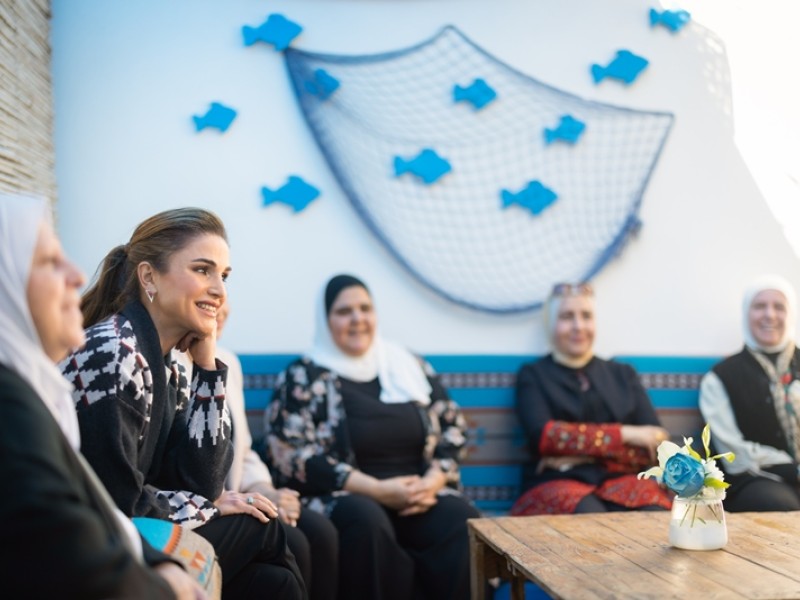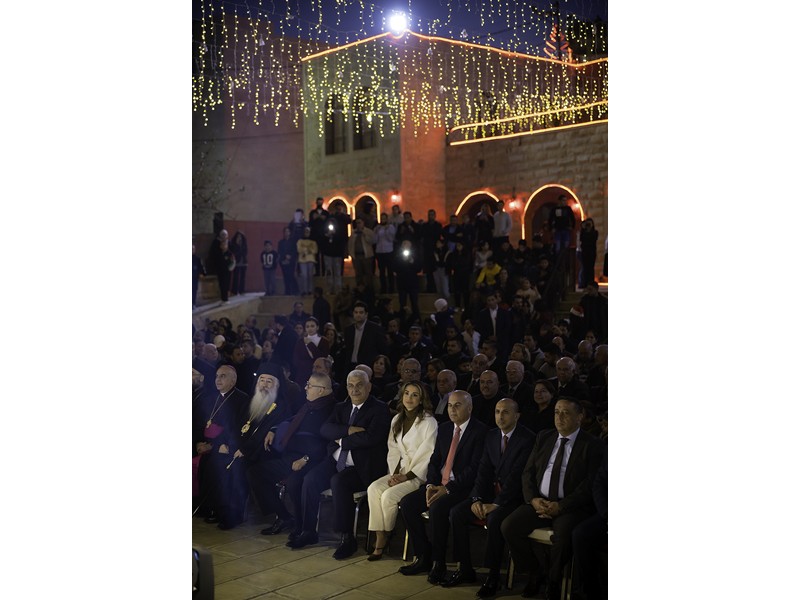 Queen Rania's official website
This website does not support old browsers. To view this website, Please upgrade your browser to IE 9 or greater
Your browser is out of date. It has known security flaws and may not display all features of this and other websites. Learn how to update your browser