Queen Rania Visits Royal Grant Scheme Projects during Visit to Al Shobak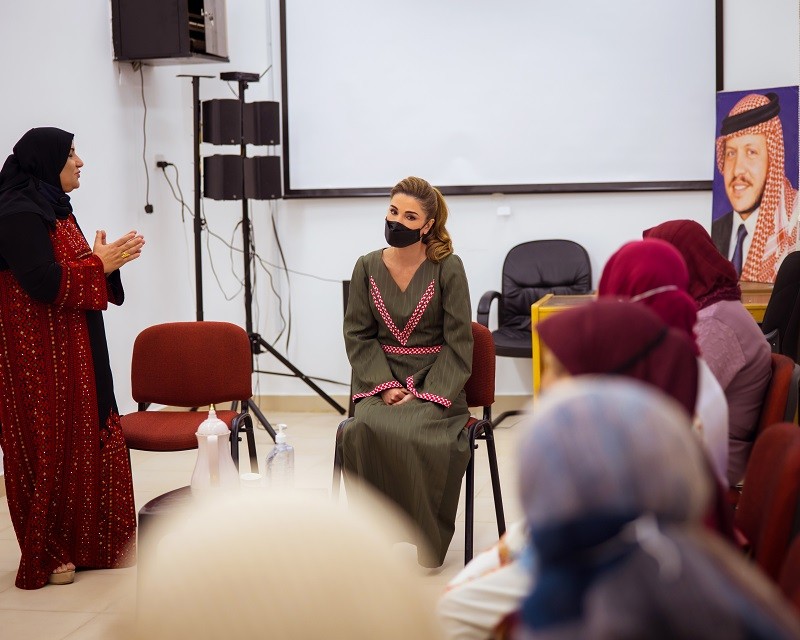 (Office of Her Majesty – Press Department – Ma'an) – Her Majesty Queen Rania Al Abdullah visited Al Shobak in Ma'an Governorate on Wednesday, where she met with a number of representatives of local societies, owners of income-generating projects, and local officials.
Her Majesty's visit comes following the implementation of a community-based grant scheme in Ma'an Governorate. Supported by the Royal Hashemite Court, the scheme empowers residents to launch their own income-generating projects.
Speaking to a group of beneficiaries of the grants at the visitor's center of Shobak Castle, Her Majesty expressed her joy at being able to meet with them, despite the COVID-19 pandemic often making such visits impossible. She also called on the group to receive the vaccine to protect their families from the virus and its variants.
Commending the beneficiaries' determination, Queen Rania noted that she was pleased to hear about the progress of their projects and their growing success. She also underlined the positive example of one local woman, Sabha Al Tawara, who owns a small tailoring shop in Al Shobak that Her Majesty visited earlier in the day.
A beneficiary of the community-based grant scheme, Al Tawara's tailoring shop was one of 100 income-generating projects across the kingdom to receive an increase in financial assistance last year, announced by Her Majesty in October 2020 in response to the pandemic's crippling effects on small businesses.
"Ms. Sabha has gone on to create four new job opportunities, empowering more women in her area," the Queen explained.
Her Majesty was received at Shobak Castle by Ma'an Governor Dr. Mohammad Fayez, Ma'an Tourism Director Dr. Yasin Salah, Head of the Al Shobak Societies Coalition Khalil Hawartha, and Visitors Center Supervisor Mohammad Hleilat.
During the meeting, she heard from Community Centers Association (CCA) President Dr. Firyal Saleh, who briefed Her Majesty on the progress of the scheme's income-generating projects.
Implemented by the CCA in coordination with 11 local societies, the scheme has provided loans and business guidance to 220 families in Ma'an to date, supporting commercial, service industry, vocational, and agricultural projects in the governorate.
In turn, Queen Rania highlighted the pivotal role of local societies and associations, as they are best suited to meet the needs of challenges of their communities.
"We look to you to learn how to best direct our assistance," Her Majesty said, adding that "our role is to support you, because, at the end of the day, we're all one family and we want every woman, man, and child in the community to be well."
Her Majesty also urged those in attendance to protect themselves and their families by getting vaccinated against COVID-19, stressing that vaccination is the only way to achieve economic recovery and a return to normalcy.
Queen Rania explained that she and His Majesty King Abdullah were grateful to have been able to receive the vaccine early on in the pandemic in order to protect themselves and those around them. She also cautioned against the spread of misinformation surrounding the vaccine, particularly as more contagious COVID variants continue to emerge worldwide.
"For all of us – for our children, our parents, and our families – we must encourage each other to get the vaccine," she stressed.
Her Majesty also stopped at the Al Shobak Charitable Society for Women, which aims to empower local women by building their capacities and providing them with economic opportunities. Accompanied by Society President, Basma Habahbeh, the Queen toured the society's facilities, viewing its productive kitchen and speaking to its beneficiaries.
Established in 2009, the Al Shobak Charitable Society for Women operates a wide range of economic and charitable programs, including the use of homegrown Al Shobak apples in the production of apple cider vinegar.

Queen Rania's official website
This website does not support old browsers. To view this website, Please upgrade your browser to IE 9 or greater
Your browser is out of date. It has known security flaws and may not display all features of this and other websites. Learn how to update your browser