Queen Rania Visits Local Cloud Communications Company Maqsam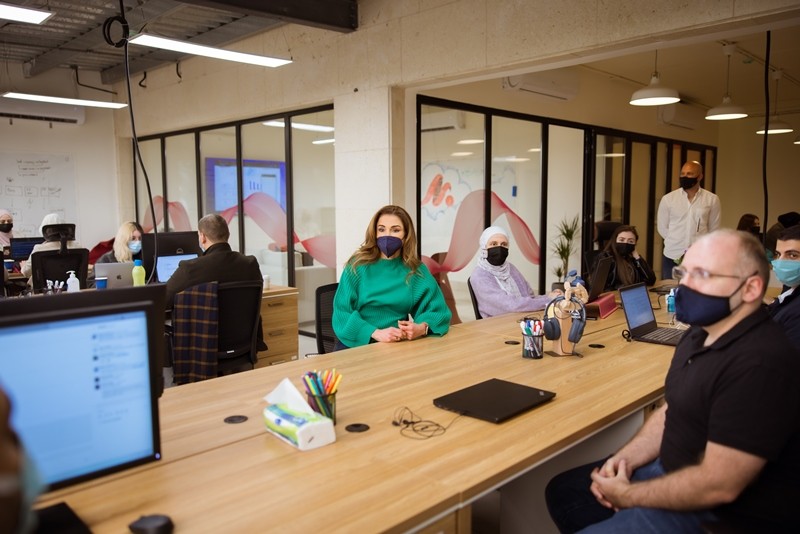 (Office of Her Majesty – Press Department – Amman) - Her Majesty Queen Rania Al Abdullah visited the offices of Maqsam in Amman on Monday, where she met with the team behind the local cloud telephony company.
Her Majesty was welcomed to Maqsam by its cofounders, CEO Sinan Taifour and Director of Business Fouad Jeryes, before joining the company's management team for a conversation on the inspiration behind its unique services and its plans for the future.
Noting that her visit coincided with Mother's Day, the Queen also took the opportunity to express her warmest wishes to the staff and their mothers, adding that, as a mother herself, she knew how proud their parents must be of their achievements.
Established in 2019, Maqsam is an easy-to-use cloud communication suite for small and medium-sized companies across the Middle East and North Africa (MENA), presenting an alternative to traditional, more expensive hardware-based solutions.
The company enables its corporate clients to communicate with their customers via local phone numbers from more than 200 cities around the world, mostly in the MENA region. This allows them to make high-quality voice calls, use global SMS and WhatsApp messaging services, and integrate with other popular cloud solutions.
Her Majesty wrapped up her visit with a tour of the office, where she greeted Maqsam's employees. The company employs 45 people, including a number with experience working with global tech giants such as Google, Amazon, Expedia, and Verizon. Last month, the company won grand prize at the LEAP Expo, a tech debut exhibition in Saudi Arabia.

Queen Rania's official website
This website does not support old browsers. To view this website, Please upgrade your browser to IE 9 or greater
Your browser is out of date. It has known security flaws and may not display all features of this and other websites. Learn how to update your browser