Queen Rania Visits Cultural and Social Impact Projects in Al Salt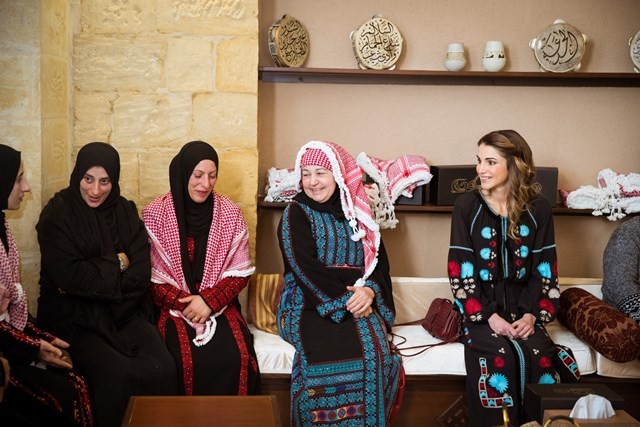 (Office of Her Majesty – Press Department – Amman) - Her Majesty Queen Rania Al Abdullah visited some of Al Salt's heritage and touristic initiatives on Monday, dropping by Beit Aziz's bed and breakfast, and the oldest Arabic sweet shop in the heart of Al Salt to support the success of grassroots development projects in the city.
The Queen started her visit at Beit Aziz, the first bed and breakfast in Al Salt, where she met with the founders of Hadab Initiative Mr. Mohamad Jenini, Mrs. Lana Ma'ani, and Mr. Laith Abu Al Samen and a number of its female beneficiaries from Al Zarqa and Madaba.
The founders explained how the initiatives of Beit Aziz and Hadab have brought together tourism and community empowerment, creating livelihoods for tens of local families while introducing tourists to authentic Jordanian heritage and culture.
The Hadab initiative preserves the traditional hand-sewn art of "hadab" by hiring about forty local women to weave elaborate white hems onto the Jordanian shemagh, a process which takes several days to complete.
This old hemming tradition has been passed down through generations of women by their mothers, and Hadab aims to preserve this practice by extending its outreach using social media and attractive packaging to market the hemmed shemaghs as original gifts.
The Queen also joined a group of women in a training workshop teaching Hadab and participated in hemming a shemagh.
She also toured Beit Aziz lodging, which was built in the early 1900s and recently restored to become the first bed and breakfast in Al Salt, overlooking panoramic views and important mosques and churches in the old city.
Abul Samen, who manages Beit Aziz explained that tourists are able to learn about Al Salt's heritage while staying at the hotel by participating in Hadab and other workshops, and learning to make crafts and home-made delicacies from local women.
Queen Rania told the women she met and the founders of the initiatives that she takes pride in their efforts to preserve Jordanian culture while helping women contribute to this process by working from their homes. She added that initiatives like these reinforce the role of women in society and enable them to support their families.
Following the tour, Her Majesty stopped by Beit Aziz's terrace where the Al Balqa Orchestra and Choir were performing, while founder of local initiative "Ruaq Al Urdon for Arts and Culture" Mr. Bilal Hiyari briefed her on efforts to raise artistic and cultural awareness across Jordan, and renounce violence and extremism by creating a space for Jordanian artists to showcase their work.
Her Majesty then made her way to Mattal Al Jad'aa, where she met with youth from Al Salt Film Center participating in the Royal Film Commission's "My City" competition by producing short documentaries about touristic sites in Al Salt. She also dropped by Al Hanbali Arabic sweets shop, one of the oldest sweet shops in Al Salt, established in 1953.

Queen Rania's official website
This website does not support old browsers. To view this website, Please upgrade your browser to IE 9 or greater
Your browser is out of date. It has known security flaws and may not display all features of this and other websites. Learn how to update your browser