Queen Rania Visits Birgesh Village along the Jordan Trail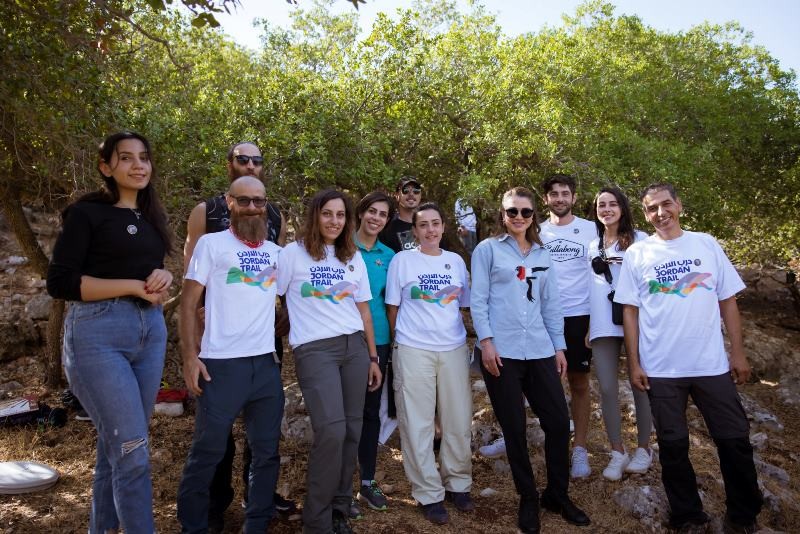 (Office of Her Majesty – Press Department – Irbid) - Her Majesty Queen Rania Al Abdullah visited Birgesh, a village in Irbid located along the Jordan Trail, on Monday, where she met with a group of Jordan Trail service providers and hiked through Birgesh Forest.
Welcomed by Jordan Trail Association (JTA) CEO, Bashir Daoud, Her Majesty met with Mohammad and Maysoon Dweikat, homestay owners offering accommodation to trail hikers passing through Birgesh. She also met with other service providers who assist tourists passing through the trail's northern regions.
During the meeting at the Dweikats' homestay, Queen Rania expressed admiration for the Jordan Trail's progress, noting the positive impact of its activities on the experience of trail visitors and the lives of service providers.
The Queen explained that the Jordan Trail project achieves multiple objectives simultaneously, particularly if a region offers high quality services and is invested in sustainably.
Her Majesty pointed that despite the challenges presented by pandemic-related lockdowns, global movement restrictions have spurred the demand for local tourism. She also emphasized that the past two years have brought Jordanians closer together and offered everyone a chance to discover the country's beauty and diversity through the eyes of local community members.
Commending the role of initiatives like the Jordan Trail in gathering Jordanians from across the country, the Queen highlighted that such services and activities are encouraging people to spend weekends and vacations in Jordan instead of abroad, noting the increase in positive competition among service providers attracting tourists using mobile applications or by teaching them new skills.
After the meeting, Her Majesty walked through Birgesh Forest, where she stopped by touristic experiences curated by the Jordan Trail, including art, way marking, and mobile photography activities.
Established in 2015 by a group of adventurers, the Jordan Trail Association is responsible for maintaining and developing the trail and facilitating its accessibility to tourists. In November 2020, the association issued the Jordan Trail Pass to keep hikers and visitors informed about the trail's 8 regions and 35 sections. The pass acts as an official lifetime trail pass and doubles as a hiking log and achievement recorder.
Recently, the JTA introduced the "Adopt a Trail" initiative, which offers individuals and corporations the chance to adopt small sections or entire regions of the trail and contribute to their maintenance and development both financially and by supporting the association's awareness and clean-up campaigns.
The Jordan Trail is a long-distance hiking trail connecting the length of Jordan from Um Qais in the north to Aqaba in the south. It covers around 700 kilometers, passes through 75 Jordanian towns and villages, and requires a total of 40 days to complete. The trail has created several job opportunities for local communities along its path, particularly for members that provide homestays, campsite logistics, and guided tours of their areas.

Queen Rania's official website
This website does not support old browsers. To view this website, Please upgrade your browser to IE 9 or greater
Your browser is out of date. It has known security flaws and may not display all features of this and other websites. Learn how to update your browser