Queen Rania Urges Global Cooperation to Integrate Refugees at Clinton Global Initiative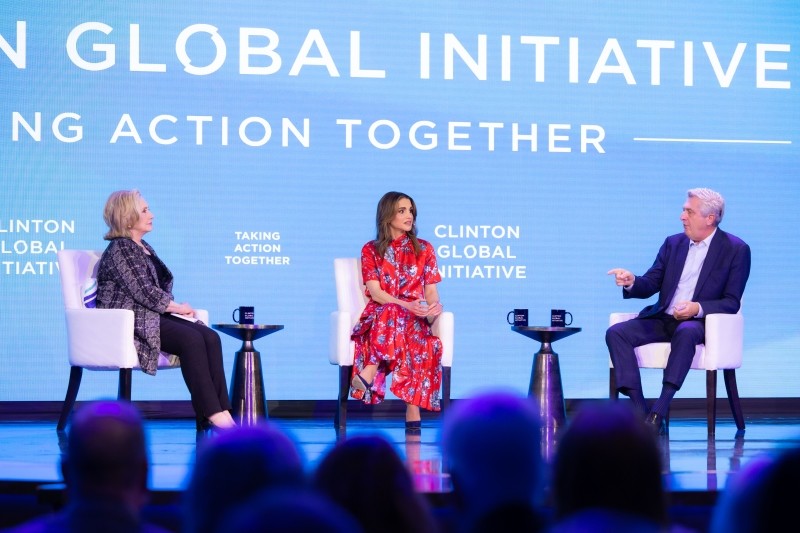 (Office of Her Majesty – Press Department – New York) - Her Majesty Queen Rania Al Abdullah underscored the need for coordinated global action in helping the world's expanding refugee population integrate into host communities, warning that there will be more refugee crises in the future.
She made these remarks during a conversation with former U.S. Secretary of State, Hillary Clinton and United Nations High Commissioner for Refugees, Filippo Grandi, on Tuesday, at the Clinton Global Initiative (CGI) in New York.
Highlighting Jordan's experience as a refugee host nation, Her Majesty explained that Jordan's government and leadership are "still as committed to supporting and integrating refugees into our society" as evident by the tens of thousands of work permits issued to Syrians lately.
Moderated by Secretary Clinton, the panel discussion aimed to explore means of fostering a sense of community and belonging in an increasingly unstable world, particularly in light of the ever-growing population of refugees and displaced people.
Her Majesty also underlined the positive sentiments Jordanian people have towards refugees. Citing a recent UNHCR survey which showed that "96% of Jordanians remained sympathetic to the plight of refugees" only three months ago, the Queen noted that the figure says a lot about "the value system in Jordan" where both government and people refuse to turn against or away from people who are seeking shelter and protection.
"It shows you that people inherently are good and they want to do the right thing if nobody is telling them to be fearful of the other," she continued.
Stressing the crucial role Jordan's open-arms policy plays in facilitating refugees' social integration into the country, Her Majesty said that "ultimately home is not a place, it is people, and it's very difficult to feel at home in a place where you feel unwelcome or unwanted."
She went on to point out that a refugee crisis is "not just a short term humanitarian crisis," but rather a "crisis of human development" that requires long-term solutions focusing on "growth, building resilience, sustainability," and job creation.
Her Majesty also underlined that responsibility towards global refugees "is an obligation, not an option," noting that while reform efforts in addressing the crisis necessitate merging humanitarian and development work, refugee response plans "are chronically underfunded all over the world" and "resettlement targets are insufficiently low."
Elaborating on the global community's weak refugee resettlement efforts, Her Majesty said that only a handful of high-income nations have carried their weight, while "amongst the vast majority, it's been a race to the bottom with the numbers they are willing to let in."
The Queen also observed that as the world is prone to face recurring crises, "forced displacement is going to be an annual norm," especially with World Bank predictions pointing to the possibility of climate refugees alone reaching over 200 million by 2050.
Sharing her thoughts on the recent Ukrainian refugee crisis, Her Majesty contrasted the world's response to this crisis with its response to refugee crises of the past. "The disparity in the tone, generosity, and urgency that has been extended in welcoming the Ukrainian refugees compared to refugees from other areas of the world like Syria, or Sudan, or Myanmar, is quite striking," she observed.
Her Majesty also shed light on the increased strain on humanitarian assistance resulting from the Ukrainian refugee crisis, condemning how "refugees from other parts of the world have really dropped down the priority list" and insisting that "humanity cannot be applied selectively."
Highlighting the importance of leadership when it comes to addressing refugee crises, Her Majesty acknowledged the difficulty leaders face in balancing their "domestic agenda" with "global humanitarian obligations," while denouncing the normalization of "fear of the other," as an off-limits solution to shirk off responsibility towards refugees.
She argued that while it's tempting for leaders to "use populist rhetoric and stoke the fear and anger towards the other, and keep people huddled up fearful of a dangerous world," this approach is not capable of resolving problems. "That simplistic narrative of anger is easier than coming up with constructive solutions," she explained.
Her Majesty concluded by saying that "confident, courageous, compassionate, and most importantly, honest" leadership is needed to properly integrate refugees into any society, adding, "if integrated properly, refugees can actually be net contributors" to their host communities.
Held alongside the 77th United Nations General Assembly Week, The Clinton Global Initiative was launched by U.S. President Bill Clinton in 2005 to turn ideas into action by creating a space where leaders across sectors could publicly commit to form partnerships and take action together. CGI brings together established and emerging global leaders to create and implement solutions to the world's most pressing challenges. This year's meeting was the first reconvention since 2016.
Later in the day, Her Majesty took part in the 2022 Concordia Annual Summit, where she talked to President, Director, and CEO of the Woodrow Wilson International Center for Scholars, Ambassador Mark Green, about the Ukraine war, misinformation and trust building, and leadership in a time of constant disruption. The Concordia Annual Summit convenes in New York as the flagship event organized by Concordia, a nonprofit member-based organization established in 2011 in order to foster and sustain public-private partnerships for social impact.

Queen Rania's official website
This website does not support old browsers. To view this website, Please upgrade your browser to IE 9 or greater
Your browser is out of date. It has known security flaws and may not display all features of this and other websites. Learn how to update your browser