Queen Rania Takes a Look at 'Road2Code' Program as part of 'Hour of Code' Global Activities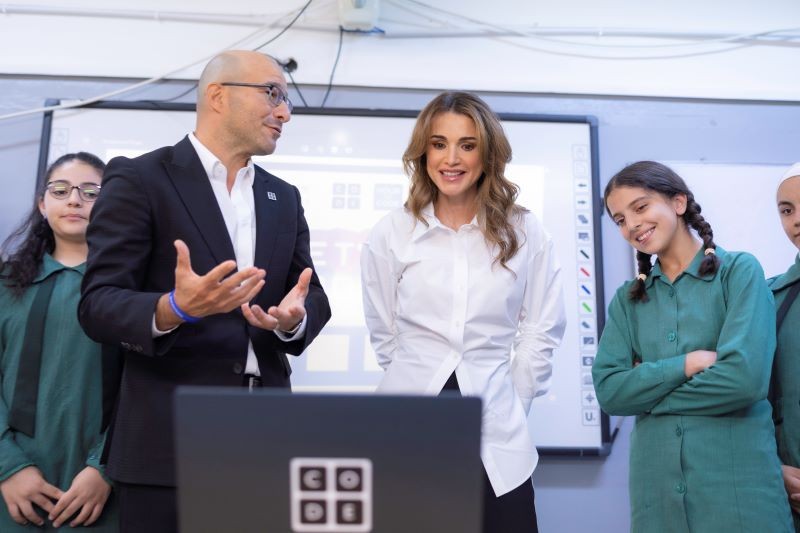 (Office of Her Majesty – Press Department – Amman) - Her Majesty Queen Rania Al Abdullah visited Al Jandaweel Secondary School for Girls on Sunday, where she learned about Road2Code, a digital skills program developed by nonprofit organizations INJAZ and the US-based Code.org.
The Queen also took part in an activity held under the Hour of Code initiative, which is a global ed-tech initiative that aims to acquaint students with the basics of programing and teach them coding concepts through simple and enjoyable methods.
Created by Code.org, Hour of Code currently reaches tens of millions of students in more than 180 countries, and Code.org has so far created over 500 one-hour tutorials in over 45 languages.
In a meeting with INJAZ CEO, Deema Bibi, Her Majesty received a brief overview on the Road2Code program, which employs innovative ways to enhance students' programing skills and equip them with essential digital skills.
The Queen also dropped by a training session for teachers conducted by Code.org Founder and CEO, Hadi Partovi, on the basics of coding and the use of specialized educational resources to facilitate student access to coding-related learning opportunities, where she talked to teachers about their experience with Code.org. The session was also attended by Code.org's Vice President of International Partnerships, Leonardo Ortiz Villacorta, and the school's principal, Sawsan Al Qassas.
Her Majesty then joined a group of 8th grade students for a lesson on coding principles conducted in the Arabic language and created by Code.org in collaboration with Edraak to teach students the basics of computer science, internet safe use practices, and game and mobile app building and design.
Her Majesty concluded the visit by meeting with entrepreneurs supported by INJAZ's incubator, mySTARTUP, to hear about the importance of building digital competencies and coding skills to create products and services that meet market demand.
Established in 2013, Code.org is an education innovation nonprofit based in the United States, dedicated to the vision that every student in every school should have the opportunity to learn computer science as part of their core K-12 education. The organization expands access to computer science in schools, with a focus on increasing participation by young women and students from underrepresented groups. So far, the non-profit has reached 2 million teachers and over 70 million students, the vast majority of whom are from groups historically underrepresented in computer science. In Jordan, Code.org has collaborated with INJAZ and Edraak in Jordan to offer its services to local school students.
Founded in 1999, as a project under international charitable organization Save the Children, INJAZ became an independent Jordanian nonprofit in 2001. It aims to inspire and prepare youth to become productive members of society and accelerate the development of the national economy by contributing to the advancement of education and entrepreneurship. INJAZ currently reaches over 750,000 youth per year with its career-oriented capacity-building programs, and has benefited almost three million youth to date.

Queen Rania's official website
This website does not support old browsers. To view this website, Please upgrade your browser to IE 9 or greater
Your browser is out of date. It has known security flaws and may not display all features of this and other websites. Learn how to update your browser