Queen Rania Calls for Empathy in Dealing with the Global Refugee Crisis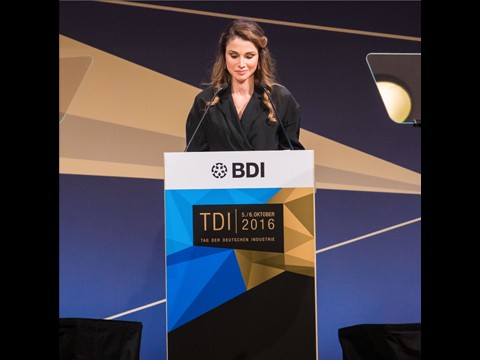 (Office of Her Majesty – Press Department – Berlin) - Her Majesty Queen Rania Al Abdullah called on German and European business leaders to help create economic opportunities for refugees by investing in Jordan in a speech she delivered in Berlin on Thursday.
Speaking at the Day of German Industry, Queen Rania told over 1,200 high-ranking representatives of German industries, business leaders, politicians, and researchers that it was time to reboot the world's approach to refugees to one that is focused on empathy.
The Queen said although she is proud of what Jordanian and German citizens have already done to welcome refugees in their communities, with each country taking in more than a million people, she stressed that that alone isn't a viable solution to the crisis.
"The refugee crisis demands more sustainable solutions," Her Majesty said, adding that a new approach centered on growth and investment is needed.
The Queen introduced the Jordan Compact, a long-term holistic approach to the refugee crisis, promising to create 200,000 job opportunities for Syrian refugees and Jordanian citizens over the next three years. The aim of this pilot project, which will be implemented in 18 economic zones across Jordan, is to enable the vulnerable to support themselves, instead of relying on dwindling international handouts.
But the Queen explained that "providing more jobs requires an infusion of job-generating investments, because it cannot come at the cost of Jordanian jobs."
"Together, we can create economic opportunities that help refugees become self-supporting, while helping my country emerge stronger from this crisis, rather than weakened by it," Queen Rania added.
The Queen described the elements that constitute this economic opportunity, underlining Jordan's strategic location on "the New Silk Road" as a commercial gateway between Europe and Asia, as well as the attractive incentives offered to investors, including preferential access to global markets and special trade agreements with the European Union.
"With our productive labor force and highly favorable business environment, Jordan can be a perfect place to grow and develop your business," Queen Rania said. "Opportunities are ripe and ready to be seized," she added.
The Queen warned that terrorist attacks perpetrated around the world have caused a collective global trauma, but urged her audience to look beyond the polarization and xenophobia that has come to define public discourse recently.
The Queen argued that instead of turning against each other, the global community must clutch onto the values, principles, and ideals that bring people together, citing Germany's basic constitutional law stating that "human dignity shall be inviolable."
"Global cooperation and global trust are key pillars of global progress," the Queen said. "Those same values must animate our response to refugees," emphasizing that the majority of refugees are good people, who are not trying to instigate violence.
She pressed the audience to recall all the uplifting stories about refugees, like those she has heard about refugees volunteering in local fire departments, studying astronomy, and feeding the homeless in Germany.
"These are the kinds of stories we should amplify," said the Queen. "These are the stories that should fill our Twitter feeds."
Queen Rania insisted on the need for decisive action to face the repercussions of the global refugee crisis. She explained that how the world chooses to deal with the refugee crisis now will resonate for decades to come "because the refugee crisis is both a by-product of our interconnected world and a test of its durability."
Her Majesty added that "we can let this crisis polarize our politicians and populations, tear us apart, and make us retreat – something that will come at a high cost to human progress and to our experience of the world around us. Or we can find a way to deal effectively with this new global reality and make it work for everyone."
Urging her audience to help turn a problem into a shared success, Queen Rania said there is an opportunity to transform this crisis into an "era of reinvention, not only for the private sector, but for humanity."
The event included speeches by German Chancellor Dr. Angela Merkel and the President of the Federation of German Industry Ulrich Grillo, who both commended Jordan's role in hosting refugees despite the heavy burden this has placed on its economy. In her speech, Merkel said that the international community must support host countries like Jordan and Lebanon, which cannot shoulder this burden on their own.
Held at the Berlin Congress Center, the Day of German Industry is an annual conference organized by the Federation of German Industries to put current social, economic and political affairs into dialogue on issues of global importance. The conference is considered the most important annual congress in Germany devoted to economic policy.

Queen Rania's official website
This website does not support old browsers. To view this website, Please upgrade your browser to IE 9 or greater
Your browser is out of date. It has known security flaws and may not display all features of this and other websites. Learn how to update your browser