Queen Rania Pays Surprise Visit to 'Grow Startups' at King Hussein Business Park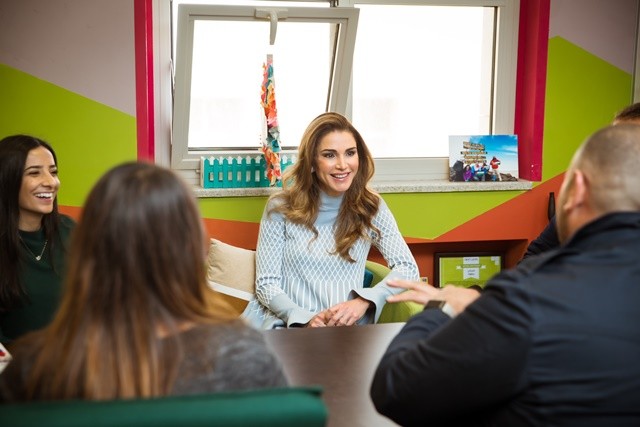 (Office of Her Majesty – Press Department – Amman) - Her Majesty Queen Rania Al Abdullah met with members of the local startup scene on Tuesday, paying a surprise visit to several companies located within the 'Grow Startups' building at King Hussein Business Park in Amman.
Queen Rania dropped in on Parachute16, a consultation and edutainment company specialized in supporting innovation and entrepreneurship. The company works in Jordan and across the Arab World with the aim of building an environment where creativity can flourish.
According to its founder, Ghassan Halawa, Parachute16 offers emerging entrepreneurs a wide range of consultation and training services. The company develops incubator programs and interactive edutainment workshops for local and international companies, while also facilitating investment, mentorship, and networking opportunities for startups.
During the visit, the Parachute16 team shared its future plans with Her Majesty and introduced her to some of the projects it supports. These include 'Mesh Mostaheel', a first-of-its-kind social program that invites all members of Jordanian society to present innovative solutions to challenges facing the country. The program, which is conducted in partnership with Ro'ya TV, Partners for Good, New Think, and Parachute16, will present the top competing solutions on television next month, and award the winning proposal JOD 5,000 in prize money and JOD 25,000 in funding.
Parachute16 also supports 'TomohiLive', a weekly program that puts up-and-coming innovators and entrepreneurs in touch with supportive companies, individuals, and organizations. Broadcast every Wednesday on Facebook Live, the interactive program addresses viewers' feedback and comments, providing a platform for successful entrepreneurs to share their expertise and inspire others.
The Queen wrapped up her visit with a stop at Zain Innovation Campus (ZINC), where she chatted with the teams behind a number of the startups it supports.

Queen Rania's official website
This website does not support old browsers. To view this website, Please upgrade your browser to IE 9 or greater
Your browser is out of date. It has known security flaws and may not display all features of this and other websites. Learn how to update your browser