Queen Rania Meets Second Graduating Cohort from Queen Rania Teacher Academy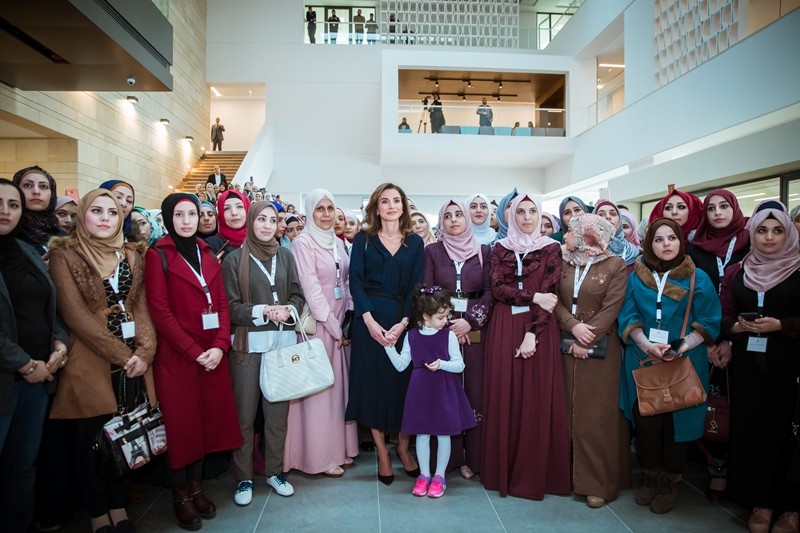 (Office of Her Majesty – Press Department – Amman) - Her Majesty Queen Rania Al Abdullah met with the second graduating cohort of the Queen Rania Teacher Academy on Sunday, expressing her confidence in the graduating teachers and principals' ability to enrich Jordanian education.
During a reception held at QRTA's new premises on the University of Jordan campus, the Queen expressed her pride in the academy's graduates for the 2017/2018 academic year, including 477 teachers under the Teacher Education Professional Diploma (TEPD), and 69 principals from across Jordan under the Advanced Instructional Leadership Professional Diploma.
Noting the time and effort the graduates have invested, as well as sacrifices they have made over the past year, Her Majesty thanked the cohort for their faith in the diploma and in themselves.
"Your presence here today is proof that you didn't take any shortcuts to get to where you are, because you know that the short route doesn't always take you far," the Queen said, adding that she follows the same approach in her own life rather than settling for the easy, more traditional way.
"I have never been the type of person to choose the easiest path, because the shortest way is not necessarily the right one," Her Majesty said, explaining that it was her belief that all people have a duty to do what they can to improve their communities that led her to become involved with education in Jordan.
"Perhaps the one thing all people have in common is the love we have for our children, and our wish for them to have opportunities. It is our responsibility to provide those opportunities to every child, and that is a duty we must take seriously."
Queen Rania also noted that the skills and innovative teaching methods the graduating teachers have learned will allow them to manage their classrooms positively, effectively, and professionally, benefiting the students whom she described as lucky to have them.
"I'll never forget what a teacher in Al Karak, Miss Suha, told me," Her Majesty said, recalling a conversation with a past QRTA graduate. "She said, I have confidence in my methods and I feel unstoppable. And I don't want anything to stop you – you are the future, and we must all support and empower you."
The Queen concluded by noting that she is hopeful that Jordan will reach the point where all teachers and principals are trained and supported with the teaching methods and tools they need in order to uphold the serious responsibility on their shoulders.
"Hopefully, the graduates of this academy will continue to pioneer the way to raise education to the standard our children deserve," she said.
Attended by Minister of Justice and acting Minister of Education and Minister of Higher Education and Scientific Research, Dr. Bassam Talhouni, and University of Jordan President, Dr. Abdul Kareem Qudah, the event kicked off with remarks from QRTA CEO, Haif Bannayan, who described the positive impact that previous QRTA graduates have had on their schools' learning environments.
"Last year, we graduated 174 student teachers and 33 school principals. This year, we graduated more than double those numbers," Bannayan said. "This demonstrates our commitment to the vision of Her Majesty in empowering educators with the right skills and support in accordance with Jordan's educational needs."
The event also included remarks from two members of the graduating cohort, Malek Jdetawi and Sawsan Abu Hammad.
Her Majesty also met with QRTA's third cohort, consisting of 786 student teachers and 141 school principals. The Queen joined trainees in a session and discussed their aspirations for the future.
Launched in 2016 in cooperation with the Ministry of Education, University of Jordan, and University College London, the TEPD aims to prepare future educators to treat classrooms as the birthplaces of innovation, leadership, intellectual curiosity, and civic participation among Jordanian youth.
Open to holders of bachelor's degrees in Arabic, English, math, biology, chemistry, physics, and early education, the TEPD plans to graduate 3,000 teachers by year 2021, in accordance with the National Strategy for Human Resource Development. In addition to the academy's existing offerings for teachers of grades 4 to 12, during the 2018/2019 academic year, the academy launched an Early Grades TEPD program focusing specifically on grades 1 to 3.
The Advanced Instructional Leadership Professional Diploma was developed and implemented in partnership with the University of Connecticut and in coordination with Jordan's Ministry of Education. Accredited by the University of Jordan, the diploma was funded by Global Affairs Canada through its project "Scaling up Teacher Professional Development."
Launched in 2009, QRTA is an independent non-profit organization committed to the vision of Queen Rania to empower educators with skills, recognition, and the support they need to excel in the classroom. In partnership with the Ministry of Education, the academy offers training programs for teachers that align with local and regional educational needs, and has so far trained 70,000 teachers across Jordan.

Queen Rania's official website
This website does not support old browsers. To view this website, Please upgrade your browser to IE 9 or greater
Your browser is out of date. It has known security flaws and may not display all features of this and other websites. Learn how to update your browser