Queen Rania Meets with the Lower House Education Committee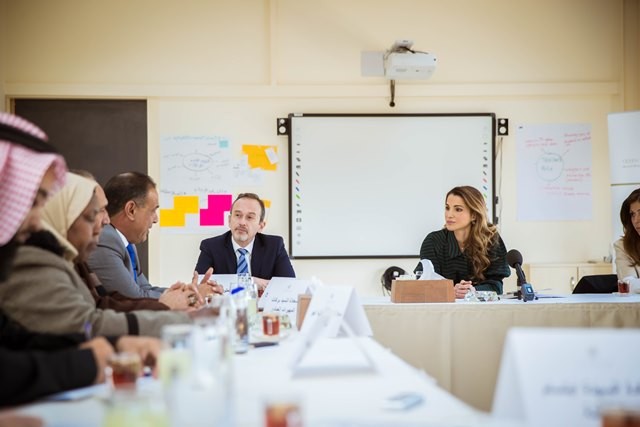 (Office of Her Majesty – Press Department – Amman) - Her Majesty Queen Rania Al Abdullah met with the Lower House Education Committee on Monday to discuss critical issues related to education reform, including the importance of teacher training in raising the kingdom's overall standing in education.
The meeting, which took place at the Queen Rania Teacher Academy (QRTA), was attended by MPs who are members of parliament's education committee. These included Head of Committee Dr. Musleh Al Tarawneh, Dr. Barakat Al Muheirat Al Abbadi, Dr. Suleiman Al Zaben, Dr. Safa' Momani, Mohammad Riyatti, Ibtisam Nawafleh, Inssaf Khawaldeh, and Dr. Alia Abu Hlyayyel.
At the start of their visit, the MPs received a presentation by QRTA CEO Haif Bannayan on the academy's teacher training diploma program, and its partnerships with the ministry of education as well as local, regional and international universities.
The MPs also met with student-teachers enrolled in QRTA's training program and attended part of their lectures.
During her meeting with the MPs, Queen Rania said that providing quality education to every student is an obligation not an option because it is the most important investment a country can make in its future generations.
Her Majesty described the MPs visit to QRTA as a reflection of the high regard they hold for education, which affects every Jordanian citizen.
She added that she has been witnessing a heightened sense of social awareness among Jordanians about the decline in Jordan's education quality, and that reform has become a popular demand.
But she also insisted that an inclusive reform approach requires participation by all, because this crucial process cannot be regulated or controlled by a certain group.
Her Majesty added that the recently launched National Strategy for Human Resource Development included comprehensive and vital recommendations, including teacher training, curriculum development, improving classroom environment, and strengthening early childhood development.
Commenting on the central role of teachers in education reform, Queen Rania explained that countries that have succeeded at raising their students' academic performance have made substantial investments in teacher training, adding that Jordan lags behind in providing teachers with skills before they enter the classroom.
The MPs for their part said they appreciate Her Majesty's continued efforts in improving education quality and the academy's pivotal role in training teachers before and during service, and offered to contribute with their expertise towards the academy.
On the issue of curricula development, Queen Rania told the MPs that any changes must respect Jordan's social and religious values, adding that Jordanians are in agreement when it comes to the urgent need for better curricula that keep up with changing times.

Queen Rania's official website
This website does not support old browsers. To view this website, Please upgrade your browser to IE 9 or greater
Your browser is out of date. It has known security flaws and may not display all features of this and other websites. Learn how to update your browser