Queen Rania Meets with Al-Aman Fund New Scholarship Recipients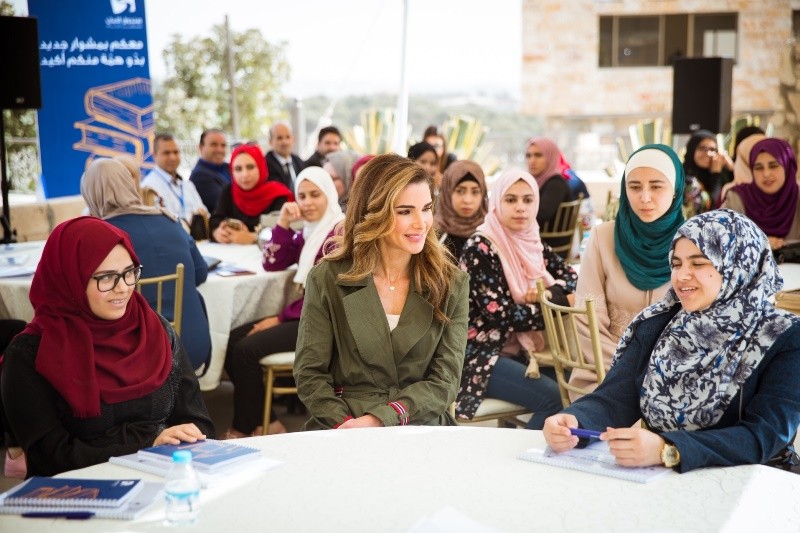 (Office of Her Majesty – Press Department – Amman) - Her Majesty Queen Rania Al Abdullah met with new recipients of the Al-Aman Fund for the Future of Orphans' educational scholarships program during an orientation session held on Monday at the Bisharat Golf Club in Amman.
Welcomed by Al-Aman Fund's Director, Ibrahim Al Ahmad, and Bisharat Golf Club Director, Julia Bisharat, Queen Rania addressed the 146 scholarship recipients for the current academic year.
An initiative of the Queen Rania Foundation for Education and Development (QRF), Al-Aman Fund for the Future of Orphans aims to provide young orphans with opportunities to obtain higher education or university degrees, attend community college, or receive vocational training.
Her Majesty expressed pride in the students and excitement for what the next chapter has in store for them. "I consider myself among my own children, so I will speak to you just as I have spoken to Al Hussein, Iman, and Salma when they graduated high school and started college," she said.
Queen Rania explained to the beneficiaries that their choices and actions are what define them as they embark on this new journey, conveying a desire for them to form friendships that will positively influence them and add value to their lives.
Her Majesty reminded students that while the staff at Al-Aman Fund will continue to support and guide them towards opportunities, it is on the students themselves to be responsible for their future.
She also highlighted the importance of having self-confidence because it "impedes us from digressing and giving up our ambitions to follow temptations."
She hoped that the beneficiaries will remain proud of the Al-Aman Fund family for all its efforts in supporting them and seeking out opportunities for them. "All of you constitute one single family, and I hope this urges you to care for each other," she said.
On behalf of the fund, Al Ahmad also addressed the students saying: "today marks the beginning of a new journey; one must be optimistic and positive. This is your first step towards a fruitful future and we are here to help and support you, not only with your studies, but also with the challenge of transitioning into real life through our Guidance and Counseling Program. We are with you every step of the way and are here for you whenever you need our support."
Al Ahmad also underlined the abundance of opportunities that the Fund offers to help students develop their character.
At the orientation, Her Majesty joined students in a training workshop titled "Six Thinking Hats," run by a member of Al-Aman's board of trustees, Laith Al Qasem. Among a variety of activities, the workshop introduced students to creative thinking processes. Her Majesty also participated in another workshop titled "Bridge Building."
Al-Aman Fund covers tuition fees, pocket money, and living expenses for orphans who have graduated from orphanages across Jordan. It also helps them secure employment opportunities upon graduating.
To this day, the fund has served more than 3,600 orphans, about 2,400 of whom have earned university degrees. Al-Aman is currently funding the education of 800 students.

Queen Rania's official website
This website does not support old browsers. To view this website, Please upgrade your browser to IE 9 or greater
Your browser is out of date. It has known security flaws and may not display all features of this and other websites. Learn how to update your browser