Queen Rania Marks Her Birthday Tomorrow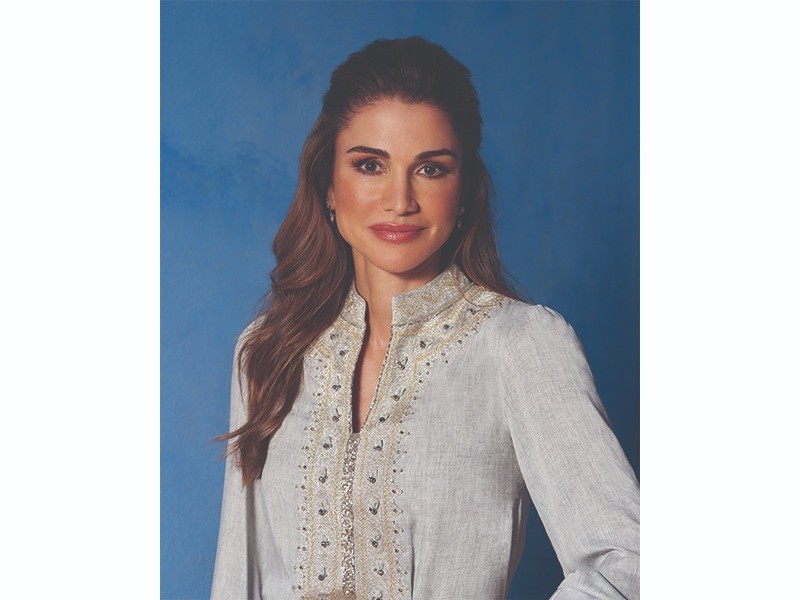 (Office of Her Majesty – Press Department – Amman) - Her Majesty Queen Rania Al Abdullah will celebrate her birthday on Tuesday, August 31, marking the conclusion of another year spent in public service of the people of the Jordan. In line with the national vision of His Majesty King Abdullah, Her Majesty has strived to empower the Jordanian people and expand opportunities for their growth and development.
Queen Rania is an impassioned champion of education equality, taking a keen interest in the education sector and its related initiatives. Working alongside Jordanian civil society organizations, she has continued to support national efforts to reform and enhance education, channeling her efforts through the Queen Rania Foundation for Education and Development (QRF). The foundation also runs Edraak, a digital learning platform offering free Arabic-language open educational resources to school-age and adult learners.
Since the onset of the pandemic last year, Her Majesty has added her voice to the many around the world sounding the alarm on the pandemic's dangerous ripple effects, calling on the international community to address rising global inequality, particularly with regards to access to quality education.
Taking part in numerous virtual events, she has stressed the need for global vaccine equity, noting that any single country's inability to recover from this crisis could lead to widespread instability and insecurity.
"We are all in a race against a pandemic, not against each other," Queen Rania said during the Warwick Economics Summit, held virtually in February 2021. She explained that, while everyone has suffered some kind of loss since the start of the pandemic, "this loss hasn't been felt equally," noting that women worldwide have been disproportionally affected by the pandemic.
During the virtual John F. Kennedy Jr. Forum in March 2021, Her Majesty emphasized the pandemic's impact on women in the Middle East, explaining that they were already at a considerable disadvantage prior to the pandemic, and that lockdowns, school and daycare closures, and women's exodus from the workplace have deepened the gender divide.
"That is really difficult for moms and their families, but we also need to remember that it's terrible for our economies," she said. "According to the World Bank, if we could bring women's lifetime earnings in the MENA region to equal those of men, we could add around 3 trillion dollars' worth of wealth to our region."
Throughout the pandemic, Her Majesty has offered her wholehearted support to those on the frontlines of the battle against COVID-19 in Jordan, joining His Majesty King Abdullah to continuously demonstrate her solidarity with the nation's unsung heroes, and those who have lost loved ones to the deadly virus. In virtual meetings, pre-recorded messages, and small-scale in-person gatherings, she has repeatedly expressed her pride in the nation's medical and security staff, who continue to safeguard and serve the public under extraordinary circumstances.
During periods in which infection rates were low and local restrictions were lifted, Her Majesty resumed her work with civil society organizations, providing support to small businesses, income-generating projects, and associations negatively affected by the pandemic. Throughout her programs and activities, she has emphasized the importance of vaccination, urging people to get vaccinated to protect their health and the health of those around them, and to put the nation back on the path to normalcy.
The Queen's increased focus on supporting income-generating projects in Jordan during the pandemic stems from the crucial role these small enterprises play within their communities. Typically employing members from a single geographic area, these projects are able to offer uninterrupted services to those living nearby, allowing them to meet local needs without requiring excessive social contact with outsiders. Through their determination and willpower, many of the small business owners to receive support have managed to navigate the crisis and turn their projects into successes.
Her Majesty's efforts within Jordan focus on education, capacity development, women's empowerment, improving child and family protection services, and driving innovation, technology, and entrepreneurship through society.
Leveraging her global reach to build global interest and support for Jordanian causes, Queen Rania has launched and overseen several local initiatives including the Jordan River Foundation (JRF), Al-Aman Fund for the Future of Orphans, the Royal Health Awareness Society (RHAS),and national teacher training, among others. Several initiatives launched by the Queen have since been adopted by national institutions, allowing them to be scaled in different areas across the kingdom.

Queen Rania's official website
This website does not support old browsers. To view this website, Please upgrade your browser to IE 9 or greater
Your browser is out of date. It has known security flaws and may not display all features of this and other websites. Learn how to update your browser