Queen Rania Marks Her Birthday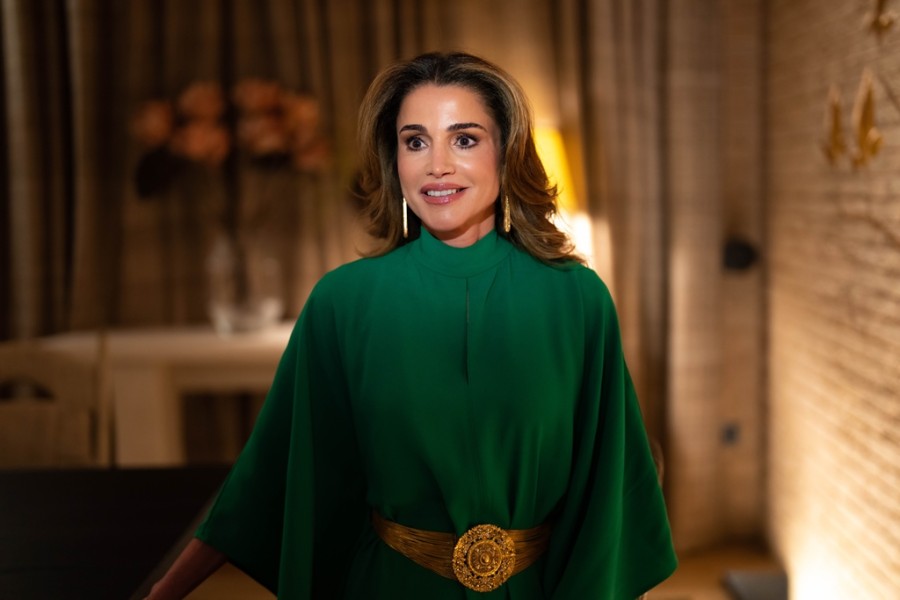 (Office of Her Majesty – Press Department – Amman) - Her Majesty Queen Rania Al Abdullah will celebrate her birthday on Thursday, August 31, marking another year spent in public service alongside His Majesty King Abdullah II.
The past year featured a number of joyous occasions for the Hashemites and their larger Jordanian family: the wedding of His Royal Highness Crown Prince Al Hussein, the wedding of Her Royal Highness Princess Iman bint Abdullah II, the university graduation of Her Royal Highness Princess Salma bint Abdullah II, and the high school graduation of His Royal Highness Prince Hashem bin Abdullah II.
In the days and weeks preceding their children's weddings, Their Majesties the King and Queen were eager to share their happiness with their country's people, involving the Jordanian public in the various celebrations marking the marriages of their first-born son and eldest daughter.
Her Majesty hosted a Henna party for Princess Iman, as well as a dinner party held in honor of the Crown Prince's wife, Her Royal Highness Princess Rajwa Al Hussein, where the Queen and members of the royal family were joined by women from across Jordan's 12 governorates to celebrate the two happy occasions. Both events spotlighted the richness of Jordanian culture and included several folkloric musical and dance performances by local female artists.
Throughout the year, Queen Rania continued to follow up on issues of importance to the Jordanian public by carrying out a number of visits to charitable associations, home-based businesses, startups, and other organizations across the country's cities, villages, and rural areas.
A celebrated advocate for women and youth, Her Majesty's local engagements included meetings with women artisans and young entrepreneurs, as well as visits to a number of women-led initiatives and associations supporting women's financial empowerment.
During the holy month of Ramadan last March, for the second consecutive year, the Queen organized a mission to Umrah – the lesser Muslim pilgrimage to Mecca – for 500 women from across Jordan, a group of whom the Queen joined to perform the sacred pilgrimage herself. Earlier, in December 2022, Her Majesty took part in the lighting of the Fuheis Christmas tree among members of Jordan's Christian minority.
Alongside her work within Jordan, over the course of the year, Queen Rania participated in several distinguished global gatherings, and accompanied His Majesty on a number of regional and international working visits.
At the invitation of the Her Majesty Queen Camilla of the United Kingdom, Queen Rania attended a reception at Buckingham Palace in London aiming to raise awareness of violence against women and girls. She also met with U.S. First Lady Dr. Jill Biden at the White House while joining His Majesty and Crown Prince Al Hussein on a visit to Washington, D.C.
While in D.C., the Queen delivered the keynote speech at the 2023 National Prayer Breakfast (NPB) Gathering's International Luncheon on Capitol Hill, where she affirmed that religion is not "a shelter for hiding," but "a launch pad for living." She also posited that, in the face of widespread polarization, the act of prayer can lead us towards a better, more nuanced path that she described as "the third way."
"This third way is not the average of extremes, but rises above the binary, elevating us to higher ground that can become common ground as well," she said. "Our win doesn't need to be someone else's loss. And being right doesn't mean that the other side is wrong — only that we need other points of view to see a multi-dimensional picture."
The Queen also spoke at the 2023 Web Summit in Lisbon, Portugal, where she underscored the potential pitfalls of humanity's increased reliance on technology. "I am concerned that we're undervaluing the most precious currency of all – our time," Her Majesty said. "I am concerned that, even as virtual reality improves by the day, we're neglecting the needs of our actual reality."
In her capacity as a member of the Earthshot Prize Council, the Queen delivered remarks at the first-ever Earthshot Prize Innovation Summit, hosted in New York on the sidelines of the United Nations General Assembly. In her speech, Her Majesty called for mobilizing collective action and ingenuity to repair the planet, cautioning against claiming that "climate change is somebody else's problem," or leaving it for future generations to address.
This year, Queen Rania continued to use her global platform to advocate on behalf of refugees in Jordan and beyond. At the Clinton Global Initiative meeting in New York, Her Majesty explained that a refugee crisis is "not just a short term humanitarian crisis," but rather a "crisis of human development" that requires long-term solutions focusing on growth, building resilience, sustainability, and job creation.
Additionally, the Queen repeatedly underscored disparities in the treatment of refugees based on their country of origin. Speaking at the Paris Peace Forum, she noted the difference in reception of refugees from Ukraine to those from countries such as Syria, Myanmar, and South Sudan, who had also been driven from their homes.
"What accounts for the contrast in compassion? Does skin color make all the difference?" she asked.
In May, Queen Rania attended the coronation ceremony of the King Charles III and Queen Camilla in London alongside King Abdullah. Their Majesties also attended the funeral of the late Queen Elizabeth II in September.
Featured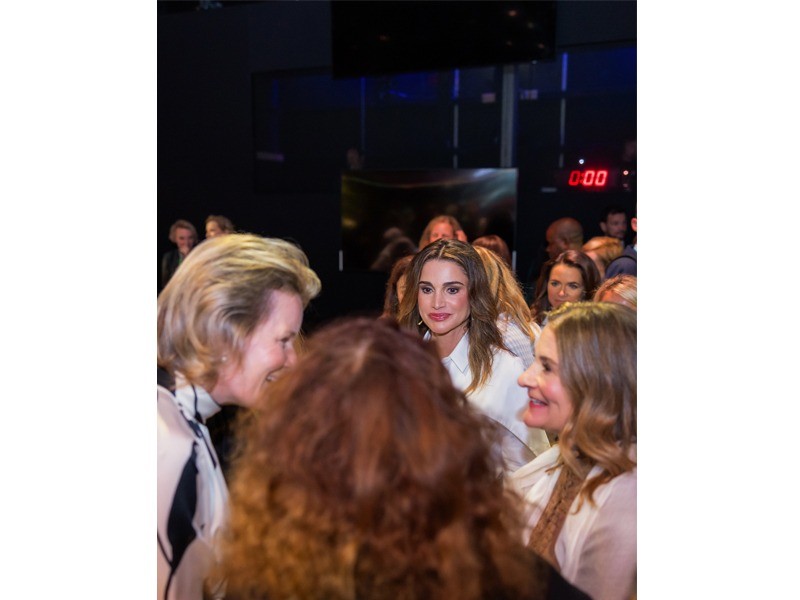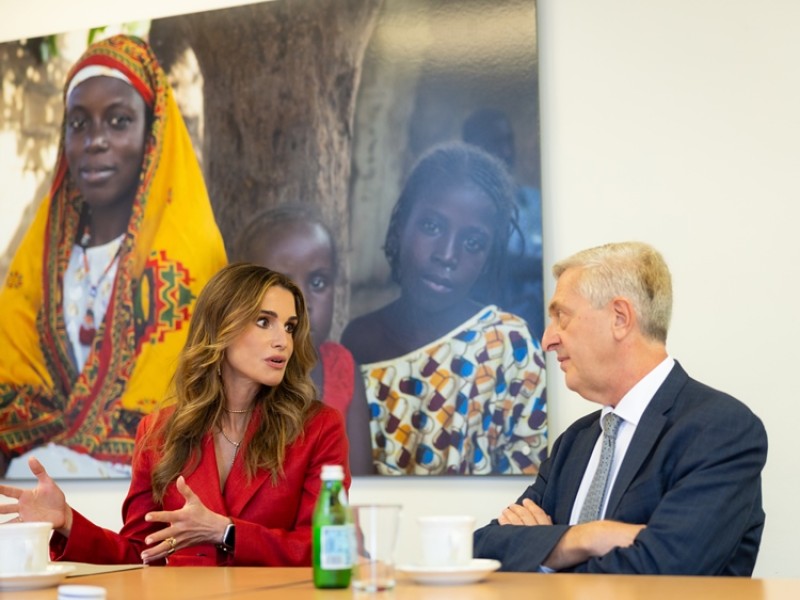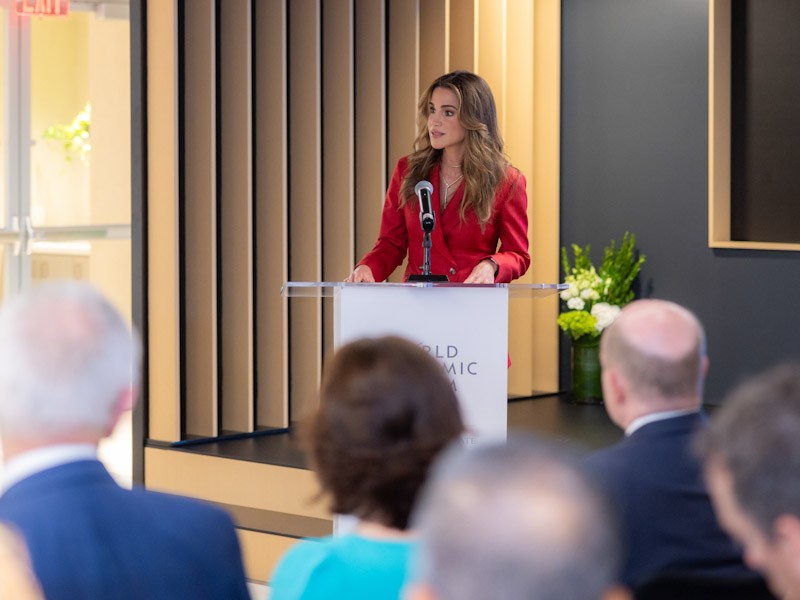 Queen Rania's official website
This website does not support old browsers. To view this website, Please upgrade your browser to IE 9 or greater
Your browser is out of date. It has known security flaws and may not display all features of this and other websites. Learn how to update your browser