Queen Rania Launches Zaha Cultural Center in Al Mafraq and Meets Royal Grant Beneficiaries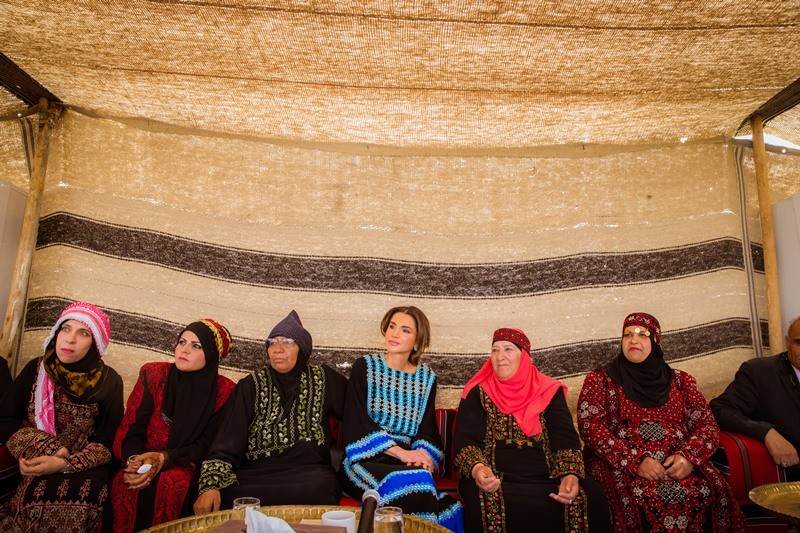 (Office of Her Majesty – Press Department – Al Mafraq) - Her Majesty Queen Rania Al Abdullah inaugurated a new branch of the Zaha Cultural Center during a visit to Al Mafraq governorate on Monday, where she also met with a number of recipients of a Royal Hashemite Court (RHC) grant.
Her Majesty toured the new Al Mafraq Zaha Cultural Center in the presence of Deputy Head of the Greater Mafraq Municipality, Sami Basbous, and Director of the Zaha Cultural Center, Rania Sbeih. The Queen stopped by some of its facilities, including the Karameesh Room for children aged three to five, which is a space that offers intellectual and social skills development courses. Her Majesty also spoke with a number of the center's employees, as well as mothers of child beneficiaries.
The center currently offers training sessions that aim to meet the needs of the local community and its children between the ages of six and 16. The sessions vary from handicrafts workshops to academic programs in architectural drawing and the English language, and include behavioral modification courses as well.
At the center, Her Majesty met with a group of women from Al Mafraq and learned about their business and small project ideas.
The center was established upon the directives of His Majesty when he visited Al Mafraq in 2016, and funded by the Ministry of Planning in partnership with the municipality of Al Mafraq and the Zaha Cultural Institute.
Welcomed at the Prince Ali bin Al Hussein Stadium by the Governor of Al Mafraq, Yasser Odwan, Founder of the Community Centers Association (CCA), Dr. Sari Nasser, CCA President, Dr. Firyal Saleh, and Head of Al Mafraq Youth Directorate, Mohamad Khawaldeh, Her Majesty listened to beneficiaries talk about the small businesses they established through royal grants and with support from local civil society organizations.
Queen Rania commended the role of these organizations in empowering local communities, stressing that they are best positioned to understand and respond to their community's needs. She also reassured the beneficiaries of the support they will continue to receive in the future.
To date and through the grant scheme, 13 civil society organizations have provided 144 families in Al Mafraq with loans to help them establish their own income-generating projects with practical guidance from the CCA. Beneficiaries were chosen based on strict criteria, which ensure that grants are allocated to those most in need.
During her visit, the Queen also stopped by the home of grant recipient, Manal Abu Qdeiri, who used the funds she received to start a home-based business selling clothing and food, generating an income of JOD 500 each month. Abu Qdeiri told the Queen how this business has helped provide much-needed income for her entire family.

Queen Rania's official website
This website does not support old browsers. To view this website, Please upgrade your browser to IE 9 or greater
Your browser is out of date. It has known security flaws and may not display all features of this and other websites. Learn how to update your browser