Queen Rania Launches Amman Design Week 2017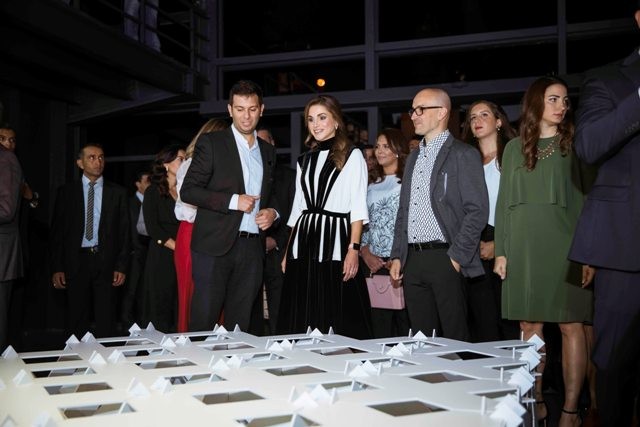 (Office of Her Majesty – Press Department – Amman) - Her Majesty Queen Rania Al Abdullah launched the second annual edition of Amman Design Week (ADW) Wednesday in an event held under her patronage at the Ras El Ain Hangar in downtown Amman.
An initiative of Her Majesty, ADW 2017 will open its doors to the public from October 6 to 14, and will present a comprehensive program of exhibitions, workshops, talks, tours, and events under the theme 'Design Moves Life Moves Design.'
Her Majesty was received by Greater Amman Municipality Mayor Yousef Shawarbeh, and ADW Co-directors Abeer Seikaly and Rana Beiruti.
A number of princesses were also in attendance, in addition to several public and private sector leaders, Jordanian and Arab media figures, and design enthusiasts.
Queen Rania toured the Hangar Exhibition, where she viewed the works of more than 100 regional and international designers hailing from the United Arab Emirates, Palestine, Lebanon, Morocco, Iraq, Egypt, Saudi Arabia, Kuwait, India, Germany, France, and the United States.
Throughout the nine-day event, the nearby Crafts District, also located in Ras El Ain, will feature several demonstration booths, pop-up shops, cultural activities, and food options.
Featuring a prominent educational element, ADW 2017 will present its first-ever Student Exhibition, showcasing the works of student members of ADW's year-round mentorship program. This year's program also comprises a diverse selection of workshops and panel discussions, which aim to highlight design's unseen impact on our daily lives.
Drawing on the event's theme of 'motion', ADW 2017 will extend beyond the Ras El Ain area, with activities held at more than 50 sites around the city, including galleries, shops, institutes, universities and other public spaces.
This year's edition of ADW focuses large efforts on increasing the event's reach among members of the public through programs that target schools in governorates, as well as field visits and mobile experiments.
Speaking at the event, Beiruti said that the program for ADW 2017 builds on the success experienced during the event's pilot in 2016. "After focusing last year on raising awareness on the ever-presence of design in our lives, this year's program tackles the power of design to move the world around us," she added.
"Design is a movement that seeks to beautify while also serving as a medium for positive change," Beiruti explained. "It empowers people to take control, make an impact, and rise up to challenge the status quo."
In turn, Seikaly highlighted that this year's edition of ADW reinforces the focus on the key pillars of the event, such as empowering local designers, education, social transformation, and paying tribute to Jordan's cultural heritage.
"This personifies the year's theme of movement, as we are endeavoring to contribute towards creating a potent and sustainable design movement in Jordan among current and future generations," she added.
For his part, Ahmad Humeid, the curator of this year's Hangar Exhibition, stated that the Hangar Exhibition is one of the key landmarks of ADW, offering a snapshot of the state of Amman's design landscape and the remarkable potential possessed by local and regional designers.
"The exhibition will challenge our understanding of design and its ability to push the boundaries of physical reality and the elements of material, scale, form and function," he said.

Queen Rania's official website
This website does not support old browsers. To view this website, Please upgrade your browser to IE 9 or greater
Your browser is out of date. It has known security flaws and may not display all features of this and other websites. Learn how to update your browser