Queen Rania Denounces Ethnic Cleansing of Rohingya Muslims, Urges Greater Global Response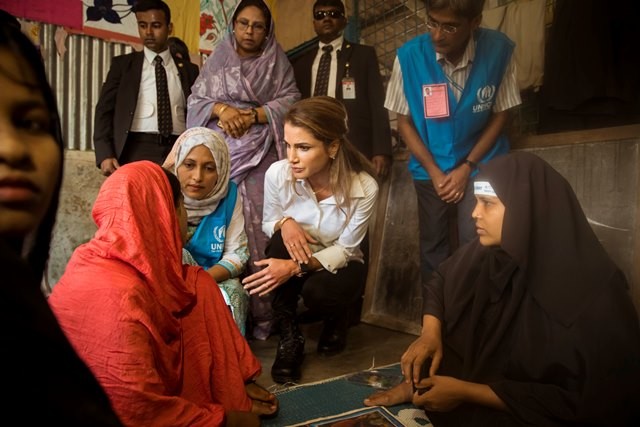 (Office of Her Majesty – Press Department – Cox's Bazar, Bangladesh) - Her Majesty Queen Rania Al Abdullah called on the international community to respond "effectively, quickly, and generously" to alleviate the suffering of Myanmar's Muslim Rohingya minority, decrying global inaction in the face of "what many are acknowledging now as an ethnic cleansing of the Rohingya Muslims."
Queen Rania gave remarks to the press during a visit on Monday to the Kutupalong Refugee Camp and its surrounding in the Cox's Bazar region of Bangladesh. Her Majesty spoke of the "shocking escalation of violence against the Muslim Rohingya minority in Myanmar," which has caused over 600,000 Muslim Rohingya to flee from Myanmar's Rakhine State since August.
"With no respect or regard for the principles of humanitarian and international law, the discrimination against and the persecution of the Rohingya minority has continued unabated, in full view of the world," the Queen said in a statement she gave at the camp.
"One has to ask, why is the plight of this Muslim minority group being ignored? Why has this systematic persecution been allowed to play out for so long?" she added.
In her capacity as a board member of the International Rescue Committee (IRC) and as an advocate of the work of UN humanitarian agencies, Her Majesty toured the Kutupalong Refugee Camp, meeting with several Rohingya women and children, who recently crossed into Bangladesh from Rakhine State in Myanmar.
The refugees recounted the brutality they faced in their homeland, as well as the difficulties and deprivation they continue to experience in overcrowded makeshift camps.
Describing their stories of "unimaginable acts of violence," Queen Rania mentioned refugees' accounts of children orphaned, women brutalized, family members butchered, and villages burned.
"Before coming here, I had braced myself to witness some desperate conditions, but the stories I heard today were heartbreaking and harrowing,"" Her Majesty said.
"I've heard of systematic rape of young girls, who were trapped in schools and raped by soldiers. I've heard of babies being kicked around like footballs and stomped on. I've heard family members telling me how they've seen their own parents killed, right before their eyes," she related.
"This is something that is unacceptable," Queen Rania said.
"It is unforgivable that this crisis is unfolding on the world stage to a largely indifferent audience. The world seems to be silent to what many are acknowledging now as an ethnic cleansing of the Rohingya Muslims," Her Majesty said.
Citing rising anti-Muslim sentiments and stereotypes, Her Majesty questioned whether animosity towards Muslims had reached the point "where many around the world are unable to see Muslims as victims."
"It leads one to wonder if the tables were turned, and these acts of violence were committed by Muslims, if the world's response would have been as muted as the response that we are seeing here today," she added.
The Queen underscored the urgent need to scale up the humanitarian response to this rapidly unfolding emergency, calling on the international community to act without delay.
"I urge the UN and the international community to do all that they can to stop the suffering and the violence that is being committed against the Rohingya Muslims, not because it is our job to do so, but because that is what justice demands," she explained.
Queen Rania visited emergency services offered by humanitarian agencies at the camp, stopping at a UNHCR-run healthcare center as well as a school that has been converted into a shelter to host hundreds of new arrivals, including unaccompanied children.
She then proceeded to the surrounding makeshift settlements, which were recently haphazardly set up to provide additional shelter to incoming refugees.
Her Majesty, who is also the United Nations Children's Fund's (UNICEF) first Eminent Advocate for Children, stopped by a child learning center run by the agency, as well as a primary healthcare center run by the International Organization for Migration (IOM).
In her statement, Queen Rania stated that 95 percent of Muslim Rohingya refugees do not have access to safe water and more than three quarters lack food.
"60% of the refugees are children, and that is partly because males above the age of 12 are systematically being killed. And, according to what I heard from UNICEF, 14,000 of these children are at risk of dying from malnutrition," the Queen said.
Upon her arrival in Cox's Bazar, Her Majesty was received by Bangladesh's Minister of Foreign Affairs Mr. Abul Hassan Mahmood Ali, and State Minister of Women and Children Affairs Ms. Meher Afroze Chumki, who briefed her on the state of the crisis.
The Queen thanked the government and people of Bangladesh for their "enormous compassion, kindness, and generosity." She also expressed her gratitude to humanitarian organizations providing lifesaving support to Rohingya refugees, including the UNHCR, UNICEF, IOM, and IRC.
Queen Rania's visit to Bangladesh coincides with a high level pledging conference taking place in Geneva on Monday, aiming to mobilize international resources for the Rohingya Refugee Crisis Response Plan. The plan, which calls for USD 434 million to help 1.2 million people through February 2018, is currently only 26 percent funded.
"This visit helps draw attention to the incredible generosity of the government and people of Bangladesh, and helps maintain support to the fastest-growing refugee emergency today," said Louise Aubin, UNHCR's Senior Emergency Coordinator in Cox's Bazar.
"They are in desperate need of everything – reuniting with family members from whom they may have been separated during flight, psychosocial support as many are traumatized, emergency healthcare, food, water, and shelter. Importantly, asylum in Bangladesh allows the Myanmar refugees to regain some sense of protection."
The sheer number of new arrivals has overwhelmed pre-existing service providers, leading to significant challenges in the provision of essential lifesaving services and highlighting the need for greater concerted urgent international response.
Commenting on the humanitarian situation, IRC's Asia Regional Director Sanna Johnson explained that "the IRC is scaling up in both Cox's Bazar and Rakhine State to save lives of thousands of vulnerable Rohingya men, women, and children today, and prevent a further deterioration in this conflict. With up to 300,000 more Rohingya expected to flee in coming weeks, the number of refugees will exceed 1 million – the fastest mass exodus we have seen since Rwanda."
"In a crisis of such unprecedented scale, we need the full weight of the international community to save lives in Bangladesh and Myanmar, and take concerted action in what is undoubtedly the most urgent refugee crisis in the world," Johnson added.

Queen Rania's official website
This website does not support old browsers. To view this website, Please upgrade your browser to IE 9 or greater
Your browser is out of date. It has known security flaws and may not display all features of this and other websites. Learn how to update your browser