Queen Rania Congratulates Teacher Academy on International CAEP Accreditation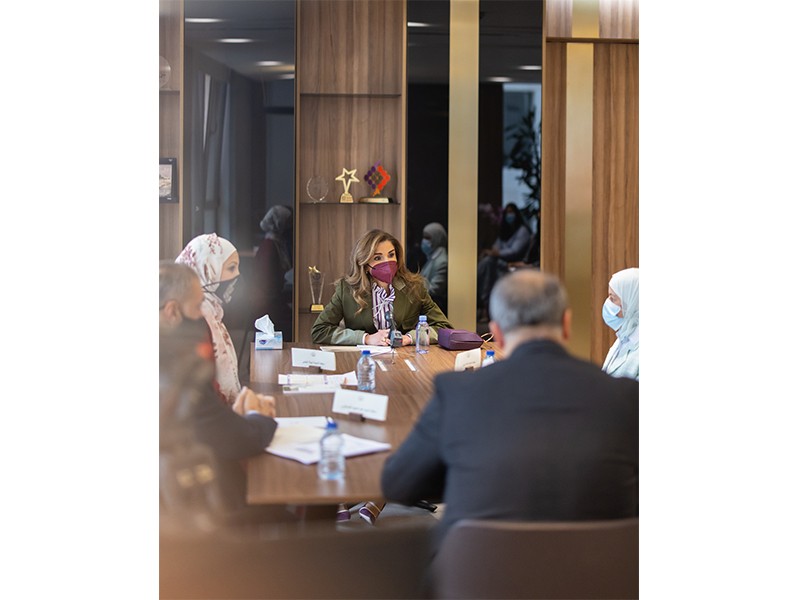 (Office of Her Majesty – Press Department – Amman) - Her Majesty Queen Rania Al Abdullah visited the Queen Rania Teacher Academy (QRTA) in the King Hussein Business Park on Tuesday to congratulate its team after one of its training programs received international academic accreditation from the Council for the Accreditation of Educator Preparation (CAEP).
Last week, QRTA announced that its in-service Teacher Education Professional Diploma (TEPD), which offers online and in-person training to current teachers, had been accredited by CAEP, the largest accreditation council of its kind in the United States, making the academy the first educational organization to receive the international academic accreditation in Jordan and the third in the Middle East.
In a meeting with QRTA's CEO, Dr. Osama Obeidat, and members of the academy's management team, Her Majesty stated that the CAEP accreditation is a testament to the competency of the academy and the caliber of its in-service TEPD program.
"This achievement didn't happen overnight. It comes after a ten-year journey of hard work and constant evolution," the Queen said, adding that QRTA must continue to assess its programs in order to monitor their real-life impact on teachers and students.
The TEPD was first launched in 2016 by QRTA as a pre-service diploma in cooperation with University College London and the Ministry of Education. In May 2021, QRTA handed over the pre-service diploma to the University of Jordan and three other public universities, making the first-of-its-kind diploma available to prospective teachers across the country.
QRTA has since moved out of University of Jordan campus and handed over its building to the university's administration, and developed an in-service version of the TEPD, which it now offers to working teachers in Jordan and the region.
During the meeting, Obeidat explained that the CAEP accreditation process took two years to complete, and included the submission of a comprehensive roadmap, rigorous documentation, several interviews, and a site visit. QRTA's in-service TEPD was granted full accreditation for the coming seven years, which is the maximum accreditation length granted by the council.
Her Majesty was briefed on QRTA's current work, including its introduction of an online and blended teacher-training model in light of the pandemic. The team explained their efforts to share their experience in pre-service teacher training with public universities, contributing to the successful scaling of the pre-service TEPD program.
The meeting also included a summary of QRTA's recent contributions to local and regional education industry, such as the academy's series of free live webinars hosted by Jordanian and Arab educational experts, totaling 72 sessions and netting 789,000 views to date.
In September, QRTA additionally launched a number of open-source online courses, attracting 6,105 registered users from Jordan and across the region for courses on topics including managing an online classroom, behavior management, and innovation in education.
Established in 2009, QRTA is a non-profit organization aiming to empower educators with the skills to nurture and lead future generations. It has extended thousands of professional development opportunities to public school teachers and leaders, and continues to offer many training programs to educators. QRTA also hosts the annual Teacher Skills Forum, with this year's online version drawing the viewership of nearly 7,000 educators from 50 countries worldwide.

Queen Rania's official website
This website does not support old browsers. To view this website, Please upgrade your browser to IE 9 or greater
Your browser is out of date. It has known security flaws and may not display all features of this and other websites. Learn how to update your browser