Queen Rania calls for use of innovative tools in improving education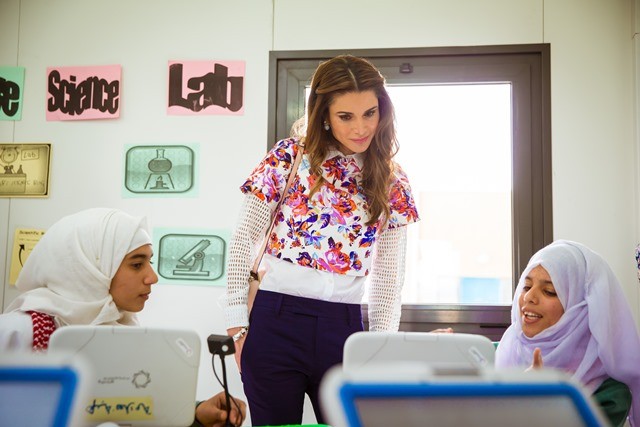 (Office of Her Majesty – Press Department – Amman) Her Majesty Queen Rania Al Abdullah visited the Princess Taghreed School for Girls in Amman on Wednesday, where the Jordan Education Initiative (JEI) Popup Classroom pilot project is being implemented.
The popup classroom is a newly developed teaching concept that incorporates innovative solutions in the classroom. Under this system, classrooms are made from a modular prefabricated construction and are located outside the schools' established buildings.
The Queen started her tour of the school with Principal Taghreed Shawabkeh and JEI CEO Nirmeen Nabulsi by visiting an outdoor computerized English lesson on Marine life. There, she chatted with students about the learning outcomes of the popup classroom.
Her Majesty also dropped by a mathematics lesson that uses Geogebra software, which helps students understand and visualize abstract concepts. Her next stop was at a science class, where students worked on software to develop animations about the life cycle of plants.
The Queen's tour included a dialogue through sports and arts, facilitated by two teachers under the Generations of Peace Initiative. Princess Taghreed School for girls is one of the few schools in Jordan to adopt this program, which was founded in 2007 by His Royal Highness Prince Feisal Al Hussein. Generations for Peace is a global non-profit peace building organization dedicated to promoting tolerance and responsible citizenship.
Finally, the Queen met with the school's student parliament committee, where students shared their leadership experiences in parliament, and the activities they organize under the student council. A number of students explained to Her Majesty the election process and how students can qualify to join the parliament.
Princess Taghreed School for Girls was established in 1992 and has 800 students. It is considered an international school by the Ministry of Education and is part of the Royal Health Awards Society's (RHAS) Healthy Schools program, receiving silver and bronze award levels. The initiative was launched in 2013 in collaboration with JP Sa Couto , a Portuguese company dedicated to designing technology solutions that promote 21st century learning environments.

Featured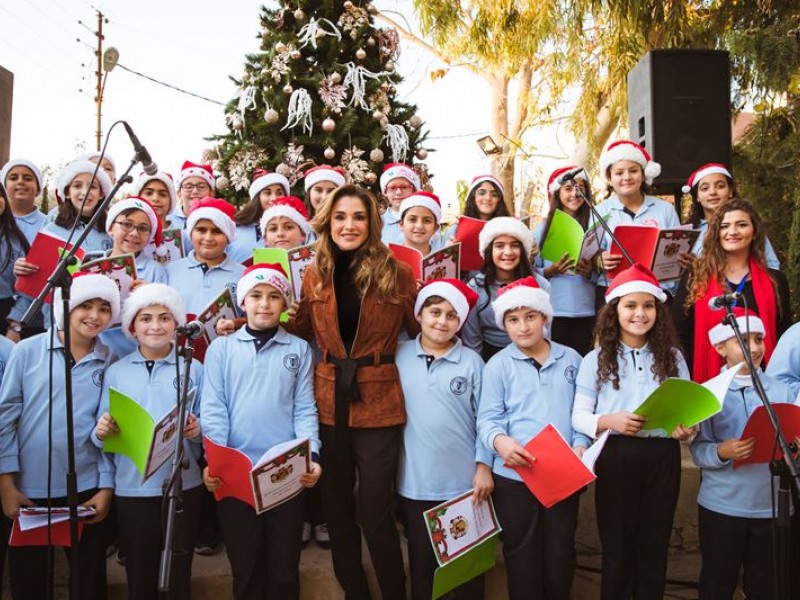 Queen Rania's official website
This website does not support old browsers. To view this website, Please upgrade your browser to IE 9 or greater
Your browser is out of date. It has known security flaws and may not display all features of this and other websites. Learn how to update your browser