Queen Rania Calls for More Mindful Use of Technology at Web Summit in Portugal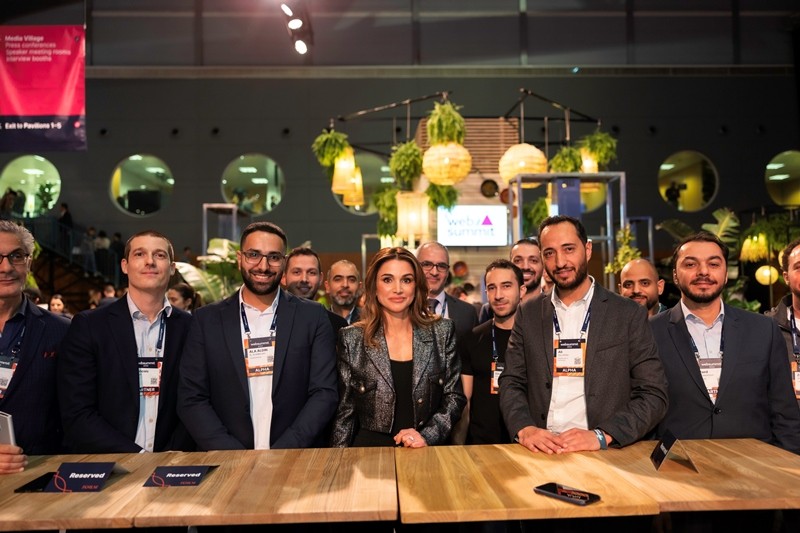 (Office of Her Majesty – Press Department – Lisbon) - Her Majesty Queen Rania Al Abdullah cautioned against humanity's mounting reliance on technology and called for an increased focus on improving the lives of the most vulnerable, asserting that "the real progress we need is not better machines, but for all of us to be better humans."
Her Majesty made her remarks while delivering a keynote speech at the Web Summit in Lisbon, Portugal on Wednesday, during a session titled "Battling Built-In Biases." This year marks Jordan's first participation in the annual summit, which is the largest tech event in Europe and one of the largest in the world.
Her Majesty explained that we are "hooked" on our devices, citing the Digital 2022 Global Overview Report's findings that, last year, the daily average of time spent online went up by four minutes per day, which, each year, "adds up to one whole day per person."
"If someone told us we'd have one extra day per year, would we conclude that the best thing we could do for our families, for our communities, for our world, was to take those extra 24 hours and invest them back into our screens?" the Queen asked.
"I am concerned that we're undervaluing the most precious currency of all – our time," Her Majesty stressed. "I am concerned that, even as virtual reality improves by the day, we're neglecting the needs of our actual reality. And our mental health is suffering, too."
Urging the audience to "reclaim" the four additional minutes spent online each day, the Queen advised that the first minute should go toward "mobilizing collective compassion… starting from the conviction that every human being has equal worth."
Her Majesty pointed out that, while the world's response to the Ukrainian refugee crisis has shown how much we can achieve through joint action, there has been a marked "difference in generosity, tone, and urgency" from that extended to refugees from countries such as Syria, South Sudan, and Myanmar.
"It's hard not to wonder if skin color and religion affect the global community's humanitarian instincts… and whether the impulse is to lend a helping hand or look away," she questioned. "Addressing that prejudice isn't an algorithm's job. It's up to us."
Queen Rania recommended investing the second reclaimed minute toward "building a common concept of truth," explaining that the rapid spread of misinformation and a media ecosystem "where clicks reward conflict over credibility" have undermined our trust and our tolerance for nuance.
She called on the audience to consider other points of view than their own, explaining, "There isn't one right way to do the right thing or get the right results. There's always a third way, and finding that path shouldn't have to feel like a sacrifice or a compromise. Sometimes it's about taking the best of both options to create something new both sides can believe in."
Her Majesty proposed using the third minute to "reclaim human agency," on the grounds that "more and more, we're depending on our devices not simply for distraction but for direction."
"The more we delegate decision-making to AI, the fewer choices we're making for ourselves. Intentionally or not, we're giving up our own process of reflection and discernment, and that's a risk," she explained. "In a world of complexity, we need our human powers to be fine-tuned, so that we can decide among imperfect options, and adjust to unexpected demands."
Finally, the Queen called for using the fourth reclaimed minute to spend time with loved ones. "I lost my father earlier this year," the Queen said. "I miss him every day. What I wouldn't give for one more moment with him."
"As people grow older and look back at their lives, very few would tell you they wished they had spent more time in front of their screens or behind their desks. But most wish they had spent more time with the people they care about," Her Majesty added.
Following her speech, Queen Rania participated in a fireside chat on stage with CNN Senior International Correspondent Frederik Pleitgen, where they discussed several issues, including the unequal global response to refugee crises around the world.
"It is frighteningly simple for the human mind to tune off the suffering of others, particularly when they do not seem to be like us, or when they have names that we find difficult to pronounce," Her Majesty said. "That kind of choosey compassion – that selective kind of empathy – has real, tragic geopolitical consequences. It's a blind spot in our humanity; it determines where we look and what we see."
"We can't be responsible, in a sense, for our subconscious bias. But we are held liable when we allow these biases to dictate policy," she noted, adding that more refugee crises are on the horizon due to climate change, which will "probably displace upwards of 200 million people by 2050."
The Queen also encouraged the tech community to play an instrumental role in alleviating the suffering of refugee populations. "The biggest selling point for technology is the fact that it transcends borders at a time when our world, unfortunately, keeps erecting them," she highlighted. "Refugees, on a daily basis, face legal, cultural, linguistic, economic barriers, and you all can develop solutions that can help overcome those barriers."
While at Web Summit, Queen Rania met with representatives of a number of participating Jordanian startups present at the global event from the fields of gaming, medical information systems, artificial intelligence, drone-based solutions, and cloud-based video editing which operate in the local and global tech scenes.
The Jordanian startups are participating in this year's Web Summit under Jordan Source, a program created in line with the vision of His Royal Highness Crown Prince Al Hussein bin Abdullah II, and implemented by the Ministry of Digital Economy and Entrepreneurship. The program aims to promote the Kingdom as an ideal destination for investments and innovations in the ICT sector.
First launched in 2010, the Web Summit is the largest tech event in Europe and one of the largest in the world. Taking place this year between November 1-4 under the theme, "The Next Generation of Leaders," the event welcomes more than 100,000 people from across the globe. In addition to Her Majesty, this year's speakers include Sir Martin Sorrell, world-renowned author Naom Chomsky, Brad Smith of Microsoft, and the President of Portugal, Marcelo Rebelo de Sousa.
Featured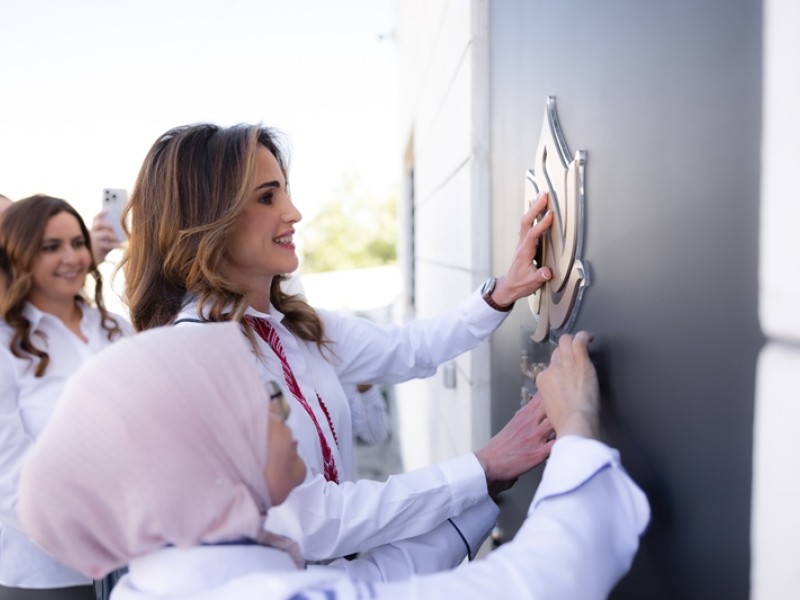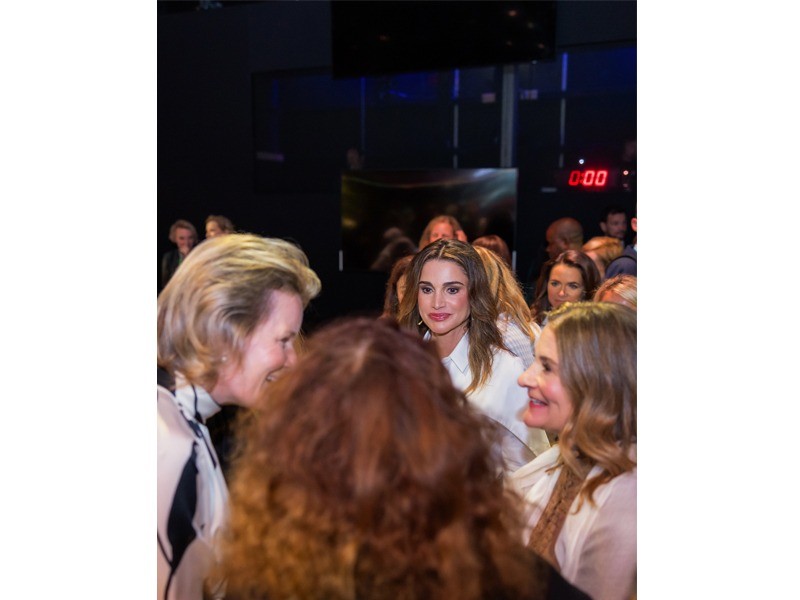 Queen Rania's official website
This website does not support old browsers. To view this website, Please upgrade your browser to IE 9 or greater
Your browser is out of date. It has known security flaws and may not display all features of this and other websites. Learn how to update your browser