Queen Rania Tells Child Protection Groups to Put an End to Deaths Caused by Domestic Violence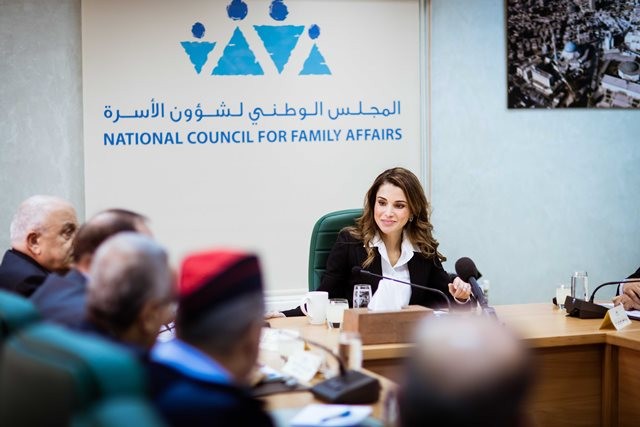 (Office of Her Majesty – Press Department – Amman) Her Majesty Queen Rania Al Abdullah said that institutions in charge of protecting children must be held accountable when they fail to do so.
In a meeting with members of the National Framework for Family Protection Committee on Monday, the Queen said child deaths as a result of domestic violence are unacceptable.
Alarmed by the killing of six children at the hands of their parents last year alone, Her Majesty added that what was more disturbing was the fact that some of them had been identified as victims of domestic violence by various government institutions.
The committee is part of the National Council for Family Affairs (NCFA). The Queen met with the committee on Monday to discuss ways to curb violence against children, and address its recent shortcomings in child protection.
During the meeting, Queen Rania pointed out that Jordan has been successful in its child protection efforts but that there has been a decline in family protection services. She called on the committee to address legal and social loopholes that hinder the framework's ability to safeguard all family members.
Queen Rania said that the National Framework for Family Protection is a cohesive system, based on intervention roles by several institutions. But she added that this system is destined to fail if not all the parties don't work together.
Her Majesty emphasized the importance of upholding the rule of law and raising awareness about the dangerous social consequences of domestic violence.
Closed circuit television networks in courthouses that have allowed victims to give private testimonies have helped curb violence against children. Tracking systems that have allowed government agencies to share reported cases of violence have also been useful. This is why Her Majesty called on the committee to invest in technology that serves child protection.
Members of the committee briefed Her Majesty on the challenges that hinder the implementation of the framework's action plan based on a set timeline. The discussion also concluded that there is a need for a compliance agreement between all stakeholders defining their roles and responsibilities.
The committee consists of several minsters including Minister of Education Dr. Mohammad Thuneibat, Minister of Interior Salameh Hammad, Minister of Planning and International Cooperation Imad Fakhoury, Minister of Health Dr. Ali Hiyassat, and the Minister of Awqaf and Islamic Affairs Dr. Hayel Daoud. Other NCFA board members who attended included Deputy Chair of NCFA Board of Trustees Dr. Rajaie Muasher, as well as representatives from the Prime Ministry and the United Nations Population Fund (UNFPA).
The framework committee has been reviewed and updated with funding from UNFPA, the United Nations Children Emergency Fund (UNICEF), and the UN Refugee Agency (UNHCR).
The new framework guarantees the creation of rehabilitation, care, and integration programs for victims of domestic violence.

Queen Rania's official website
This website does not support old browsers. To view this website, Please upgrade your browser to IE 9 or greater
Your browser is out of date. It has known security flaws and may not display all features of this and other websites. Learn how to update your browser